Vintage Jewelry
Topazery.com is an online-only antique and vintage jewelry boutique offering engagement rings, bracelets, pendants, and more. We opened our doors in 2001 in an antique mall in Charlotte, NC. We are now located in Atlanta, GA and only offer our jewelry online. Our website showcases a collection of carefully chosen original antique and vintage jewelry pieces which are sure to delight. Each hand-selected piece captures the mystique and romance of jewelry from a bye-gone era.
1970s Vintage Jewelry with a Modern Vibe
When the 2015 spring fashion shows came to a close recently, several vintage jewelry trends revealed themselves on the catwalks. One of these was what "Harper's Bazaar" calls "The Hippie Shake." The fashion mag describes the trend this way: "The prevailing '70s jewelry trend found its way to chunky, earthy pieces made for retro-fit boho babes - with a more streamlined taste than their original predecessors." Learn More &raquo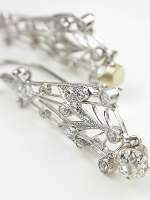 Edwardian Antique Earrings
Old mine cut diamonds suspend from Eiffel tower-like architectural bridgework in these Edwardian earrings. The platinum open framework of these antique earrings shimmers with an additional seventeen old style full cut diamonds. These antique earrings secure to the lobe with Shepherd hooks. Details: Platinum. Old mine and old style full cut diamonds; 1.34 carats. Antique, Circa 1915
Item
EA-3505

$7959.00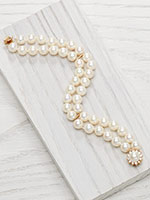 Vintage Pearl Bracelet
A shimmering star-orbited moon medallion secures a double string of Akoya pearls. This vintage bracelet surrounds the wrist in pearl sophistication. The saltwater Akoya pearls that string this bracelet are arranged in a double strand. They are joined with a 14k yellow gold and diamond box style clasp. This closure accent brings to mind a full moon encircled by a constellation of stars. Details: Vintage. Circa 1950 or later. 14k yellow gold. Full cut diamonds; 0.24 carats. Saltwater Akoya pearls.
Item
BR-3543

$1619.00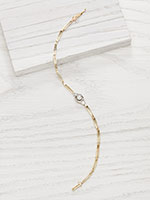 Vintage Hand Wrought Bracelet
Gold, silver, and diamonds meld beautifully together in this hand wrought vintage bracelet. The long, slim gold links of vintage bracelets like this one seductively slither around the wrist. A concealed box clasp ensures no interruption in the decorative appeal. A contrasting silver bowtie rests at the bracelet's center. Three diamonds are geometrically nestled inside this accenting centerpiece. Details: Vintage. Circa 1930. Silver on 14k yellow gold. Round brilliant and old style full cut diamonds; 0.27 carats.
Item
BR-3574

$999.00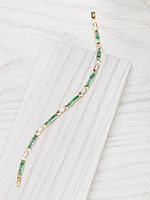 Vintage Diamond and Emerald Bracelet
Diamonds await at the end of the emerald rainbow in this vintage bracelet. Streamers of emeralds and gold-clutched diamonds alternate to kiss the wrist with springtime bliss. The diamonds are arranged three to a link in an elongated oval. They are flanked on each side by rows of six emeralds. A golden barrel clasp secures this vintage bracelet. Details: Vintage. Circa 1990. 18k yellow gold. Round brilliant cut diamonds; 0.20 carats. Square faceted step cut emeralds; 1.78 carats.
Item
BR-3599

$2549.00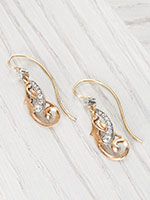 Arts and Crafts Diamond Earrings in Rose Gold
A whirling swirl of feathery fronds and diamond teardrops suspend from these Arts and Crafts antiuqe earrings. These antique Arts and Crafts earrings flutter from the lobes like leaves and seed pods flitting down from a tree. The rose gold base of these hand wrought earrings is done in a scrolling leaf design. A contrasting white gold top plating is bead set with diamonds. These Arts and Crafts dangle earrings thread through the lobe with shepherd hooks that culminate in an old style diamond. Details: Antique, Arts and Crafts. Circa 1900 or later. 18k rose gold. Old style full cut and rose cut diamonds; 0.57 carats.
Item
EA-3507

$2449.00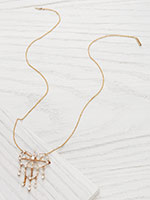 Victorian Style Pearl and Diamond Necklace
Drawing inspiration from the Victorian era, this antique style pearl and diamond necklace shimmers with understated elegance. The chandelier design of this Victorian style necklace flirtatiously drapes down the neckline. A ribbony bow forms the base of this necklace's open work pendant. A collection of pearls and diamonds are interspersed throughout the metal and suspend from the bow's base. A curb style chain threads through the pendant. Details: Antique style. 1890s reproduction. 14k yellow gold. Old mine cut diamonds; 0.52 carats. Round pearls.
Item
NK-3463

$1489.00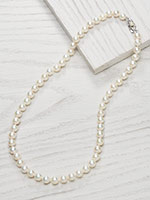 Vintage Necklace with Akoya Pearls
This Vintage necklace with Akoya pearls would have made Audrey Hepburn swoon. A floral engraved clasp gives this string of classic pearls a hint of dainty femininity. A small Akoya pearl is nestled in the center of the metallic flower. Fifty-eight larger Akoya saltwater pearls hug the neckline, giving a creamy luster to this necklace and the skin. Details: Vintage. Circa 1950 or later. 80% silver clasp. Akoya pearls.
Item
NK-3521

$599.00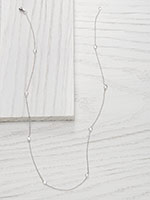 Delicate Diamond Necklace
The delicate balance of this necklace's diamond accents gives a polished finishing touch to any ensemble it is paired with. Eight full cut diamonds are strategically bead set around the circumference of this vintage style necklace, giving random touches of radiant shimmer. The white gold cable link chain throughout which the diamonds are interspersed is dainty and delicate. This diamond necklace secures at the nape of the neck with a lobster claw clasp. Details: Vintage style. New. 18k white gold. Full cut diamonds; 0.52 carats.
Item
NK-3578

$1499.00
Continued from the top . . .
In honor of everything old being new again, let's take a trip in the time machine to see what kinds of jewelry women in the 1970s were wearing and what retro trends from that decade are back in style all over again.
1970s Vintage Jewelry Trend #1: Let's Make a Statement - In the 1970s jewelry was intended to get noticed. Necklaces with large pendants were particularly de rigueur. Topazery's amethyst vintage brooch from the 1970s serves as a perfect example with its 6.5 carat purple gemstone.

1970s Vintage Jewelry Trend #2: Layer It On - One just wasn't enough in the 1970s. Women wore several necklaces in graduated lengths and stacked bracelets up and down their arms. The A Team's Mr. T. took this trend to the extreme in the 1980s with his signature multiple gold chains.
1970s Vintage Jewelry Trend #3: Doing What Comes Naturally - 1970s jewelry designers drew their inspiration from the natural world surrounding them. Shells, wood, bone and stone are all materials frequently found in vintage jewelry pieces from that era. Topazery's Art Carved vintage wedding ring from the 1970s incorporates this trend with its engraved floral and leaf pattern.

1970s Vintage Jewelry Trend #4: Bohemian Rhapsody - It wasn't just nature close to home that inspired designers in the 1970s. A global, free-spirited mindset prevailed and jewelry responded to the peasant blouses and bohemian skirts that were all the rage. Influences during this time period can be seen from ethnicities worldwide.
1970s Vintage Jewelry Trend #5: Disco Inferno - The 1970s was the era of the disco and everything, including jewelry, pulsated to the beat. Sparkles and flashiness were everywhere. Mirrored textures that refracted light like a disco ball were also quite popular.
1970s Vintage Jewelry Trend #6: Lettin' It All Hang Down - Earrings also started making a statement. To be sure they got noticed women began wearing long, dangle earrings that swayed beneath their long bohemian hair when they moved.
1970s Vintage Jewelry Trend #7: The Salt of the Earth - To go along with their natural elements, 1970s jewelry pieces embraced earthtone hues like olive green, burnt orange, walnut brown and creamy yellow.
Lauren Bacall Vintage Jewelry
August 22, 2014
When movie legend Lauren Bacall recently passed away, she widened the already-large void being left behind by classic Hollywood's leading actresses and actors. Sadly, very few individuals of Bacall's caliber remain from that film era.
Bacall lit up the screen all of her own beautiful accord, but she was often featured on camera wearing some stunning vintage jewelry pieces. In fact, she loved jewelry so much that she went on to produce her own jewelry line.
Bacall's breakthrough role was her very first movie, "To Have or Have Not" in 1944 opposite Humphrey Bogart, whom she would eventually go on to marry. In the famous seduction scene in which Bacall's character utters the immortal lines, "You know how to whistle, don't you, Steve? You just put your lips together and blow," the large vintage ring Bacall wears during much of the film can be spotted on her finger as she rests her hand on the marble-topped table on her way out the door.
Throughout the 1940s, Bogie and Bacall would continue to be billed together in "The Big Sleep," "Dark Passage," and "Key Largo." In several of "The Big Sleep's" scenes, Bacall is seen wearing a gingham-plaid skirted suit with several vintage bracelets circling her wrist. These vintage jewelry items are put in the spotlight when the actress raises her fingers to Bogart's dangling cigarette.
In the 1948 suspense film "Key Largo," Bacall wore a Y-shaped vintage choker with heart-shaped facets around her neck. Although the movie was filmed in black and white, color stills from the movie set reveal that these hearts were studded with emeralds in a shade of green that matched Bacall's skirt.
In one of her most famous later films, Bacall didn't even have star billing. In fact, she was listed third under Marilyn Monroe and Betty Grable. However, as had already become her custom, the actress earned raves for her portrayal of the gold-digging Schatze Page in 1953's "How to Marry a Millionaire." In the film's wedding scene, Bacall is dressed in a sheer lace wedding gown with an off-the-shoulder neckline and three-quarter sleeves. She finishes off the ensemble with a string of vintage pearls and a matching vintage bracelet.
Vintage Jewelry through the Hollywood Ages: 1930 to 1970
August 10, 2014
Vintage jewelry spans the era beginning in the 1930s and onward. It's not surprising then that some of Hollywood's most famous classic actresses wore jewelry on the screen that epitomizes the sought-after vintage jewelry of today. Read on to learn more about some of these big screen glittery moments.
Vintage Jewelry from 1930s Hollywood
One of America's first sex symbols, actress Jean Harlow lit up the screen with her platinum blonde hair and her thin, painted-on eyebrows. One of the hallmarks that helped make her a famous bombshell was her co-starring status with Spencer Tracy, and one of the film's where they shared the spotlight was the 1936 comedy "Libeled Lady."
In this film, Harlow wore a silver leaf brooch studded with aquamarines and diamonds. The vintage jewelry piece can be seen clipped to her long metallic scarf in a scene with Tracy.
That same year, another Golden Age icon, Greta Garbo, starred in the romantic drama "Camille," which went on to be included in Time Magazine's All-Time 100 Movies countdown. In that film, Garbo was supposed to wear a vintage choker necklace enhanced with emeralds, diamonds and pearls, but she refused to do so. That decision stemmed from the vintage necklace's sharp edges. According to the daughter-in-law of the necklace's designer, "In the scene where she was going to wear the necklace, she was required to have a cape over it. The necklace cut her from the weight of the cape, so she wouldn't wear it. The scenes filmed with the necklace ended up on the cutting room floor."
One of Hollywood's all-time greatest actresses, Bette Davis, made her color film debut in 1939 with Errol Flynn in "The Private Lives of Elizabeth and Essex." This historical drama chronicling the romance between Queen Elizabeth I and the 2nd Earl of Essex was nominated for five Academy Awards. The vintage nine-strand pearl necklace Davis wears in this movie is enhanced with gold pendants at the center of each strand that are set with red ruby stones.
And of course no discussion of 1930s Hollywood starlets would be complete without mention of Vivian Leigh in her iconic Scarlett O'Hara role. In one particular scene, while seated at the dining table with Clark Gable as Rhett Butler, she can be spotted wearing a vintage draping diamond necklace that features regal amethyst ovals and teardrops. The necklace is so synonymous with the Margaret Mitchell adaptation that it will never be rented to a movie studio again.
Other classic actresses of the 1930s who were famously photographed wearing spectacular vintage jewelry were Marlene Dietrich, who frequently wore pieces from her own private collection during filming; Kay Francis who was captured dripping head to upper torso in vintage pearls; and Irene Dunne in a diamond ring and vintage diamond bracelet.
Vintage Jewelry from 1940s Hollywood
As Hollywood moved into a new decade, the vintage jewelry seen on the big screen reflected not only the industry's growing budgets but also a leaving behind of the Depression era's tightening of the purse strings. As a result, the jewelry pieces became much more elaborate. A shining example of this tendency is the bib necklace worn around the neck of actress Ona Munson in "Shanghai Gesture," a 1941 film noir.
Encircled all the way around the neckline with diamonds, the vintage necklace showcases a large, round burnt orange topaz at the center of the throat. A cascade of triple-tiered topazes and diamonds drizzled down the decolletage. It's no wonder it has been called "the most spectacular necklace in the world."
Five years later, in 1946, movie goers were treated to the musical comedy "Ziegfeld Follies." Judy Garland has a standout satirical performance in the film, beside Fred Astaire and Gene Kelly, as a movie queen conducting an interview. During her screen time, she wears a vintage lariat necklace.
The year 1947 saw two of classic Hollywood's greats making magic on the screen, not only with their acting performances but also with the jewelry they wore. First, one of the American Film Institute's 100 Greatest Stars of All Time, Rita Hayworth, starred in the musical comedy "Down to Earth," in which her wrists are decorated with vintage snake bracelets.
That same year, Katharine Hepburn, beside her frequent co-star Spencer Tracy, starred in the western drama, "Sea of Grass," the most commercially popular of the pair's films. While seated at the piano in a red velvet ball gown, Hepburn wears a two-piece vintage brooch fashioned into a dart. The brooch is arranged diagonally across her torso to give the appearance of an arrow piercing through her heart.
Vintage Jewelry from 1950s Hollywood
Arguably the most famous actress to grace the big screen was Marilyn Monroe and she did it in grand style in the 1953 musical "Gentlemen Prefer Blondes." Her "Diamonds Are a Girl's Best Friend" number as gold digger Lorelei Lee remains iconic to this day. Who could ever forget the pink satin bustier dress and matching long-sleeved gloves that she wears as she coos the song?
To get the lyrics' point across, she tops the ensemble with a collection of spectacular vintage diamond bracelets and an unforgettable necklace. Known as the Moon of Baroda, the necklace features a 24-carat pear-shaped yellow canary diamond. The necklace dates back centuries, making it an antique. What is interesting to note, however, is that Monroe rarely wore diamonds in her off-screen life, preferring instead elegance through simplicity.
Another Hollywood actress known for her elegance, Grace Kelly, starred in the musical comedy "High Society" in 1956. Co-starring Gene Kelly and Frank Sinatra, the film went on to become one of the 10 highest grossing of the year. Shortly after its debut, Kelly went on to become the Princess of Monaco. The vintage chandelier earrings dripping with pearls that she wears in the movie are certainly befitting a real-life princess.
While all of this was happening on the big screen, another gracefully elegant woman was awaiting her turn in the spotlight. Future first lady Jackie Kennedy would soon become synonymous with the pearls she wore around her neck. Most of the pearls she wore during her husband's presidency came from her mother, Janet Bouvier, prior to Jackie's marriage to President Kennedy. A vintage 1950s piece -- the triple-strand pearls Jackie was most famously photographed in -- featured an antique Art Deco clasp.
Vintage Jewelry from 1960s Hollywood
Although officially released in 1961, the movie version of "Breakfast at Tiffany's" had a decidedly 1950s vintage flair to it. That's because the book on which it was based was published in 1958. Gaga for jewelry store Tiffany's, Audrey Hepburn as Holly Golightly has earned Hollywood immortality for the vintage pearl and diamond necklace she wears in the film. It serves as the piece de resistence to Hepburn's ensemble of Givenchy's little black dress, long matching gloves, cigarette holder and diamante hair ornament. Featuring multi strands of pearls with a diamond centerpiece, the vintage necklace helped define a new generation of style.