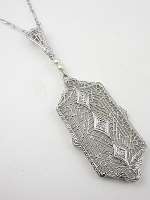 Vintage Jewelry
Topazery.com is a vintage jewelry boutique offering vintage rings, bracelets, pendants, and more. We opened our doors in 2001 in an antique mall in Charlotte, NC. Now based in Atlanta, GA, we offer an online-only collection of carefully chosen vintage pieces which are sure to delight. Each hand-selected piece captures the mystique and romance of jewelry from a bye-gone era. Visit us and find out why our customers come back again and again to find vintage jewelry that is simply spectacular. We hope you'll come back often to browse our ever-changing collection!
Topazery's Vintage Jewelry Collection
Classical, exuberant, sometimes whimsical... Topazery vintage jewelry pieces honor the important moments in your life...
The Topazery Collection offers extraordinary vintage jewelry including rings, bracelets, and pendants. Introduced in 2006, the collection features fine vintage style pieces made in gold and platinum and set with quality diamonds and gemstones. A Topazery Collection vintage jewelry piece will be worn often and treasured always.
The Earth Collection

Topazery's Earth Collection includes platinum and gold jewelry set with diamonds and gemstones in the warm earth tones of greens, browns, and the golden shades of Autumn. You'll find chocolate and champagne colored diamonds, green tourmalines, emeralds, citrines, and green and yellow sapphires. Celebrate a special occasion with a Topazery Earth Collection ring -- each jewelry piece is as enchanting as the natural beauty all around us.

The Dragonfly Collection

Every ring in Topazery's Dragonfly Collection is based on the design of an original vintage piece. After we sold the original, we had so many requests for these well-loved designs that we decided to reproduce these special rings just for you in the Dragonfly Collection.

The Tara Collection

Topazery's Tara Collection embraces jewelry pieces from the past. Named after Tara, the spectacular Southern plantation in the movie "Gone With the Wind", this collection features classic rings in Edwardian and Art Deco styles.

The Vintage Collection

Transcend time with an elegant vintage jewelry design from Topazery's Vintage Collection. Each Vintage Collection jewelry piece is inspired by classic motifs from the past and is indistinguishable from the original in design, quality, and craftsmanship. Each jewelry piece is beautifully crafted in the USA. Every stone is hand-set and each piece is meticulously hand-finished by one of Topazery's Master Jewelers.

Orders & More

Victorian Pearl and Zircon Vintage Necklace

A glorious bouquet of pearls, diamonds and blue zircons accent a Victorian necklace's delicate swirling vase.

Item
NK-3508
$2225.00

Orders & More

Vintage Child's Bracelet

Vintage bracelets like this one make charming, one-of-a-kind gifts for little girls.

Item
BR-584
$629.00

Orders & More

Victorian Vintage Cross with Old Cut Diamonds

A Victorian vintage cross features a lovely open design.

Item
CR-3535
$1129.00

Orders & More

Vintage Amethyst Cocktail Ring with Floral Trim

Even spring's most perfect lilac couldn't rival this vintage cocktail ring's amethyst.

Item
RG-3538
$1529.00

Orders & More

Vintage Wedding Ring, Circa 1945

A wave of precious metal swirls and twirls around the finger in this 1945 antique wedding ring.

Item
RG-1559
$949.00

Orders & More

Filigree Vintage Cross

In this filigree vintage cross, a diamond pinwheel playfully spins in the center.

Item
CR-3537
$889.00

Orders & More

Filigree Sapphire and Diamond Vintage Bracelet

Angelic arcs of diamond brilliance radiate from the center of this hand-wrought vintage bracelet.

Item
BR-3504
$3829.00

Orders & More

Vintage Cross with Orange Blossom Motif

The quatrefoil flowers at the four corners of this vintage cross cast a Garden of Eden spell.

Item
CR-3501
$699.00

Orders & More

Arts and Crafts Vintage Necklace

In this enchanting Arts and Crafts vintage necklace, a green-gold-accented evening primrose flirts with pearls.

Item
NK-3502
$779.00

Orders & More

Maple Leaf Vintage Bracelet

Maple leaves dance around her wrist in this charming antique bracelet.

Item
BR-3459
$3689.00

Orders & More

Filigree Vintage Necklace

Pearls and diamonds flirt with filigree in this vintage necklace.

Item
NK-3455
$800.00

Orders & More

Filigree Vintage Cross Necklace

This vintage cross necklace marries filigreed tree, flower and climbing vine motifs.

Item
CR-3523
$195.00

Orders & More

Art Nouveau Flower Brooch

This vintage Art Nouveau brooch was made by Hedges and Company of Newark, N.J.

Item
PN-3456
$419.00

Orders & More

Vintage Style Necklace

Scarlett O'Hara might have adorned the gates of her beloved Tara with the same ornamental design that is found in this sterling silver filigree pendant.

Item
PT-3524
$149.00

Orders & More

Filigree and Ruby Vintage Bracelet

A pair of marquise rubies floats romantically down the center of this filigree vintage bracelet.

Item
BR-3328
$1650.00

Orders & More

Victorian Inspired Vintage Bracelet

Metallic fringe and a decorative fleur de lis lend graceful charm to this Victorian inspired vintage bracelet.

Item
BR-3329
$819.00

Orders & More

Vintage Filigree and Diamond Cross

Filigree and diamonds join forces to create this romantic vintage cross.

Item
CR-3324
$1149.00

Orders & More

Filigree and Diamond Vintage Bracelet

In vintage bracelets like this one, white and yellow gold filigree wraps the wrist with lacey stars.

Item
BR-3098
$999.00

Orders & More

Vintage Pearl and Diamond Bracelet

This antique pearl and diamond bracelet in 14k yellow gold wraps the wrist in classic elegance.

Item
BR-3189
$1529.00

Orders & More

1930s Filigree Vintage Pendant

A trio of diamonds cascade down the neckline in this 1930s filigree antique pendant.

Item
NK-2881
$895.00

Orders & More

Vintage Style Ring with Rose Petal Motif

A delicate pink rose bud is just beginning to open in this chic vintage style ring with rose petal motif.

Item
RG-3241
$929.00

Orders & More

Vintage Pendant in the Victorian Style

If Cupid's arrows were as romantic as this vintage filigree pendant, they'd never miss their mark.

Item
PT-2114
$799.00

Orders & More

Filigree and Diamond Vintage Cross

Meanderingly cut down the center, this filigree vintage cross serves as a reminder of the Savior.

Item
CR-3056
$959.00

Orders & More

Vintage Pendant with Plique a Jour

The romance of a fairy garden comes to life in this vintage pendant with plique a jour.

Item
PT-3042
$1299.00

Orders & More

Classic Vintage Aquamarine Ring

This bold and classic vintage aquamarine cocktail ring demands to be noticed.

Item
RG-2785
$5600.00

Orders & More

Vintage Pearl Brooch and Pendant

Constructed of 14k yellow gold and pearls, this vintage brooch is a versatile addition to your jewelry wardrobe as it may be worn as a pin or pendant.

Item
PN-2859
$625.00

Orders & More

Vintage Filigree Bracelet

Diamonds and sapphires create a delicate pattern of lace for the wrist in this 14k white gold vintage racelet.

Item
BR-2713
$1195.00

Orders & More

1930's Vintage Diamond Ring

Diamonds and platinum create a glittering orb of light in this vintage diamond ring.

Item
RG-2738a
$4949.00

Orders & More

1960s Starburst Vintage Brooch

The festive shimmer of fireworks exploding midair is captured in this starburst vintage brooch with ruby and diamonds.

Item
PN-2645
$599.00

Orders & More

Filigree and Diamond Vintage Bracelet

The brilliant fireworks of an exploding star captivate the eye in this filigree and diamond vintage bracelet.

Item
BR-2297
$1229.00

Orders & More

Vintage Style Diamond Drop Pendant

Set in 18k white gold, a collection of five round full cut diamonds meander their way down this vintage style pendant to end in a diamond-encrusted obelisk.

Item
PT-2559
$549.00

Orders & More

Vintage Ring, Circa 1950s

This diamond ring from the 1950s raises the bewitching bar.

Item
RG-2025
$999.00

Orders & More

Topazery Vintage Collection Heart Pendant

Hearts, hearts and more hearts! Romance abounds in this Topazery Vintage Collection heart pendant.

Item
PT-2452
$675.00

Orders & More

Aquamarine Vintage Pendant

A greenish blue aquamarine glimmers amidst a sea of diamond sparkle in this vintage style pendant.

Item
PT-2560
$719.00

Orders & More

Orange Blossom Bangle Bracelet

The captivating natural beauty of orange blossoms in spring is captured in this antique style bangle bracelet.

Item
BR-2453
$619.00

Orders & More

Vintage Diamond Cross

This vintage diamond cross has a romantic flavor thanks to its heart design.

Item
CR-2282
$349.00

Orders & More

Diamond Vintage Cross in the Art Deco Style

The shining brilliance of this diamond cross in the Art Deco style is an angelic vision straight from heaven.

Item
CR-2286
$419.00

Orders & More

Topazery Vintage Collection Diamond Pendant

This antique style 1930s diamond pendant has the romantic appeal of a heart-shaped grapevine wreath with dew-dusted roses tucked amongst its branches.

Item
PT-2451
$650.00

Orders & More

Sapphire and Filigree Vintage Cross

Like a dreamcatcher, the finely detailed filigree work of this Edwardian style cross captures your attention and never lets go.

Item
CR-2287
$850.00

Orders & More

Vintage Ring in Rose Gold

The iridescent curved appeal of a beachside conch shell comes to mind with this Retro Modern ruby ring in rose gold.

Item
RG-2281
$1129.00

Orders & More

Handwrought Ruby and Diamond Vintage Cross

You'll think of morning dew droplets slowly descending from rose petals when you wear this handwrought ruby and diamond cross.

Item
CR-2224
$995.00

Orders & More

Quartz and Diamond Vintage Pendant

This quartz and diamond vintage pendant is like one of the ornate doorknockers that might have heralded visitors to Dickensian front entryways.

Item
PT-2113
$695.00

Orders & More

Vintage Pearl Engagement Ring

May your marriage be as harmonious as this classic 1950s vintage pearl engagement ring.

Item
RG-2230
$1489.00

Orders & More

Vintage 1940s Diamond Eternity Band

The soft flap of butterfly wings beats freedom's rhythm in vintage 1940s diamond eternity bands like this one.

Item
RG-1557
$1295.00

Orders & More

Classic Platinum Citrine Vintage Ring

Classic citrine vintage rings like this one make an elegant right hand ring.

Item
RG-1812
$999.00
---
---
ęCopyright 2001 - 2013
Topazery, LLC
Atlanta, GA, USA
&reg Topazery is a Registered Trademark
Cart

WELCOME!
Home
Join Newsletter
New Listings
How To Order
FAQs
Contact Us
Testimonials
Hassle Free Returns

JEWELRY STORES
All Rings
All Jewelry
Gifts Under $500

ENGAGEMENT RINGS
Thumbnails
Vintage Engagement Rings
Antique Engagement Rings
Antique Style Engagement Rings
Champagne Diamond Rings
Aquamarine Engagement Rings
Sapphire Engagement Rings

RINGS & MORE
Thumbnails
Antique Rings
Vintage Jewelry
Filigree Rings
Earrings
Brooches

WEDDING RINGS
Thumbnails
Antique Wedding Rings
Antique Style Wedding Rings

JEWELRY BY PERIOD
Thumbnails
Victorian Jewelry
Edwardian Jewelry
Art Deco Jewelry

EDUCATION
Gemstone History
Jewelry Periods
Antique Diamond Cuts
Evaluating Stones
Jewelry Library

INFORMATION
In the News
Privacy Policy
Legal Policy