Vintage Jewelry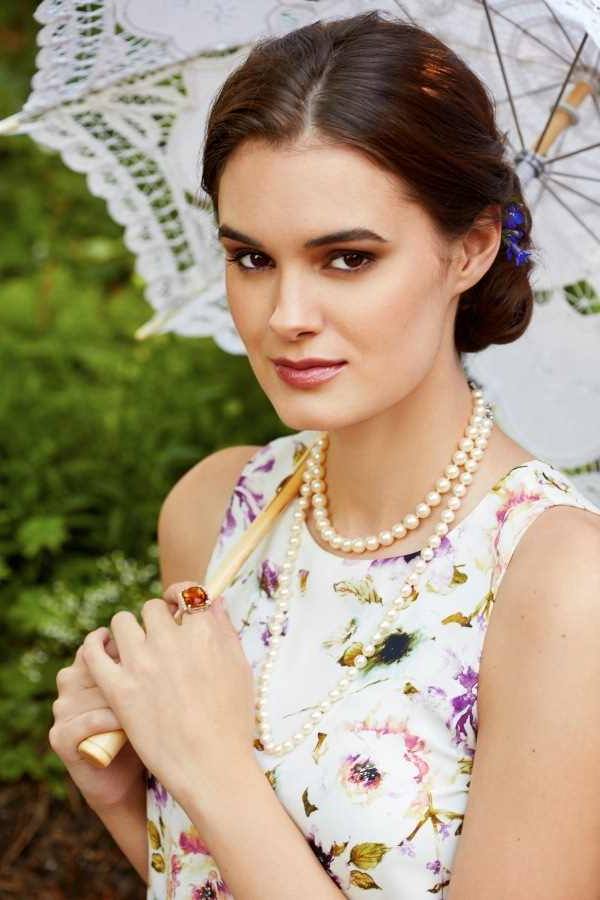 What comes to mind when you think of vintage? Torn blue jeans? Peasant blouses and long skirts? Worn and threadbare handbags and accessories? Sure, vintage can be all of those things, depending on your style and where you shop. But when it comes to vintage jewelry, it can just as easily mean sophistication, style, and substance.
How to Wear Vintage Jewelry
Aside from old, used, and worn, the definition we like best for vintage is classic. When you wear vintage jewelry, you're opening up a world of possibilities in wardrobe and style. So how can you pair a piece of vintage jewelry with today's clothing and accessories to create a classic yet contemporary ensemble? Learn More &raquo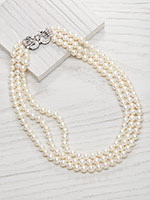 Three Strand Vintage Pearl Necklace with Diamond Clasp
A platinum and diamond bowtie clasp ramps up the sophistication of this triple strand pearl necklace. The 165 Akoya pearls that make up the three strands of this vintage necklace offer the ultimate in elegance. The classic pearl look gets the black tie treatment with a platinum and diamond clasp. Shaped like a bowtie, this box-style closure is accented with a collection of round brilliant and single cut diamonds. Wear the clasp in the back for a sophisticated, polished daytime look; then slide it around to the front at night to bring on the glamour. Details: Vintage. Circa 1940. Platinum and 18k white gold. Round brilliant and single cut diamonds; 0.96 carats. Akoya pearls.
Item
NK-1527

$10800.00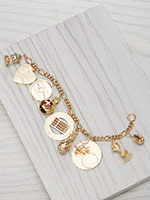 Vintage Charm Bracelet
Playful gold charms flutter from the links of this bracelet's figaro chain. In this vintage bracelet nine eyecatching charms dangle suspend from a yellow gold figaro link chain, adding whimsy to the wrist. A heart, a pineapple, two French sentiment discs, and a hinged fortune cookie are among the solid gold charms. The remaining four charms cast a further bewitching spell with their colorful accents: temple with blue glass beads; cowbell with red Swiss cross; duck with red enamel eyes; and Christmas disc with reindeer and bells featuring red and blue stones. Details: Vintage. Circa 1930s and later. 14k and 18k yellow gold. 63.42 grams.
Item
BR-2876

$2949.00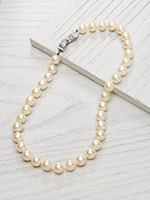 Vintage Pearl Necklace with Diamond Clasp
A wave of white gold and diamonds mesmerizingly undulates at the back of this vintage pearl necklace. This single strand of Akoya pearls adds classic sophistication to any outfit - day or night. It's the clasp, however, that takes this vintage necklace to a whole new level of elegance. Shaped like an ebbing and flowing wave, the 18k white gold clasp is engraved in a criss-crossing pattern. A trio of old style diamonds lend sparkle to the wave's crests and trough. Details: Vintage. Circa 1940. 18k white gold. Single cut diamonds; 0.10 carats. Akoya pearls.
Item
NK-1825

$1929.00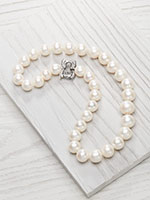 South Sea Pearl Necklace with Vintage Clasp
This vintage pearl necklace with diamond clasp is destined to become one you reach for time and time again. The substantial South Sea pearls of which this necklace is composed add sophisticated drama to any jewelry wardrobe. The uniquely styled vintage clasp, however, ensures they earn their rightful place among your most coveted pieces. Shaped like an hourglass with wings hugging its curves, the 18k white gold claps is accented with a dozen diamonds. Details: Vintage. Circa 1940. 18k white gold. Single cut diamonds; 0.14 carats. South Sea pearls.
Item
NK-3520

$3975.00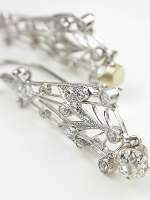 Edwardian Antique Earrings
Old mine cut diamonds suspend from Eiffel tower-like architectural bridgework in these Edwardian earrings. The platinum open framework of these antique earrings shimmers with an additional seventeen old style full cut diamonds. These antique earrings secure to the lobe with Shepherd hooks. Details: Platinum. Old mine and old style full cut diamonds; 1.34 carats. Antique, Circa 1915
Item
EA-3505

$7959.00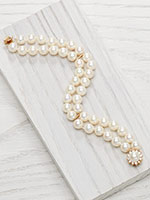 Vintage Pearl Bracelet
A shimmering star-orbited moon medallion secures a double string of Akoya pearls. This vintage bracelet surrounds the wrist in pearl sophistication. The saltwater Akoya pearls that string this bracelet are arranged in a double strand. They are joined with a 14k yellow gold and diamond box style clasp. This closure accent brings to mind a full moon encircled by a constellation of stars. Details: Vintage. Circa 1950 or later. 14k yellow gold. Full cut diamonds; 0.24 carats. Saltwater Akoya pearls.
Item
BR-3543

$1619.00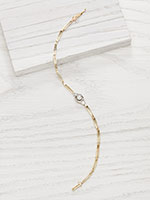 Vintage Hand Wrought Bracelet
Gold, silver, and diamonds meld beautifully together in this hand wrought vintage bracelet. The long, slim gold links of vintage bracelets like this one seductively slither around the wrist. A concealed box clasp ensures no interruption in the decorative appeal. A contrasting silver bowtie rests at the bracelet's center. Three diamonds are geometrically nestled inside this accenting centerpiece. Details: Vintage. Circa 1930. Silver on 14k yellow gold. Round brilliant and old style full cut diamonds; 0.27 carats.
Item
BR-3574

$999.00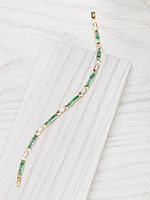 Vintage Diamond and Emerald Bracelet
Diamonds await at the end of the emerald rainbow in this vintage bracelet. Streamers of emeralds and gold-clutched diamonds alternate to kiss the wrist with springtime bliss. The diamonds are arranged three to a link in an elongated oval. They are flanked on each side by rows of six emeralds. A golden barrel clasp secures this vintage bracelet. Details: Vintage. Circa 1990. 18k yellow gold. Round brilliant cut diamonds; 0.20 carats. Square faceted step cut emeralds; 1.78 carats.
Item
BR-3599

$2549.00
Continued from the top . . .
Vintage Pearl Necklace
One name is often synonymous with the pearl necklace--Audrey Hepburn. The Tiffany necklace she wore in the film Breakfast at Tiffany's is iconic. It consisted of five strands of pearls, with a large Swarovski crystal pendant in the center. She wore it with a slinky black, floor-length gown, and black, over-the-elbow, opera gloves.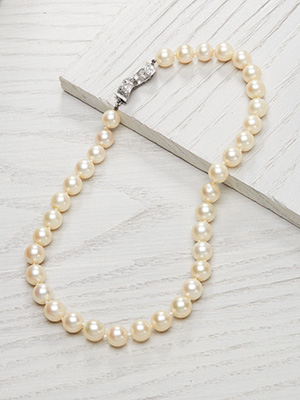 You don't have to go quite as Hollywood to wear a vintage pearl necklace. Even one strand can beautifully complement a simple neckline on any dress or blouse. Pearls are the classic that go with anything. Still, they do produce quite a dramatic look against a little black dress.
Vintage Pearl Bracelet
A couple of the same rules apply to pearl bracelets as pearl necklaces--keep the attire simple, and you can never go wrong with black. But keep a few extra details in mind as well.
One classic look that can be improved with a pearl bracelet is a sweater twinset. Neutral tones are fine, but brighter colors will be reflected in the iridescence of white pearls. You can go another way, and wear a pearl bracelet with a short-sleeved or sleeveless blouse, allowing the soft glow of the gems to stand alone. If you wear any other jewelry on that hand, make sure it's just one, simple ring. And of course, your engagement ring or wedding ring are never out of step with other jewelry pieces.
Vintage Brooch
Whatever happened to the brooch? We think it needs to make more of a comeback. Brooches used to be essential accessories, adorning women's lapels throughout the 1940s and 1950s. From small and delicate, to large and bold, a classic vintage brooch can be one of your most versatile pieces of jewelry.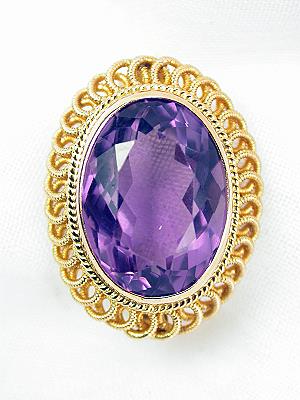 This
vintage amethyst brooch
from the 1970s is a perfect example, with its 6.5 carat violet gemstone, and 14k gold setting. Wear it on a black or gray dress, the lapel of a suit jacket, or to hold a silk scarf in place. Perfection.
Vintage Dangle Earrings
People of both sexes and all ages have been piercing their ears (and other body parts) for at least 5,000 years. Egyptian mummies have been discovered wearing earrings, and even the Bible references that type of jewelry. With numerous styles available, you have unlimited choices when it comes to adorning your ears. One of the most popular types of vintage earrings, though, are dangle earrings.
If you're going to go to the trouble of choosing a beautiful pair of vintage dangle earrings, you want to be able to show them off. Short hairstyles make this easy. If your hair is longer, an updo is always a perfect backdrop for a special pair of earrings.
The vintage earrings you choose may be a little fancy for everyday wear, so consider adding them to an evening ensemble, complete with cocktail dress, and other accompanying pieces. If you really want your vintage earrings to stand out, make the other pieces understated, such as a simple strand of pearls, or a classic ring with a small gemstone, rather than a large, colorful cocktail ring.