Antique & Vintage Style Engagement Rings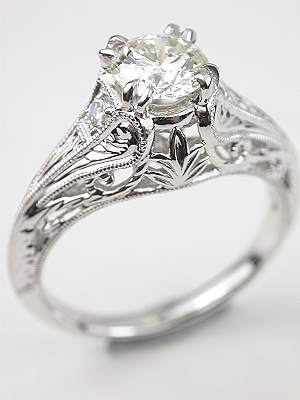 Buying an engagement ring is a big decision, not only because of the commitment it symbolizes, but because it's a piece of jewelry meant to be worn every day of your beloved's life. It has to be something she'll love and enjoy wearing for decades to come.
Why Buy Vintage or Antique Style Engagement Rings
With so many choices available today, it can be difficult to settle on the one ring to rule them all. If you're currently dealing with that dilemma, allow us to explain why a vintage style engagement ring or an antique style engagement ring may be the best option for you. Learn More &raquo
Continued from the top . . .
It Will be Unique
Well, maybe not completely unique. You see, the vintage style engagement rings we sell (and many other rings like this on the market) are modeled after genuine antique rings, so they may have some similar elements, and look very much like their inspirations.
However, vintage style engagement rings will look nothing like the contemporary, mass-produced rings you'll find in chain jewelry stores, so there's little to no chance of your beloved having the same ring as hundreds of other people. This will make them feel all the more special.
It Will be New
Antique rings are gorgeous, and carry a lot of history with them. But not everyone likes to wear items - jewelry or otherwise - that were worn by other people before them. There's absolutely nothing wrong with that. Everyone has their personal tastes and preferences. So while a vintage style ring will display the style of an antique ring, it will be brand new, never worn by anyone else.
If this is an important factor for your significant other, then a vintage style engagement ring can be the perfect solution.
It May Cost Less
Let's face it - antique jewelry can be expensive. It's often hand-crafted, and has survived decades, if not centuries, to still be available to enjoy today. The price of antique jewelry takes a lot more than just the metal, gemstones and design into account. Provenance can sometimes influence price. Was the ring previously owned by a member of European royalty? You can bet the price will go up.
A vintage style engagement ring, on the other hand, has all the beauty of an original, antique ring, but none of the history, which can translate to a lower price. Make no mistake, the lower price doesn't mean lower quality, just that it's a new piece that doesn't boast any kind of famous origin.
Before you discount an antique ring, consider a vintage style engagement ring. You may find it offers much more than just beauty.
Vintage Inspired Engagement Rings and Jewelry from the Topazery Collection
Topazery vintage includes four jewelry collections. Classic, traditional, sometimes whimsical. Worn often, and treasured always. Our vintage style rings and jewelry honor the important moments in your life.
Tara

Topazery's Tara Collection embraces jewelry pieces from the past. Named after Tara, the spectacular Southern plantation in the movie "Gone With the Wind," this collection features original, classic rings.



Dragonfly

Every ring in the Dragonfly Collection is based on the design of an original piece. After we sold the original, we had so many requests for these well-loved designs that we decided to reproduce them just for you.

Earth

The Earth Collection includes rings set with diamonds and gemstones in the warm earth tones of greens, browns, and the golden shades of Autumn. You'll find chocolate and champagne diamonds, green tourmalines, emeralds, yellow citrines, and green and yellow sapphires.

Vintage

Inspired by classic motifs from the past, and indistinguishable from the originals in design, quality, and craftsmanship, each ring or jewelry piece is beautifully crafted in the USA. Every stone is hand-set, and each piece is meticulously hand-finished by a Master Jeweler.
Want to Be Her Superhero? A Vintage Style Engagement Ring is the Way to Go!
Vintage style engagement rings have a lot going for them. They radiate the old-world charm of yesteryear, yet are often priced significantly lower than the antique and vintage rings they emulate. And you probably never thought buying your future wife an engagement ring could bestow you with superpowers, did you? Choose a vintage-inspired engagement ring, and you just might need tights and a cape, too!
Speed - When you ask the love of your life to marry you with a vintage style ring, chances are, there'll be no hesitation. You can bet she'll say yes faster than Superman can fly around Earth.
Strength - Okay, so maybe you won't magically transform into a muscle-bound hulk. But you'll feel like you can lift a mountain when the beautiful ring you propose with results in a resounding "Yes!"
X-ray Vision - Vintage style engagement rings have the uncanny ability to make a woman feel as though the man she's about to marry knows her inside and out. When you ask for her hand with the type of ring she's always wanted, you'll be showing her that you see deep into her very soul.
Invisibility - A vintage-inspired engagement ring won't make you invisible to the woman you love. Quite the contrary. What it will do is make all other men invisible to her. Once you slip that ring onto her finger, she'll only have eyes for you.
Power - The Green Lantern gets his power from a ring, but that's not what we're talking about here. A vintage style engagement ring will imbue your beloved with the power of confidence, which she'll feel every time she wears it.