Antique and Vintage Wedding Rings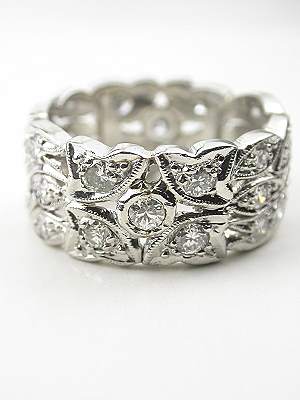 Are you thinking about purchasing an antique wedding ring? Well, why wouldn't you? Antique and vintage wedding rings are unique, they're kind to the environment, they have history and character, and they're competitively priced.
Still, a vintage wedding ring may not be right for everyone. But we have a feeling that after you read all the reasons we've collected in favor of vintage and antique wedding rings, you'll be ready to take the plunge! Learn More &raquo
Continued from the top . . .
You like to stand out from the crowd. When you purchase an antique wedding ring, it's almost a guarantee that no one else will own one just like it. If you're seeking a one-of-a-kind ring without the expense of a custom-made ring, a vintage wedding ring is the perfect solution.
You've opted for a simple engagement ring, or no engagement ring at all. Back in the eras from which antique wedding rings hail, many brides wore only one ring. As a result, their wedding bands took on a dual role, incorporating the sparkle of today's engagement rings with the functionality of displaying marital status. If you prefer your wedding band to do most, if not all, of the talking, then antique or vintage is the way to go.
You relate to a specific historical time period. Maybe you yearn for the days of poodle skirts and bobby socks, hanging out at the soda shop. Perhaps you're a flapper at heart. No matter your personality, or which bygone era you admire, a vintage wedding ring can transport you back to that point in history that's so special to you.
You want your wedding ring purchase to be an investment. Because vintage wedding rings are rare--sometimes the only remaining example of their kind--they stand a far better chance of increasing in value over time than the cookie-cutter new rings sold today. Rarity, however, isn't the only quality that lends itself to a vintage wedding ring's value. Much of the jewelry made in bygone eras is of better craftsmanship and higher quality than many contemporary options as well.
You care about the environment. If you proudly wear the tree-hugger badge, every time you look at your vintage or antique wedding ring, you'll know that your choice contributed to protecting the world around you. Vintage and antique jewelry falls squarely into the "reuse and recycle" category. No additional mining or manufacturing processes went into making your wedding ring, so the earth isn't suffering any additional negative effects from it. You can wear it with a clear conscience.
You're more about uniqueness and tradition than trendy flashiness. The old-style cuts of the stones found in antique wedding rings have a completely different appeal from modern-day cuts. If carat weight and clarity are your main concerns, an antique wedding ring may not be your style. However, if you prefer one-of-a-kind flair, you'll find just that in an antique wedding ring.
You want your wedding ring to have a soul. An antique wedding ring has history. It has lived and breathed in the past, and the previous life it experienced has been entrusted to you. If you take that responsibility sincerely, you're an excellent candidate for a vintage wedding ring.
About Antique and Vintage Wedding Rings
You'll soon be walking down the aisle, and you're looking for a unique wedding ring as a symbol of your commitment. The charm and romance of yesteryear are brought to life in our elegant collection of antique and vintage wedding rings.
Our wedding rings go above and beyond the traditional gold band with myriad fine details, making them truly one-of-a-kind jewelry pieces, like miniature works of art. Carved leaf engravings, floral cutwork, and open weaving are just some of the exciting features you'll find in our collection.
You'll also find rings accented with sparkling diamonds, as well as vivid gemstones such as sapphires, emeralds, rubies, and more. As for precious metals, you'll be able to choose a wedding ring set in platinum, white or yellow gold, or even two-tone and tri-color gold.
Browse our full collection, and find the antique or vintage wedding ring of your dreams.