Vintage Engagement Rings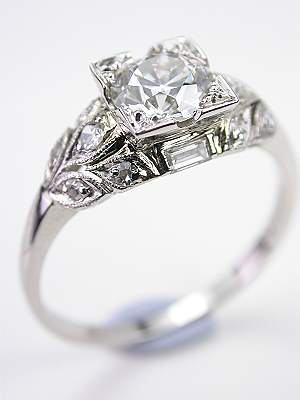 Vintage jewelry is about much more than nostalgia and romance. Every piece is a miniature work of art that you can wear. Each vintage engagement ring or bracelet or necklace is unique and has a story to tell. Discover why you should buy a vintage engagement ring.
What a Vintage Engagement Ring Says about You
Do you have your heart set on a vintage engagement ring? Have you been turning to classic Hollywood instead of celebrity sites for engagement ring inspiration? Ever wonder what this might say about you? We've got the answers. Learn More &raquo
Continued from the top . . .
"I'm a caretaker of history." You take great pride preserving the piece of posterity that is your vintage engagement ring. You'll pass this beautiful work of art down to the next generation, and you don't take this responsibility lightly. You are a guardian of the past and the future, and you know how precious of a duty this is.
"I believe in tradition." When you wear your vintage engagement ring, you're making a bold statement about yourself. You're telling the world that you have no desire to be caught up in all the modern-day trappings. You value what has come before, and you see your engagement ring as a reflection of your love of tradition.
"I care about preserving the environment." Because it is essentially a recycled piece of jewelry, a vintage ring is an eco-conscious choice. Unlike new engagement rings, the making of which requires metal, stones, and mining techniques that can negatively affect the earth, vintage engagement rings leave no additional mark on the environment.
"I know who I am." You don't take cues from the media, or the current trends touted by advertising, magazines, and social media. You are your own trendsetter. You have your own sense of style, and you know how to confidently express your individuality in your own unique way.
If a vintage engagement ring speaks to you, perk up your ears and listen. Choosing one says a lot about you. And those who see you wearing the ring will get the not-so-secret message loud and clear.
Five Romantic Wedding Venues - and Vintage Rings to go With Them
Few things are as exciting as a destination wedding. Whether you travel afar, or stay close to home, these vintage wedding locales are sure to inspire you.
And because no wedding would be complete without the perfect ring, we've paired each one of these romantic wedding venues with an antique or vintage engagement ring available from Topazery.
Castle Durrow Hotel, County Laois, Ireland
This stone structure embodies Ireland's history. Dating back to the 18th century, Castle Durrow holds the distinction of being one of the few houses of its time for which precise building records survive. As a result, its lineage can be traced all the way back to the day it was built. Even more striking is the fact that three centuries later, this castle still stands in near-original condition.
Known as the Emerald Isle, Ireland is synonymous with the color green. The perfect pairing for a wedding at Castle Durrow is a vintage wedding ring featuring emeralds.
This vintage engagement ring with emerald accents, circa 1925, provides just enough hint of green to qualify as Irish-inspired.
Over the Vines Vineyard & Wine Barn, Edgerton, Wisconsin, USA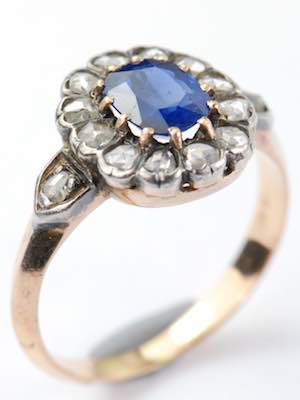 With beautiful farmland stretching in every direction, the landscape surrounding Over the Vines is as spectacular as the structure itself. Set among lush vineyards, the wine barn was built in 1888, in the midst of the Victorian era.
Matching up nicely with that era is this Victorian Antique Sapphire Engagement Ring. Circa 1875, this ring is the perfect complement to a wedding held at Over the Vines.
Chateau Vaudois, Roquebrune-sur-Argens, France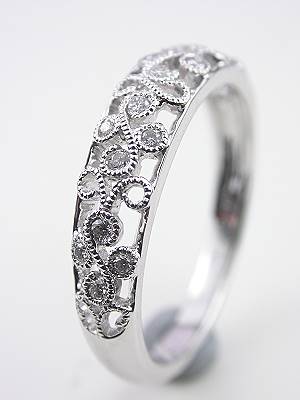 Few vintage wedding venues are lovelier or more romantic than the vineyards surrounding Chateau Vaudois in the Provence region of France. Nestled near the Cote d'Azur, just north of Saint-Tropez, the Chateau affords a bride and her guests stunning views of the French Riviera and the Mediterranean Sea. Flooded with sunshine almost year-round, this vintage wedding venue is full of bright light and soft ocean breezes.
A vintage ring with a vine pattern running through it is perfect for a vineyard wedding. This Floral Wedding Band with Diamonds features open-work vines twisting their way down the shoulders of the ring. A collection of diamonds peeks out among the intricate scrollwork.
The Victorian, Santa Monica, California, USA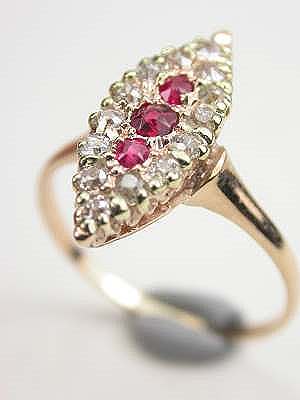 Turrets, gables, and lacy gingerbread trim are just some of the Victorian touches that make The Victorian a spectacular vintage wedding venue. Built as a mansion in 1892, it remained in the hands of the same family for decades. The white picket fence that surrounds it makes a beautiful backdrop for wedding photos.
This Victorian Ruby and Diamond Cocktail Ring hails from the same decade as this lovely venue. Featuring three ruby accents down its center, the ring is surrounded by its own white picket fence in the form of 14 European-cut diamonds.
Chateau Elan Carriage House, Rothbury, Australia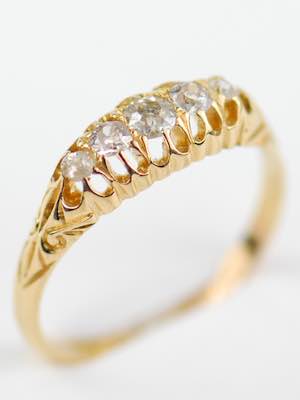 Surrounded by lush, green lawns and flowering gardens, Chateau Elan Carriage House makes for a gorgeous wedding destination. The structure is built from sandstone rescued from another property built in 1834. It's unique in that it provides a roomy yet intimate space perfect for a wedding.
With its hand-wrought, 18-karat gold setting, this Victorian Antique Wedding Ring evokes the past in much the same way this vintage venue does. Five European-cut diamonds streak across its center, while an English hallmark and a personal engraving give a nod to this vintage wedding ring's Victorian past.
How to Care for Your Vintage Engagement Ring
You might worry that because of your vintage engagement ring's age, it won't stand up to the rigors of cleaning. Vintage jewelry does require some tender loving care, and with a few precautions, you can keep it looking beautiful for many more years to come.
Use the Right Tools - Fortunately, it doesn't take a lot of fancy gadgets to care for your vintage engagement ring. All you need is warm water, mild soap, and a soft-bristled toothbrush, all things you probably already have at home. Use the soapy brush to scrub away any dirt or residue, then rinse thoroughly. Any leftover soap will dull the stone and metal. Use a lint-free cloth - an eyeglass wipe works well - to completely dry your ring, especially if you're planning to put it away instead of wearing it. Never store your ring while it's still wet.
A word of caution: This method does not work for all jewelry and gemstones.
Consult With a Jeweler - Certain gemstones such as opals, pearls, coral, and even emeralds require special care. Trying to clean them the same way you would a diamond can produce devastating results. For example, pearls can be permanently damaged by brushes, even soft-bristled ones. Talk with your jeweler about the best way to clean your particular piece.
Get a Professional Cleaning - To avoid unintentionally inflicting any damage yourself, find a jeweler you trust, and invest in periodic professional cleanings. This will not only keep your vintage engagement ring looking beautiful, it also gives the jeweler an opportunity to examine the piece, and alert you to any potential dangers such as loose stones, or other damage you might not notice until it's too late.
Avoid Big Box Stores - While they may have the best of intentions, employees at these stores likely lack the knowledge and skill to properly care for vintage jewelry. When taking your engagement ring for a professional cleaning, be sure to visit a reputable jeweler with vintage jewelry experience.
Use Ultrasonic Cleaners With Caution - These devices are not really made for vintage jewelry. The vibrations they produce can dislodge the diamonds and other gemstones from your vintage engagement ring, necessitating costly repairs, or resulting in permanent damage.
Store Your Jewelry Properly - Never throw your vintage engagement ring into a box or drawer with other jewelry pieces. To avoid scratches and nicks, keep your vintage engagement ring in its own soft pouch or padded box, or at least make sure the box or drawer where you store it is padded or lined, and that it has its own separate compartment so it doesn't rub up against other pieces.
Avoid Cosmetics and Household Cleaners - Lotions, hairspray, oils, and everyday chemicals can damage your your vintage engagement ring. Always remove your ring and store it in a safe place before applying beauty products or cleaning your home. Softer, porous gems such as pearls and turquoise are especially vulnerable to damage from chemicals. It may not be enough to simply wear gloves as the gemstones may be disturbed by the friction.
Avoid Perspiration - Always remove your vintage engagement ring before working out, playing sports, or even just participating in outdoor events (picnics, etc.) where you may perspire. And definitely remove your ring or any other vintage jewelry before swimming. The harsh chemicals in a pool can permanently damage your heirloom.
Take Care with the Elements. Direct sunlight can cause damage, but so can the air from heating vents. And under no circumstances should you leave your ring in a hot car, or any area that is not cooled. If you must store your vintage jewelry with other belongings, try to find a climate-controlled facility.
Clean Your Ring Even When it Doesn't Look Dirty - Everyday contaminants such as skin cells, hair, dust, dirt, and soap scum can build up and eventually dull or damage your vintage engagement ring. These materials can find their way under stones and into tiny crevasses, out of sight of the naked eye.
If all else fails, and your vintage engagement ring is somehow damaged, there may still be hope. For added peace of mind, talk with your insurer. Some homeowners' and renters' insurance policies may include coverage for lost or damaged jewelry.