Vintage & Antique Sapphire Engagement Rings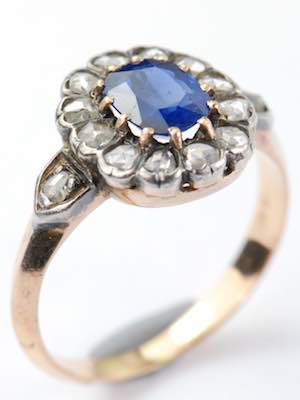 In early 1981, women around the world swooned when Charles, Prince of Wales proposed to Lady Diana Spencer with a stunning sapphire engagement ring. The ring featured an oval blue sapphire surrounded by diamonds in an 18-karat white gold setting. But Diana wasn't the first royal woman to wear a famous sapphire engagement ring, nor was she the last.
Long before Charles and Diana made history first with the ring, then with the royal wedding, another royal woman sported a beautiful sapphire engagement ring. Napoleon Bonaparte gave his beloved Josephine a stunning ring consisting of a pear-shaped sapphire alongside a similarly sized pear-shaped diamond. This ring has survived being handed down from generation to generation, and is now one of the most famous engagement rings in the world. Learn More &raquo
Continued from the top . . .
More recently, Princess Diana's ring once again made history when her son, William, presented it to his fiancee, Kate Middleton, upon their engagement in October 2010.
As they've done for centuries, royals often set trends, and these famous pieces of jewelry open up numerous possibilities for contemporary brides who favor vintage or antique sapphire engagement rings.
Sapphire History and Legend
The word sapphire derives from two words: the Latin sapphirus, and the Greek sappheiros, both of which translate to "blue stone."
Sapphires have a long and storied history, dating back at least to ancient Rome and Greece, where they were thought to protect their owners from harm. In the Middle Ages, clergy wore sapphires to symbolize heaven. The stones have many other virtues attributed to them--romance, peace, wisdom, chastity--all of which make them both a powerful and beautiful choice for an engagement ring.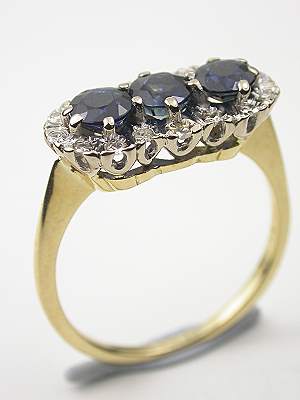 The Biblical Connection
If your faith is an important part of your wedding vows, then an antique sapphire engagement ring lends a bit of a Christian touch to your ceremony. In the Bible, Revelation 21:19, in describing a new heaven and a new earth, cites the sapphire as the second foundational stone. In addition, Ezekiel 10:1 describes the throne of God as being like a sapphire in appearance.
Variety and Colors
Blue is the most popular color choice for a sapphire ring. However, sapphires are available in a veritable rainbow of colors, from yellow, to green, to pink, and even black. Our sapphire engagement ring collection includes sapphire rings with exquisite touches such as diamond accents, lacy filigree, and fishtail designs. Round, cushion, and emerald cut sapphires are all well represented. Delicate or bold, understated or stunning, simple or fancy, you'll find a spectacular sapphire ring to suit your personal style. We offer antique, vintage, and antique style (new) sapphire rings. The sapphire engagement ring you've been dreaming about is waiting for you here!