Aquamarine Engagement Rings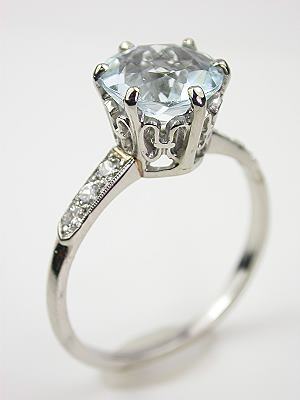 The official birthstone of March, aquamarine can be the perfect engagement ring gem choice for any springtime bride, or any woman who loves the gemstone's pale blue hue. Calm and cooling in their icy blue coloring, aquamarine engagement rings evoke the constancy and dependability of ocean tides. What better way to show your enduring love for her than to ask for her hand in marriage with an aquamarine engagement ring?
The word aquamarine comes from the Latin for "sea water," and the gemstone's blue-green tones are reminiscent of just that. As beautiful as Caribbean waters and pale azure skies, antique aquamarine rings naturally appeal to the nature lover. Aquamarines are also believed to hold magical powers. They reawaken love in long-married couples, and are tokens of mercy and love. Learn More &raquo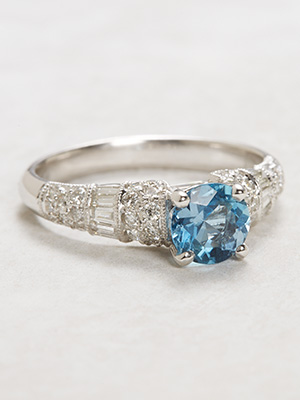 Vintage Style Aquamarine Engagement Ring
Ice crystals drip down the sides of this vintage style engagement ring's enchanting "blue moon" aquamarine. The round aquamarine has a soft blue glow. It is flanked by collections of baguette and round brilliant cut diamonds. An 18k white gold setting provides a cool back splash to this icy cluster of stones. This vintage style engagement ring is new. Details: Vintage style (new). 18k white gold. Straight and tapered baguette and round brilliant cut diamonds; 0.64 carats. Round aquamarine; 0.82 carats.
Item
RG-2404

$2999.00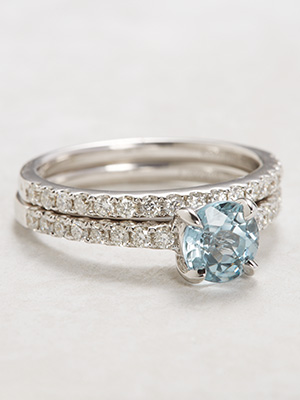 Aquamarine Bridal Rings Set
This matching aquamarine engagement ring and diamond wedding band combo embraces the finger in non-stop sparkle. Matching diamonds half encircle the bands of this bridal rings set. The engagement ring is accented with an aquamarine solitaire at its center. The wedding band rests snugly atop the engagement ring. A white gold setting adds to the icy radiance of this matched pair. Details: Antique style (new). 18k white gold. Round brilliant cut diamonds; 0.60 carats. Round aquamarine; 1.02 carats.
Item
RG-3624

$2429.00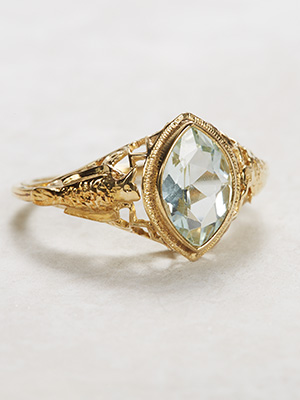 Antique Aquamarine Ring with Bird Motif Trim
Immortalized in gold, the birds that call out from the shoulders of this aquamarine ring sing of love everlasting. According to legend, a bird call from the west is a harbinger of good luck while one from the east signifies the finding of true love.The avian motifs in this Edwardian ring bring the wearer prosperity and eternal endearment. An enchanting marquise cut aquamarine sits in the midst of their mating song. Details: Antique. Edwardian. Circa 1920. 14k yellow gold. Marquise cut aquamarine; 1.6 carats.
Item
RG-3671

$2299.00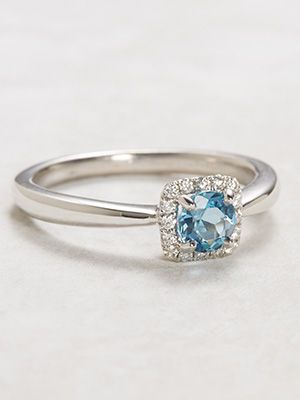 Aquamarine Engagement Ring with Diamond Halo
The hypnotic glow of the azure seas radiates from this aquamarine engagement ring. Bluer than the bluest seas, this vintage style ring's aquamarine captivates from every angle. A cushion style diamond halo surrounds the gemstone in dewy radiance. The 18k white gold band of this aquamarine engagement ring is polished to a flawless sheen. Details: Vintage style. New. 18k white gold. Round brilliant cut diamonds; 0.09 carats. Round aquamarine; 0.33 carats.
Item
RG-3274g

$1495.00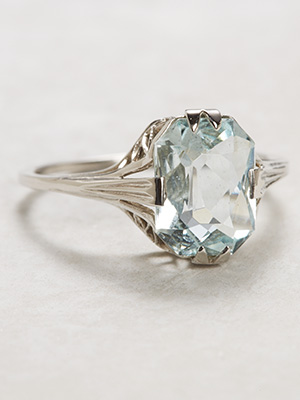 Late Edwardian Aquamarine Antique Ring
Streamers of luminosity pulsate from the center of this antique ring's beguiling aquamarine. When a meteor streaks across the sky, it emits pulses of illumination like the ones that surge down the shoulders of this Edwardian ring. The octagonal aquamarine in the center of this celestial display is set vertically, producing an elongation effect on the finger. A pierced filigree underbelly supports the gemstone. Details: Antique. Edwardian. Circa 1920. 14k white gold. Octagonal aquamarine; 1.83 carats.
Item
RG-3670

$1525.00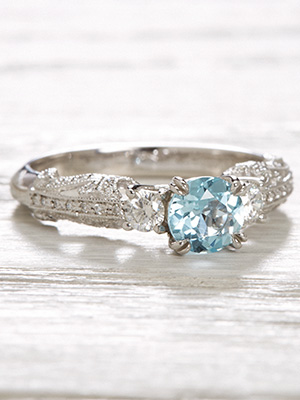 Vintage Style Engagement Ring with Aquamarine
Round brilliant cut diamonds snuggle close to this vintage style engagement ring's aquamarine. A pair of diamonds nestles on the sides of the aquamarine, giving it triple-stone appeal. The antique style setting combines soft swirls with angular edges. These contrasting features draw additional attention to the finger. A collection of smaller diamonds makes this engagement ring sparkle from every direction. Details: Vintage Style. New. 18k white gold. Round brilliant cut diamonds; 0.31 carats. Aquamarine; 0.51 carats.
Item
RG-3618

$1649.00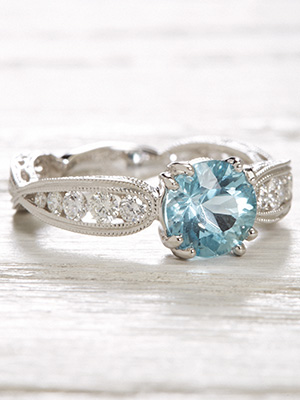 Aquamarine Engagement Ring with a Scalloped Band
Diamonds swirl in an infinity design down the band of this vintage style aquamarine engagement ring. The overall effect is one of infinite captivation. The meandering diamonds lure the eye to the round greenish blue aquamarine at the center. Love and beauty spring eternal in vintage style engagement rings like this one. Details: Vintage Style. New. 18k white gold. Round brilliant cut diamonds; 0.74 carats. Aquamarine; 1.19 carats.
Item
RG-3623

$2499.00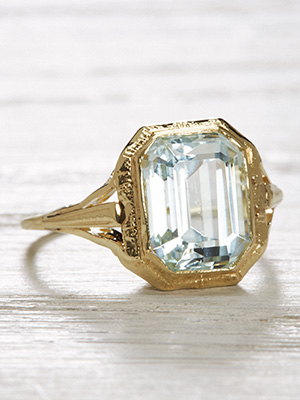 Art Deco Antique Ring with Pierced Design
A warm gold setting, like golden sunlight, wraps itself around the pale blue sky in this Art Deco antique ring. The pierced yellow gold filigree mounting allows the rays of light to spill through. Bezel set at its octagonal center is a cool blue aquamarine. The aquamarine's faceting gives the gemstone almost endless depth. Details: Antique Art Deco. Circa 1920s. 14k yellow gold. Emerald cut aquamarine; 3.63 carats.
Item
RG-3667

$1049.00
Continued from the top . . .
Aquamarine History and Lore
As you browse vintage and antique engagement rings, do you find yourself drawn to ones featuring aquamarines? You're not alone in your captivation. The allure of this gemstone dates back centuries.
The Mermaid Stone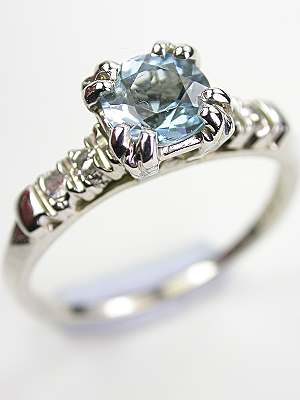 The word aquamarine is a combination of two Latin words: aqua, meaning "water," and marina, meaning "of the sea." Legend has it the aquamarine was discovered in a mermaid's treasure chest, and had been blessed by the god of the sea. As far back as the second century, B.C.E., the aquamarine was thought to have healing properties, and was used to treat a variety of illnesses.
Good Fortune Talisman
Being far from home for extended periods of time, and perhaps holding tight to the mermaid legends associated with it, sailors adopted the aquamarine as their good luck charm. They believed it had the ability to protect them during long sea voyages, and that the stone's power could be increased by immersing it in sunlit water.
The Communication Facilitator
Whatever channels travelers venture upon, it is believed they will meet clearly and openly when in possession of an aquamarine. Today, that belief extends to the realm of communication, meaning if you wear a vintage or antique aquamarine engagement ring, you and your partner may experience genuine, heartfelt communication, hence the long-held notion that the gemstone can heal fractured relationships.
Ancient Lineage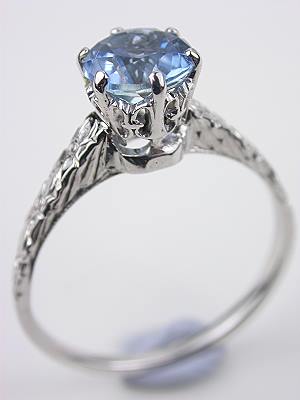 Even before the Romans came to appreciate the aquamarine, it was a prized gemstone in earlier civilizations. Several aquamarine stones have been discovered in Egyptian tombs. The Egyptians believed the aquamarine was a symbol of happiness, and could grant everlasting youth. Any bride who chooses an aquamarine engagement ring is selecting a small piece of history, and perhaps ensuring a happy married life.
Aquamarine Engagement Rings from Topazery
If you prefer a brand-new aquamarine engagement ring that evokes the feeling of a bygone era, one of our vintage or antique-style aquamarine engagement rings is perfect choices.
If you love rings with a bit of history, our vintage and antique aquamarine rings from the Art Deco, Art Nouveau, Victorian, Edwardian, and Retro periods will appeal to you.
We offer both solitaire and diamond-accented aquamarine rings with exciting details such as tiered and coiled bands, as well as a choice of precious metal settings. We carry aquamarine gemstones ranging in color from pastel blue-green to azure blue. Whether she adores understated and elegant, or bold and breathtaking, you'll find her perfect match in our aquamarine engagement ring collection.