Antique and Vintage Style Wedding Rings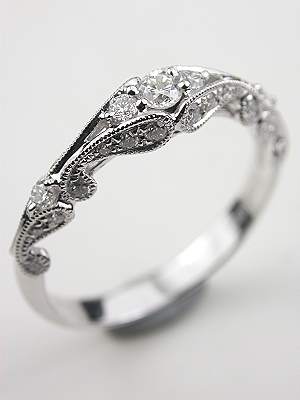 Because the antique and vintage wedding rings we've offered over the years weren't mass produced, it's safe to say they're unique, and once-in-a-lifetime purchase opportunities. Once an antique ring is sold, you likely won't ever see another like it. Until now.
Many of our customers have asked for designs similar to the antique rings we sell, so we've created this collection of vintage inspired wedding rings that incorporate antique style with contemporary flair.
Why Choose a Vintage Style Wedding Ring?
You've just started shopping for a wedding ring, and you're stumped. You're overwhelmed. You're thinking about just getting a plain gold band, and being done with it. We hear you. The options available to brides today are nothing short of staggering. Luckily for you, we're here to help. Learn More &raquo
Continued from the top . . .
If you're considering (or haven't yet considered) an antique or vintage style wedding ring, it may just be the answer to your prayers. Check out these benefits of a vintage style wedding ring. Then you can choose a ring, and focus on the really tough part of getting married--meeting the in-laws.
No one else has worn it. Antique rings are beautiful and carry a lot of history with them. But maybe you prefer something that's only yours and no one else's, and that's okay. Sometimes it's nice to have something brand new. Choosing a vintage style wedding ring will give you the style and sophistication of a classic design, while also being another new element of your new marriage and life.
It may be less expensive. Let's face it--weddings can be costly affairs. By the time you've booked the venue, chosen the flowers, and selected your dress, your bank account may be a bit strained. Antique style wedding rings are just as beautiful as their true antique counterparts, but may cost a little less.
It can serve double duty. Before diamond engagement rings became a traditional part of betrothal, the wedding ring was often the only ring the bride wore. For this reason, they were often a little more elaborate than simple gold bands. If you're not interested in a flashy diamond engagement ring, but still want something with a little more oomph than a plain band, a vintage-style wedding ring can be the answer.
You won't tire of it. A wedding ring is meant to be forever. This is a piece of jewelry you'll be wearing every day for the rest of your life. Are you going to tire of looking at it after a while, or is it going to continue to make your heart flutter decades from now? A vintage-style wedding ring with its intricate design and unique setting will be something you can admire and be happy to wear for the next several decades.
Antique and Vintage Style Wedding Rings
Traditionally, in some countries such as the U.S., Italy, and Portugal, married couples wear their wedding rings on the third fingers of their left hands. In many other countries, such as Spain, Denmark, Norway, and Poland, the rings are worn on the same finger of the right hand. Either way, the sentiment is the same--the wedding ring symbolizes a deep commitment.
If you're looking for a new wedding ring that is reminiscent of the past, our antique and vintage style wedding rings are a perfect way to seal your vows. Each ring has been hand-selected because it represents the old-world charm you expect from a Topazery jewelry piece. Vintage and antique style wedding rings look and feel just like wedding rings from the Art Deco, Art Nouveau, Victorian, Edwardian, and Retro eras.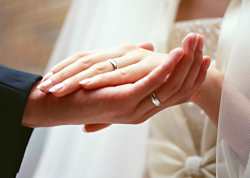 The stones adorning our collection of antique and vintage style wedding rings range from traditional diamond accents, to gemstones such as emeralds, rubies, sapphires, amethysts, citrines, and more.
Filigree and open cutwork are just some of the fine detailing you'll notice in Topazery's wide selection of vintage and antique style wedding rings. You'll find platinum, white, yellow, as well as rose gold wedding rings. If you want a new wedding band that evokes the elegance and romanticism of days gone by, an antique or vintage style wedding ring is the perfect choice for you.