Vintage Jewelry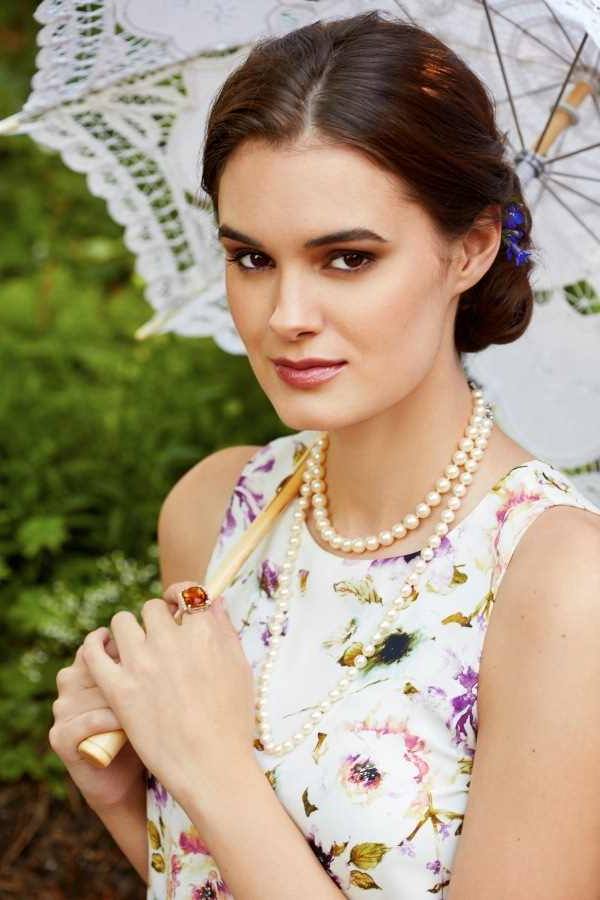 What comes to mind when you think of vintage? Torn blue jeans? Peasant blouses and long skirts? Worn and threadbare handbags and accessories? Sure, vintage can be all of those things, depending on your style and where you shop. But when it comes to vintage jewelry, it can just as easily mean sophistication, style, and substance.
How to Wear Vintage Jewelry
Aside from old, used, and worn, the definition we like best for vintage is classic. When you wear vintage jewelry, you're opening up a world of possibilities in wardrobe and style. So how can you pair a piece of vintage jewelry with today's clothing and accessories to create a classic yet contemporary ensemble? Learn More &raquo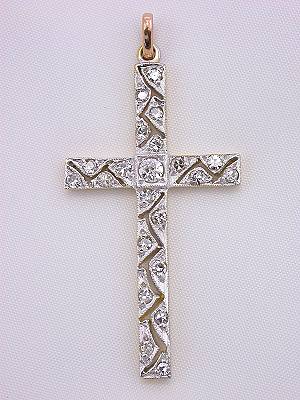 Filigree and Diamond Vintage Cross
Meanderingly cut down the center, this filigree vintage cross serves as a reminder of the Savior. Set in 18k yellow gold, this vintage cross is topped with a rhodium finish. Twenty-one single cut diamonds accent the filigreed base. The cutwork and diamonds lead to a square-set old European cut diamond at the center. The combined weight of all the diamonds is 0.59 carats. Circa 1930 or later
Item
CR-3056

$1229.00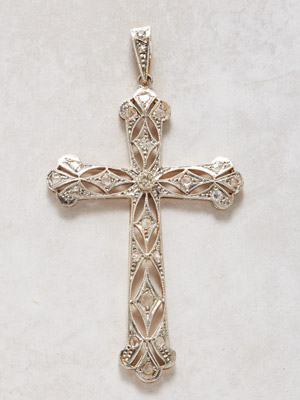 Vintage Christian Cross
Old cut diamonds shimmer from this vintage Christian cross's fleur de lis and starburst elements. The cutwork in this vintage cross gives it romantic allure. The petals, starbursts and rhomboids with which it is pierced are accentuated with old cut diamonds. The hinged bail is also diamond accented. The hand wrought setting is in platinum on 18k yellow gold. Details: Vintage. Circa 1930. Platinum on 18k yellow gold. Rose, table, and old European cut diamonds; 0.27 carats.
Item
CR-3057

$1249.00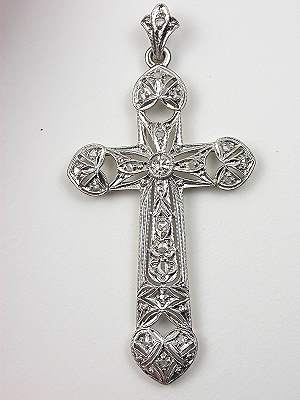 Vintage Filigree and Diamond Cross
Filigree and diamonds join forces to create this romantic vintage cross. The points of this handcrafted vintage cross, which is made of platinum-topped 18k yellow gold, are tipped with hearts for added romance. Nineteen rose cut diamonds are bead set into the filigree. A bezel set single cut diamondis at the center of this vintage jewelry piece. In total, these diamonds weigh 0.12 carats. Circa 1950 or after.
Item
CR-3324

$1149.00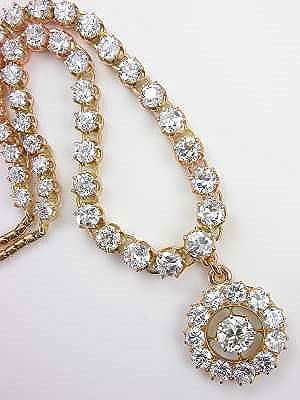 Victorian Antique Diamond Necklace
A stunning Victorian necklace features 51 Old European cut and old style full cut diamonds totaling 10.91 carats. The diamonds of this antique necklace are set in a hand-wrought Riviera drop design mounting. The classic design, with graduated diamonds, lays fluidly on the neck, and glitters with every graceful turn of your head. Details: Antique, Victorian. 14k Rose gold. Old European and Old Style full cut diamonds; 10.91 carats. Circa 1900.
Item
NK-3586

$41400.00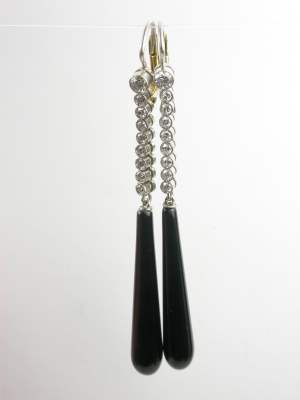 Onyx and Diamond Vintage Earrings
The teardrop black onyxes that drip from these vintage earrings add dramatic impact. This vintage earring pair showcases round platinum bullets drizzling from hoop and dangle posts, each one accentuated with a round brilliant cut diamond. Connected to these glimmering cascades are elongated ebony onyxes that delicately grace the neck. Details: Platinum. Brilliant cut diamond; 0.75 carats. Black onyx. Vintage. Circa 1930.
Item
EA-829

$2599.00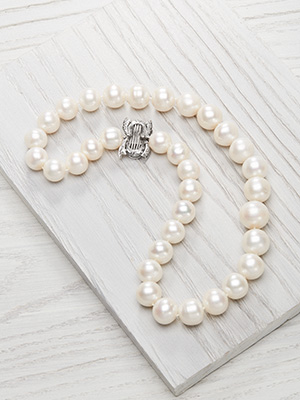 South Sea Pearl Necklace with Vintage Clasp
This vintage pearl necklace with diamond clasp is destined to become one you reach for time and time again. The substantial South Sea pearls of which this necklace is composed add sophisticated drama to any jewelry wardrobe. The uniquely styled vintage clasp, however, ensures they earn their rightful place among your most coveted pieces. Shaped like an hourglass with wings hugging its curves, the 18k white gold claps is accented with a dozen diamonds. Details: Vintage. Circa 1940. 18k white gold. Single cut diamonds; 0.14 carats. South Sea pearls.
Item
NK-3520

$3975.00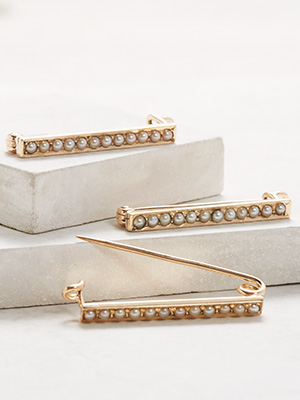 Victorian Antique Scatter Pin Set
Rich, creamy pearls are backplashed by 14k gold for the ultimate sophistication in wardrobe accenting. This set of three antique bar pins combines the elegance of natural Oriental pearls with the grace of gold. Shaped long and lean, this trio of goldenrod scatter pins can versatilely be worn either vertically or horizontally. Dating back to the late Victorian era, these pearl pins give an instant touch of class to any outfit. Details: Antique. Victorian. Circa late 1890s. 14k yellow gold. Natural Oriental pearls.
Item
PN-1384

$885.00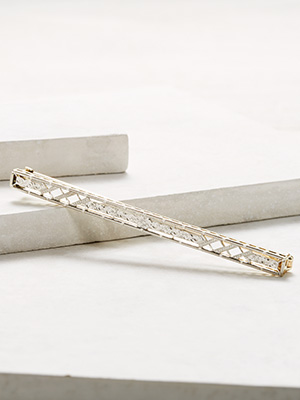 Antique Bar Pin by Krementz
The delicate lattice work in this Edwardian pin's design brings to mind summer gardens fragrant with climbing roses. Curlicues, crossbows, scrolls and leaves wind their way down the center of this antique pin like a romantic garden trellis. 14k yellow gold and rhodium combine for a bewitching two-tone effect. A Krementz trademark attests to this pierced and engraved pin's antique lineage. Details: Antique. Edwardian. Circa 1910. 14k yellow gold. Krementz trademark.
Item
PN-1689

$319.00
Continued from the top . . .
Vintage Pearl Necklace
One name is often synonymous with the pearl necklace--Audrey Hepburn. The Tiffany necklace she wore in the film Breakfast at Tiffany's is iconic. It consisted of five strands of pearls, with a large Swarovski crystal pendant in the center. She wore it with a slinky black, floor-length gown, and black, over-the-elbow, opera gloves.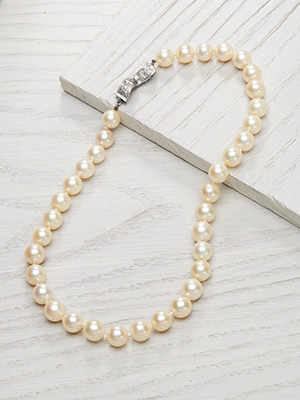 You don't have to go quite as Hollywood to wear a vintage pearl necklace. Even one strand can beautifully complement a simple neckline on any dress or blouse. Pearls are the classic that go with anything. Still, they do produce quite a dramatic look against a little black dress.
Vintage Pearl Bracelet
A couple of the same rules apply to pearl bracelets as pearl necklaces--keep the attire simple, and you can never go wrong with black. But keep a few extra details in mind as well.
One classic look that can be improved with a pearl bracelet is a sweater twinset. Neutral tones are fine, but brighter colors will be reflected in the iridescence of white pearls. You can go another way, and wear a pearl bracelet with a short-sleeved or sleeveless blouse, allowing the soft glow of the gems to stand alone. If you wear any other jewelry on that hand, make sure it's just one, simple ring. And of course, your engagement ring or wedding ring are never out of step with other jewelry pieces.
Vintage Brooch
Whatever happened to the brooch? We think it needs to make more of a comeback. Brooches used to be essential accessories, adorning women's lapels throughout the 1940s and 1950s. From small and delicate, to large and bold, a classic vintage brooch can be one of your most versatile pieces of jewelry.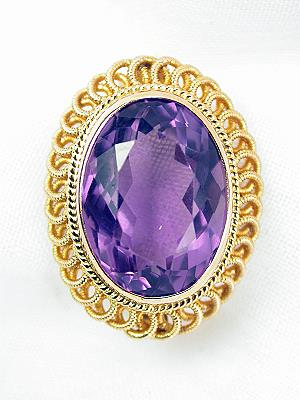 This
vintage amethyst brooch
from the 1970s is a perfect example, with its 6.5 carat violet gemstone, and 14k gold setting. Wear it on a black or gray dress, the lapel of a suit jacket, or to hold a silk scarf in place. Perfection.
Vintage Dangle Earrings
People of both sexes and all ages have been piercing their ears (and other body parts) for at least 5,000 years. Egyptian mummies have been discovered wearing earrings, and even the Bible references that type of jewelry. With numerous styles available, you have unlimited choices when it comes to adorning your ears. One of the most popular types of vintage earrings, though, are dangle earrings.
If you're going to go to the trouble of choosing a beautiful pair of vintage dangle earrings, you want to be able to show them off. Short hairstyles make this easy. If your hair is longer, an updo is always a perfect backdrop for a special pair of earrings.
The vintage earrings you choose may be a little fancy for everyday wear, so consider adding them to an evening ensemble, complete with cocktail dress, and other accompanying pieces. If you really want your vintage earrings to stand out, make the other pieces understated, such as a simple strand of pearls, or a classic ring with a small gemstone, rather than a large, colorful cocktail ring.