Maple Leaf Victorian Bracelet
Maple leaves dance around her wrist in this charming antique bracelet. The vein and frond details of the maple leaves in this antique bracelet are so lifelike they resemble actual leaves dipped in gold. The 18k yellow gold double links are separated by shimmering dollops. The bracelet secures around the wrist with a concealed box clasp with safety chain. This antique jewelry piece is probably French and is circa 1900.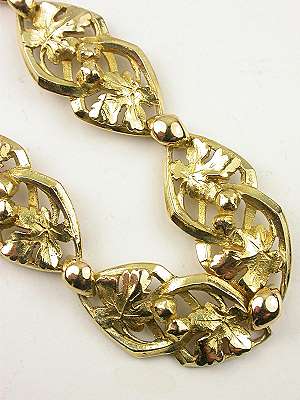 Only One Available
BR-3459
$6125.00

Shipping
Shipping is FREE for orders in the USA and to APOs and FPOs. International orders have a $100.00 shipping fee plus a separate invoice from the shipper for customs fees, duties, and taxes. All fees for international orders are non-refundable.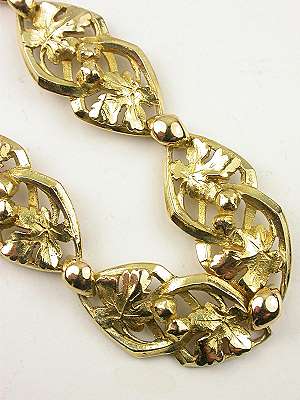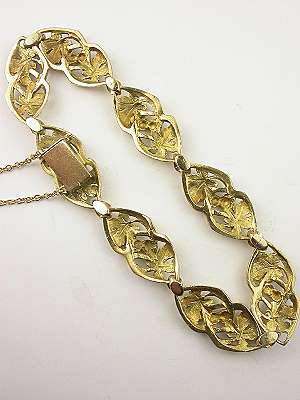 | | |
| --- | --- |
| Item # | br3459 |
| Metal | 18k yellow gold |
| Circa | 1900 |
| Weight in grams | 22.37 |
| Period or Style | Late Victorian |
| Special characteristics | This 18k yellow gold bracelet features 2 maple leafs in each of the eight links. Each link measures 22 x 10.5mm. French Hallmarks. |
| Condition | Good |
| Length | 185 mm [7.21 in] |
| Other bracelet info | concealed box clasp with safety chain |
Click HERE for our Hassle Free Returns agreement.
Click HERE for Important Jewelry Information.