Edwardian Engagement Rings
King Edward rescued the British monarchy from decades of stagnation. It's only right that the antique engagement rings from that era brought sparkle and shine to wedding style.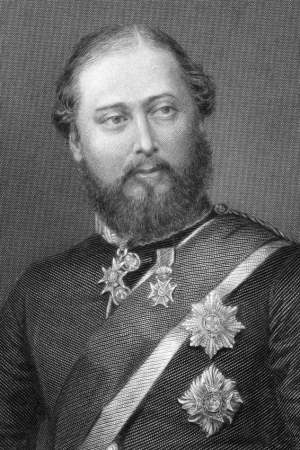 King Edward VII
Upon Queen Victoria's death in 1901, her eldest son, Edward, succeeded her, and became King Edward VII. Prior to his accession, Edward had held the title of Prince of Wales longer than anyone else in British history, due to Victoria's long reign of nearly 64 years. For this same reason, Edward was already 59 years old by the time he took the throne. He reigned for just nine years, until his death in May 1910, at the age of 68.
Although he was only King for just short of a decade, Edward was responsible for quite a bit of change in the kingdom. After her husband's death in 1861, Queen Victoria began a decades-long period of mourning, never fully recovering from her grief. As a result, she withdrew from many of her royal duties, and was seldom seen in public. Sentiment toward, and trust in the monarchy suffered, as her subjects felt ignored by their queen.
When Edward ascended to the throne, this all changed. He revitalized the monarchy, and began making sweeping reforms, including to the military and navy. He was best known, however, for improving relations between England and France, which had deteriorated during his mother's reign. He accomplished this through numerous visits to the country, and his fluency in the language.
Through these dramatic changes and improvements, Edward became a beloved monarch, and his short reign became known as the Edwardian era. However, some like to extend this period another four years to the beginning of World War I, while others include the years up to 1920.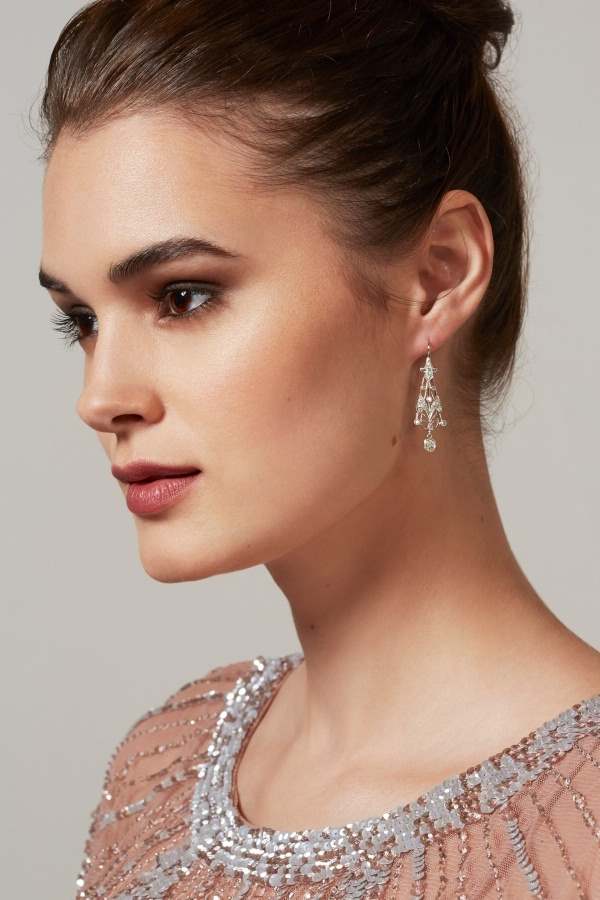 From Earthy to Frilly
During the Edwardian era, styles progressed from the natural, earthy artistry of the Art Nouveau movement, to more decorative, frilly designs. Jewelry in particular incorporated more intricate and elaborate designs, and more expensive metals and gemstones.
Platinum and Diamonds
Platinum rose in popularity, as did diamonds now that they flowed freely from the mines in South Africa. As a result, jewelry became more associated with the members of the upper class, who could afford it, and who saw it as a status symbol. As you might expect, with platinum and diamonds more readily available, they became integral parts of Edwardian engagement rings.
Because platinum is a stronger metal than gold, jewelers were able to use it to craft pieces that took on the appearance of bows, lace, and especially garlands, which were a popular motif for Edwardian jewelry.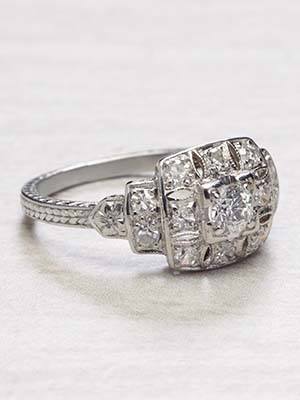 "White on White" Style
Pearls also became popular, and a common Edwardian engagement ring style was "white on white," which consisted of a platinum setting, a pearl as the center stone, and a surround of sparkling diamonds, all coming together to create a brilliant adornment for many Edwardian brides.
For those contemporary brides who want to radiate elegance and sophistication, Edwardian engagement rings are the perfect choice.
Shop our hand-picked collection of beautiful antique engagement rings to find the one that fits your unique personality.