Antique Bar Pin by Krementz
The delicate lattice work in this Edwardian pin's design brings to mind summer gardens fragrant with climbing roses. Curlicues, crossbows, scrolls and leaves wind their way down the center of this antique pin like a romantic garden trellis. 14k yellow gold and rhodium combine for a bewitching two-tone effect. A Krementz trademark attests to this pierced and engraved pin's antique lineage. Details: Antique. Edwardian. Circa 1910. 14k yellow gold. Krementz trademark.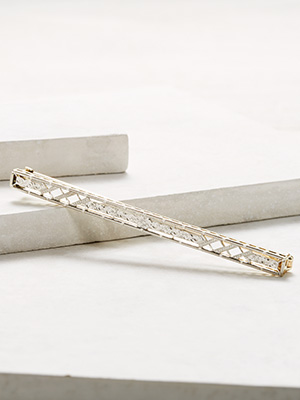 Only One Available
PN-1689
$319.00

Shipping
Shipping is FREE for orders in the USA and to APOs and FPOs. International orders have a $100.00 shipping fee plus a separate invoice from the shipper for customs fees, duties, and taxes. All fees for international orders are non-refundable.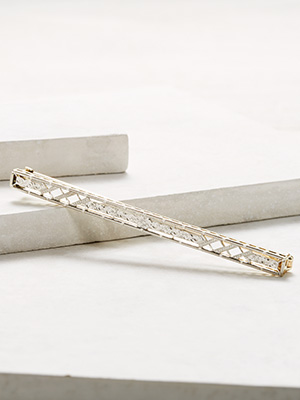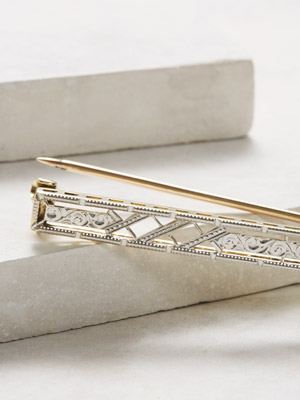 | | |
| --- | --- |
| Item # | pn1689 |
| Metal | 14k yellow gold |
| Circa | 1910 |
| Weight in grams | 3.73 |
| Period or Style | Edwardian |
| Special characteristics | This ladies bar pin by Krementz is rectangular in shape and is pierced with a lattice design. The top is plated with a rhodium finish and has scroll and leaf engraving. It is fitted with a classic pin assembly with an early style clasp. |
| Condition | Excellent |
| Other pin info | The pin measures 65.5 x 4.34 x 5.73mm. It has the Krementz trademark. |
Click HERE for our Hassle Free Returns agreement.
Click HERE for Important Jewelry Information.