Vintage Jewelry p3
Delicate Diamond Necklace
The delicate balance of this necklace's diamond accents gives a polished finishing touch to any ensemble it is paired with. Eight full cut diamonds are strategically bead set around the circumference of this vintage style necklace, giving random touches of radiant shimmer. The white gold cable link chain throughout which the diamonds are interspersed is dainty and delicate. This diamond necklace secures at the nape of the neck with a lobster claw clasp. Details: Vintage style. New. 18k white gold. Full cut diamonds; 0.52 carats.
Item
NK-3578

$1499.00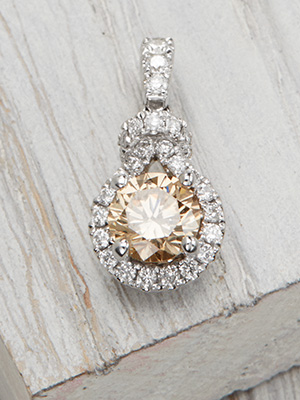 Vintage Inspired Champagne Diamond Pendant
A champagne diamond is surrounded by a dusting of diamonds in this classic vintage inspired pendant. A collection of white diamonds spiral around the diamond and travel up the pendant's bail for non-stop sparkle. A white gold setting allows this vintage style pendant to be paired with a variety of chains. Details: Vintage style. New. 18k white gold. Round brilliant cut natural champagne diamond; 0.55 carats; Round brilliant cut white diamonds; 0.20 carats.
Item
PT-3577

$1725.00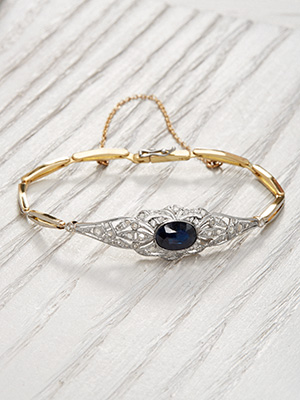 Vintage Sapphire Bracelet
This sapphire and diamond vintage bracelet is a stunning blend of lacey filigree accented by a sapphire gemstone. Dual precious metals join forces in this Edwardian inspired design. The back is 18k yellow gold with a platinum front. The 50 rose cut diamonds accenting the filigree design weigh a total of 0.33 carats. The focal point sapphire is a 2.37 carat oval mixed cut. Vintage bracelets like this one encircle the wrist in classic style. Circa 1950s
Item
BR-1032

$1395.00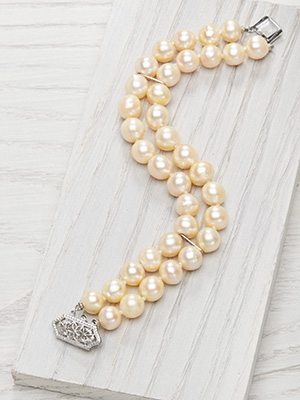 Double Strand Vintage Pearl Bracelet
This double strand pearl bracelet has 36 baroque pearls measuring from 8-8.5mm. The pearls have a light yellow hue with good luster and are joined by a filigree clasp in 14k white gold. This pretty vintage pearl bracelet is perfect for a lady with small wrists -- the bracelet measures a mere 16cm [6.29 inches] in length.
Item
BR-568

$629.00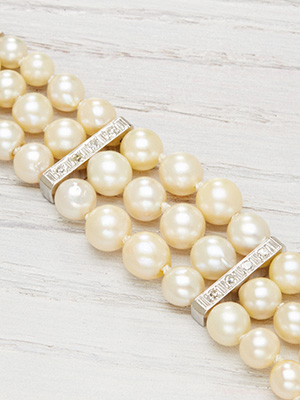 Antique Three Strand Pearl and Diamond Bracelet
Three is definitely a charm with this antique triple strand pearl and diamond bracelet. Set in platinum, this antique bracelet with three strands of pearls wraps the wrist in 84 dark cream colored freshwater pearls. Six platinum bars, each accented with four round single cut diamonds, are interspersed along the length of this antique bracelet. Celebrate the sophisticated glamor of yesteryear with this antique pearl and diamond bracelet. Circa 1940s.
Item
BR-874

$1895.00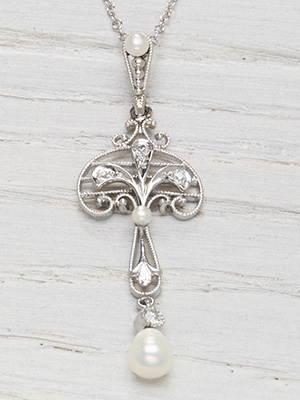 Edwardian Antique Necklace by Krementz
Pearls and diamonds flirt with an unfurled parasol in this Edwardian antique necklace. Like a summer parasol arching over a fair maiden, this Edwardian necklace has a mushrooming cupola design that is accented with a collection of old European cut diamonds. Set in platinum, this antique necklace's pendant features two natural button pearls. A larger drop Akoya pearl dangles below. The necklace bears the Krementz trademark. Details: Antique, Edwardian. Circa 1905. Platinum. Old European cut diamonds; 0.10 carats. Akoya and natural pearls. Krementz trademark.
Item
NK-3512

$1825.00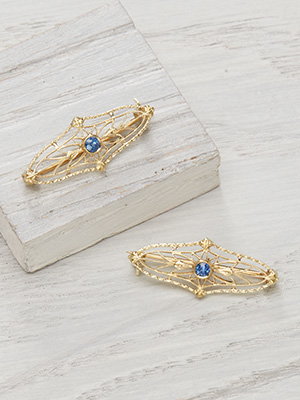 Turn of the Century Sapphire Filigree Pins
Two round natural blue sapphires accent these turn of the century antique filigree collar pins. The florally swirled filigree design is in 14k yellow gold and creates a golden lacey look for this antique pin pair. Antique filigree pins were popular over 100 years ago and are back in vogue for the stylish Twenty-First-Century woman. Dress up a shirt collar or suit lapel with these sapphire and filigree antique pins. Circa 1900s.
Item
PN-1385

$725.00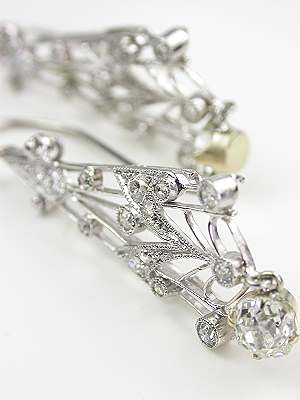 Edwardian Antique Earrings
Old mine cut diamonds suspend from Eiffel tower-like architectural bridgework in these Edwardian earrings. The platinum open framework of these antique earrings shimmers with an additional seventeen old style full cut diamonds. These antique earrings secure to the lobe with Shepherd hooks. Details: Platinum. Old mine and old style full cut diamonds; 1.34 carats. Antique, Circa 1915
Item
EA-3505

$7959.00