Vintage Charm Bracelet
In this vintage bracelet nine eyecatching charms dangle from a yellow gold figaro link chain, adding whimsy to the wrist. A heart, a pineapple, two French sentiment discs, and a hinged fortune cookie are among the gold charms. The remaining four charms cast a further bewitching spell with their colorful accents: temple with blue glass beads; cowbell with red Swiss cross; duck with red enamel eyes; and Christmas disc with reindeer and bells featuring red and blue stones. Details: Vintage. Circa 1930s and later. 14k and 18k yellow gold. 63.42 grams.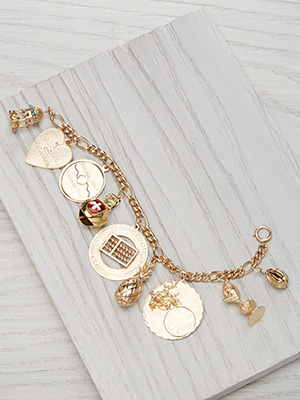 Only One Available
BR-2876
$7949.00

Shipping
Shipping is FREE for orders in the USA and to APOs and FPOs. International orders have a $100.00 shipping fee plus a separate invoice from the shipper for customs fees, duties, and taxes. All fees for international orders are non-refundable.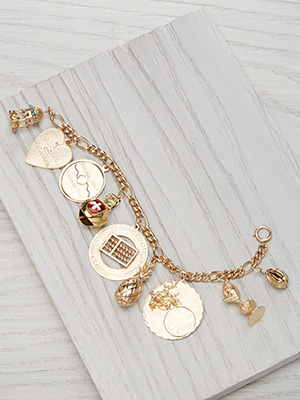 | | |
| --- | --- |
| Item # | br2876 |
| Circa | 1930's and later |
| Weight in grams | 63.42 |
| Special characteristics | A ladies vintage charm bracelet with 9 charms. The charms are attached to a 14k yellow gold 6.0 mm figaro link bracelet. This is fitted with a spring ring clasp. |
| Other notes | Charm #1: 14k yellow gold dimensional domed temple, 23mm tall and rimmed with blue glass beads. Charm #2: 14k yellow gold heart shaped disc measuring 27 x 24.5mm. Charm #3: 14k yellow gold round disc measuring 25.5mm with the words "Séparés Mais Toujours Unis" Charm #4: 18k yellow gold dimensional 27.5mm cow bell with enameled white and red Swiss cross plaque. Charm #5: 14k yellow gold 32mm wreath disc with dimensional abacus "Commen Est - Ce Que Je T'aime? Laisse moi compter les Facons" Charm #6: 14k yellow gold dimensional pineapple, 32mm tall Charm #7: 14k yellow gold 32mm "Merry Christmas" disc with reindeer + bell applied designs, set with synthetic red and blue stones. Charm #8: 14k yellow gold dimensional "Who's worried" duck, 25.2m tall with red enamel eyes. Charm #9: 14k yellow gold dimensional fortune cookie charm measuring 13.9 x 9.3 x 9.8mm, hinged, opens to "Rots of Rove" engraved on an inner plate. |
| Condition | Good |
| Length | 190 mm [7.41 in] |
Click HERE for our Hassle Free Returns agreement.
Click HERE for Important Jewelry Information.