Edwardian Guilloche Enamel Antique Pins
These Edwardian guilloche enamel antique pins hypnotically transfuse light, lending a rainbow effect to the white-enamel-trimmed pink guilloche enamel. Each pin in this pair of Edwardian antique pins is rimmed in 14k yellow gold and is highlighted with rounded edges and spaded endpoints. Of probable French origin, this Edwardian guilloche enamel pin set can be worn as a matching pair or separated for greater versatility. This Edwardian jewelry piece is Circa 1910.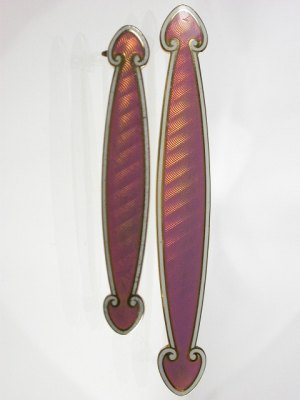 PN-1473
$1150.00

Shipping
Shipping is FREE for orders in the USA and to APOs and FPOs. International orders have a $100.00 shipping fee plus a separate invoice from the shipper for customs fees, duties, and taxes. All fees for international orders are non-refundable.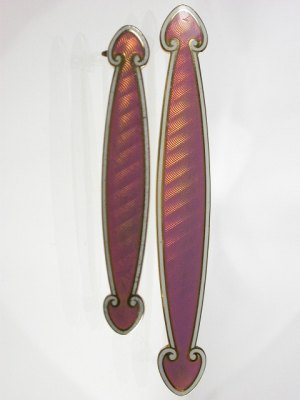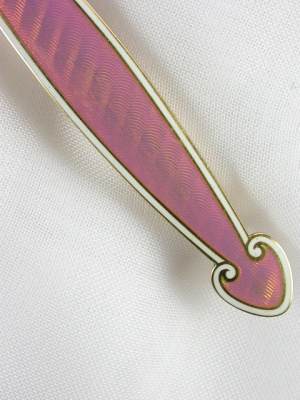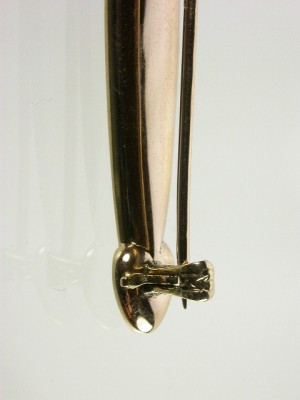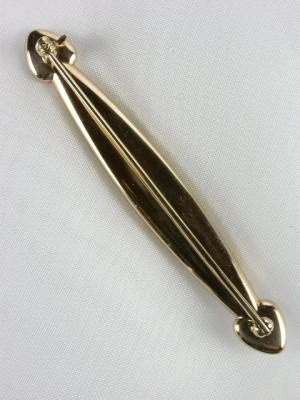 | | |
| --- | --- |
| Item # | pn1473 |
| Metal | 14k yellow gold |
| Circa | 1910 |
| Weight in grams | 8.5 (larger) and 4.35 (smaller) |
| Period or Style | Edwardian |
| Special characteristics | pink guilloche enamel with white enamel trim |
| Other notes | This is a two pin set. The pins are most likely French in origin. |
| Any wear or damage | Enamel is intact for both pins. The larger pin shows light abrasions to enamel under a 10x loupe. The smaller pin shows moderate abraisons. |
| Other pin info | The larger pin measures 64 x 8.8 mm [2.5 x .34 inches]. The smaller pin measures 44.3 x 7.0 mm [1.72 x 0.27 inches] |
Click HERE for our Hassle Free Returns agreement.
Click HERE for Important Jewelry Information.