Topazery Collection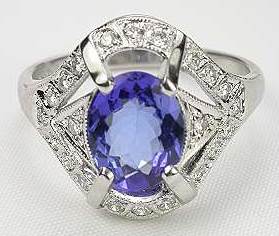 Classical, exuberant, sometimes whimsical... jewelry pieces to honor the important moments in your life...
The Topazery Collection offers extraordinary engagement rings, wedding rings, and cocktail rings and a unique selection of bracelets, crosses, and pendants. Introduced in 2006, the Topazery Collection features fine jewelry made in gold and platinum and set with quality diamonds and gemstones. A Topazery Collection jewelry piece will be worn often and treasured always.
The Vintage Collection
Transcend time with an elegant vintage jewelry design from Topazery's Vintage Collection. Each Vintage Collection jewelry piece is inspired by classic motifs from the past and is indistinguishable from the original in design, quality, and craftsmanship. Each jewelry piece is beautifully crafted in the USA. Every stone is hand-set and each piece is meticulously hand-finished by one of Topazery's Master Jewelers.
The Dragonfly Collection
Every ring in Topazery's Dragonfly Collection is based on the design of an original antique piece. After we sold the original, we had so many requests for these well-loved designs that we decided to reproduce these special rings just for you in the Dragonfly Collection.
The Tara Collection
Topazery's Tara Collection embraces traditional jewelry designs from the past. Named after Tara, the spectacular Southern plantation in the movie "Gone With the Wind", this collection features classic rings in Edwardian and Art Deco styles.
The Earth Collection
Topazery's Earth Collection includes platinum and gold jewelry set with diamonds and gemstones in the warm earth tones of greens, browns, and the golden shades of Autumn. You'll find chocolate and champagne colored diamonds, green tourmalines, emeralds, citrines, and green and yellow sapphires. Celebrate a special occasion with a Topazery Earth Collection ring -- each jewelry piece is as enchanting as the natural beauty all around us.
Jewelry pieces for this page are not available at this time. Please check back as we frequently add jewelry to the website. If you would like to join our email list, you will receive a newsletter when jewelry is added. To join our list, click the link, "Join Email List", in the WELCOME section on the navigation bar.
---
---
ęCopyright 2001 - 2013
Topazery, LLC
Atlanta, GA, USA
&reg Topazery is a Registered Trademark
Cart

WELCOME!
Home
Join Newsletter
New Listings
How To Order
FAQs
Contact Us
Testimonials
Hassle Free Returns

JEWELRY STORES
All Rings
All Jewelry
Gifts Under $500

ENGAGEMENT RINGS
Thumbnails
Vintage Engagement Rings
Antique Engagement Rings
Antique Style Engagement Rings
Champagne Diamond Rings
Aquamarine Engagement Rings
Sapphire Engagement Rings

RINGS & MORE
Thumbnails
Antique Rings
Vintage Jewelry
Aquamarine Rings
Filigree Rings
Earrings
Necklaces
Brooches

WEDDING RINGS
Thumbnails
Antique Wedding Rings
Antique Style Wedding Rings

JEWELRY BY PERIOD
Thumbnails
Victorian Jewelry
Edwardian Jewelry
Art Deco Jewelry

EDUCATION
Gemstone History
Jewelry Periods
Antique Diamond Cuts
Evaluating Stones
Jewelry Library

INFORMATION
In the News
Privacy Policy
Legal Policy