Victorian Gold and Enamel Antique Brooch, PN-2622
This jewelry piece is sold. The information shown is for research purposes only. We've displayed available jewelry you may like at the bottom of the page. Or, you may use the search button at the top or the navigation menu to find what you need.

Scroll down for pictures and details
Victorian Gold and Enamel Antique Brooch
This Victorian gold and enamel brooch borrows its notable features from Chinese pagoda designs. Constructed of 14k yellow gold, this Victorian brooch is split down the middle in a mirror image design. Hammered accents give the crescents and pagodas textural appeal. A carved wheat pattern around the outside circular base softens the edges of this antique gold and enamel brooch. Antique Victorian brooches like this one may also be worn as a pendant. Circa 1875
Antique
Victorian
Brooches
Item PN-2622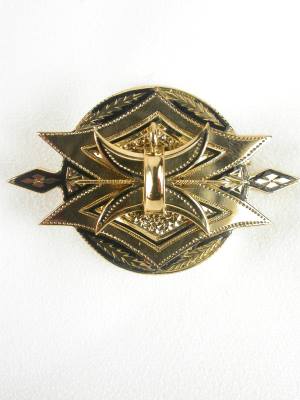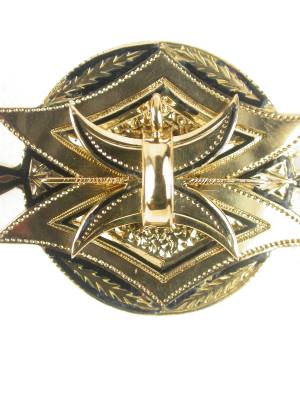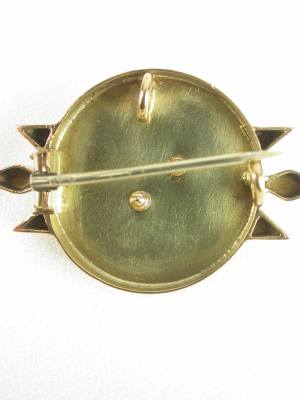 | | |
| --- | --- |
| Item # | pn2622 |
| Metal | 14 karat yellow gold |
| Circa | 1875 |
| Weight in grams | 6.14 |
| Period or Style | Victorian |
| Condition | Very Good |
| Length | 36.0 mm [1.40 in] |
| Width of widest point | 23.02 mm [0.90 in] |
| Other pin info | base metal pin stem, some enamel chipped |
---
Click HERE for Important Jewelry Information.
Information about the following topics -- Jewelry Care, Repairs and Insurance, Custom Requests, Jewelry Condition, Gem Treatments, Diamond Grading Reports, Jewelry Classifications, and Warranty -- is available by clicking HERE.
---
Items you may like:
---

International fees
An order shipped outside the USA includes these non-refundable fees:
$ 45.00 -- FEDEX Priority shipping with insurance
$ 20.31 -- Special processing fee
$ TBD -- Customs duties and fees
FEDEX will send you a separate invoice for customs duties and fees after your purchase has been delivered. Please contact your local customs office regarding the amount of these charges as they are not insignificant.