Topazery
Reviews p3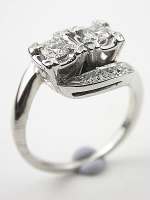 1950s Antique Diamond Engagement Ring
My now-fiancee combed the Topazery website looking for antique rings. She wanted something elegant and unique....something from a different era. The ring that caught her gaze and eventually became her engagement ring came from Topazery. Topazery proved excellent to work with and went over and beyond in responding to questions in a timely fashion throughout the purchasing process. I have nothing but glowing compliments for Topazery. I plan on using Topazery again for future purchases and will recommend them to friends and family.
M.B. from Georgia, USA

Diamond Engagement and Wedding Bridal Set
Got the rings! They are beautiful! She will love them, thanks so much!
M.R. from Oregon, USA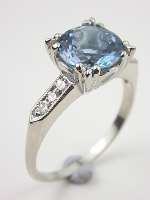 Aquamarine and Diamond Engagement Ring
My wonderful boyfriend (now fiance!) just proposed to me on Valentine's Day weekend. Aquamarine is my favorite stone and he knows that I love vintage jewelry, so he was romantic and thoughtful enough to get my gorgeous ring from Topazery. We are both very satisfied with this ring and feel that its beauty and individuality is a tribute to our love and our impending marriage.
E.G. from New York, USA

Antique Carved Wedding Ring
I got the ring! It's perfect.
A.H. from Colorado, USA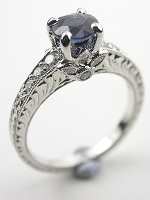 Sapphire Engagement Ring with Flower Motif
I just wanted to thank you for how wonderful you and your company have been during this process of getting this ring.... you have done everything that you promised to do. I am tracking the ring now. Thank you so much for all you've done.
M.H. from Oklahoma, USA

Cushion Cut Green Sapphire Engagement Ring
Take it from a guy that doesn't know anything about engagement rings. The ring is beautiful. Absolutely gorgeous.... A million thanks to you.
M.C. from New York, USA

Antique Style Aquamarine Engagement Ring
My fiance had actually been waiting for this ring to not be sold out since I found it and showed it to him over a year ago. He contacted Topazery asking if they could start selling it again or do a custom order and within a few weeks my ring was in the mail. The photos truly do not do it justice. This ring is absolutely unique. It's like nothing else I've ever seen. I could not be happier with it and have been so proud to show it off to everyone. It's perfect for my style and personality. I still can't believe it's actually mine and I get to wear it everyday. Thank you so much for creating this beautiful piece of art that I get to carry around on my finger.
J.C. from California, USA

Art Nouveau Turtle Motif Antique Ring
Thank you, again, for making this special ring available. The turtle hopped out of your beautiful sky blue presentation box as spring arrived on Saturday afternoon and was welcomed with laughter and delight. A short chorus of the song "You can't hurry love, you just have to wait" (like a turtle crossing the beach toward the sea) was sung and the recipient's trained eye (she's a geologist) observed the sapphire's asterism and the glint of diamond facets at almost every light source and every viewing angle available. Snippets of folklore about the world riding on the turtle's back and other wonderful stories of longevity and good luck were shared as the first sun of spring slipped below the horizon. The tag has been removed -- the turtle is happily riding upon a joyful hand.
D.H. from Alabama, USA