Reviews &
Testimonials p14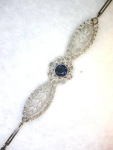 Sapphire and Diamond Edwardian Antique Bracelet
My wife loves the bracelet! She doesn't want to take it off.
G.S. from Connecticut, USA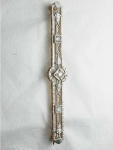 Art Deco Antique Filigree Bar Pin
The postman just delivered the beautiful pin I ordered from you. It is for mother for Christmas. She loves antiques of any kind and I feel sure she will be thrilled Christmas when she opens it. It will be living a happy life on Lake Gaston (it separates Virginia and North Carolina).
Thank you for your prompt attention to my order. Hope your holidays are the best ever.
M.H. from Alabama, USA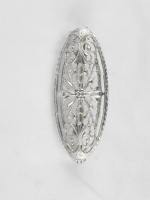 White Gold Filigree Antique Pin
Thank you for the beautiful pin. I was so surprised! It is sweet and just perfect! Thanks again for everything...and we do visit your site often. Wish you the best in your endeavors!
E.H. from New York, USA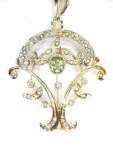 Art Nouveau Peridot and Seed Pearl Pendant
I consider myself lucky that the pendant was still available. You have a beautiful selection on your website.
J.M. from Virginia, USA
Cool website. Makes me want to get married just so I could buy a ring.
M.B. from North Carolina, USA
You've achieved a very professional site with some beautiful pieces, and your photographs and comments add a presence of personality not found in many sites - not to mention the feeling of 'I can trust the claims made at this site' the personal touches add. Congratulations for creating such an inviting site to spend time.
A.B. from California, USA
I found one of your biggest fans. I told a friend about your website, and she is on it all the time, even though she hasn't bought anything. We were at a party and she could recount all these pieces in her head from your website. Later, I showed her the new website and she likes it. She couldn't figure out which category one of the pieces had been moved to in the new site, so i showed her the search, and she brought it right up that way. And she really likes shopping by pics. She loves your colors, she loves the way you write about the jewelry (not pushy and salesmansy, and she thinks your interest in the pieces comes through), and I showed her the testimonials tonight and she really liked reading them and seeing the pictures. She loves jewelry, but she really loves your website and just likes browsing and shopping in it. You are doing a great job!
S.W. from North Carolina, USA