Reviews &
Testimonials p13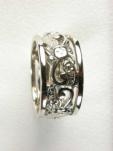 Antique Art Deco Wedding Ring
Per our telephone conversation earlier today, I want to thank you again for the beautiful Art Deco wedding band which arrived yesterday. It is so beautiful and matches the Deco 18K white gold diamond baguette eternity band I already had. Both now celebrate my more than 23 years of marriage. Thank you so much.
In addition, I want to compliment you on your website, your choice of jewelry, and your dedication to excellence. I am always a bit cautious about purchasing on-line, particularly since I am not able to see the item personally, but through both your e-mails and our phone conversation, I believe you to be a woman of integrity - and very good taste - and I would recommend you to any of my friends.
Thank you again. I look forward to any additional information you are able to send me about my ring and look forward to doing business with you again in the future.
S.M. from California, USA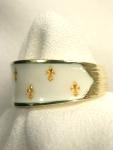 French Enamel Band
Thank you so much for your letter I received along with the French enamel ring today. Although I am leaving the unveiling for my future wife when she arrives in Phoenix next week, I am certain that she will absolutely adore this ring. Great gift-wrapping!! My plan is to give it to her over dinner at my favorite Italian restaurant next Thursday evening.
I do appreciate and recognize your dedication to your craft, your professionalism, and your personal follow-up. Needless to say, I am impressed with the way you do your business, and wish you the best. I will be keeping an eye on your wares as they become available online through your website. Who knows? I'm sure that there will be something else I see that I just have to have for my special girl.
J.J. from Arizona, USA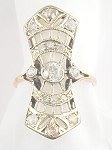 Gold Filigree Diamond Antique Victorian Ring
I just wanted to thank you for the ring. It is absolutely stunning.
R.M. from Rhode Island, USA

Antique Amethyst and Diamond Platinum Filigree Ring
I must say that this ring is even more beautiful than I thought it would be. I just wanted to tell you once again that I appreciate your service and am glad that I found such a trustworthy, knowledgeable source. I know she will love the ring even more than I do and for that I thank you!
I would love to share with all of your customers and prospective customers how very happy I am. Thank you for your time and please continue to keep up the excellent service. I'll be back for her July 8 birthday!
R.R. from Maryland, USA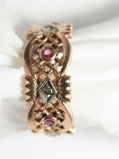 Antique Ruby and Diamond Rose Gold Wedding Band
My husband bought me the Ruby and Diamond Rose Gold Filigree Band. I love it! I was wondering if you had more information on the ring. Like who was the original owner or who owned it before me? The design did it come from a specific culture (Irish, Celtic...)? And any other possible info you might have.
The ring is very special to me. First it has my birthstone (ruby) and second it is a sign of the renewal of our marriage. I wear the ring with much gratefulness to God for watching over us and being the glue that holds us together. Once again I love the ring & it is very, very special to me!
M.T. from California, USA

Art Deco Filigree Antique Engagement Ring
Thanks, my girlfriend is going to just love this forever...yes, please wrap the ring in a treasure box...
S.W. from Texas, USA

Flowers and Leaves Antique Wedding Ring
Just a quick note to let you know that I received the ring safely this morning. It is so pretty, and it fits very well - no need for resizing. I'm going to show the husband-to-be later on, so we'll see what he thinks of it.
It was lovely to talk to you in person, and what a co-incidence that you live somewhere that I have visited. I have very fond memories of North Carolina.
. . .
Just thought I'd write to thank you for sending my beautiful 'flowers and bows' wedding ring all the way to New Zealand. Jase and I got married 4 weeks ago and many of our guests admired my ring. I have always preferred antique wedding rings, they are so much more detailed and interesting than just a plain wedding band. I was spoiled for choice from your selection, and I love the one I chose.
A.G. from Auckland, New Zealand


Art Deco Antique Filigree Diamond Ring
Unusual Rose Cut Diamond Antique Wedding Ring
I received both rings and they are just as described. Thank you for such a pleasurable transaction. Looking forward to more purchases with you in the near future.
J.S. from Connecticut, USA

Emerald and Diamond Wedding Ring
Just a quick note to let you know I received my ring. It's BEAUTIFUL. I love it and it fits perfectly. I have another emerald/diamond ring that it looks terrific with.
M.F. from Connecticut, USA

Edwardian Rose Cut Diamond Antique Ring
The air-parcel from you arrived in good condition. I am very glad to have such a nice Edwardian Rose Cut Diamond Antique Ring. Thank you.
K.N. from Tokyo, Japan
Art Deco Cabachon Sapphire Antique Ring
I'm so excited to receive this package in the mail. I have saved up for a while now and can finally give my girlfriend the commitment she deserves. I can't wait to give it to her. She will love it!
J.Y. from Massachusetts, USA

Edwardian Antique Diamond Ring
Just to let you know I collected the ring yesterday and it really is lovely - very unique.
Thank you for getting it to me so quickly and safely. Hopefully when we set a wedding date I can come back and look for an Edwardian wedding ring to compliment it.
T.W. from Merriott, United Kingdom

Diamond and Tourmaline Platinum Antique Ring
J.V. from London, United Kingdom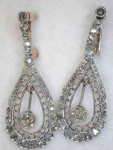 Victorian Diamond Drop Antique Earrings
We are getting married in Manhattan. It will be a very small but very elegant wedding, and I knew these earrings would be perfect. Thank you for your quick response to me, and for selling them to my soon-to-be husband. He is the best man I know...I guess you would get that!
E.H. from New Jersey, USA

Antique Diamond and Pearl Dangle Earrings
The earrings came yesterday. They are lovely!
C.H. from California, USA
Edwardian Blue Enamel and Seed Pearl Locket
I received the locket yesterday. It is beautiful!
L.G. from Texas, USA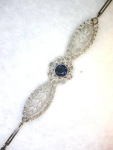 Sapphire and Diamond Edwardian Antique Bracelet
My wife loves the bracelet! She doesn't want to take it off.
G.S. from Connecticut, USA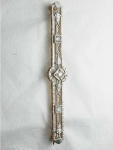 Art Deco Antique Filigree Bar Pin
The postman just delivered the beautiful pin I ordered from you. It is for mother for Christmas. She loves antiques of any kind and I feel sure she will be thrilled Christmas when she opens it. It will be living a happy life on Lake Gaston (it separates Virginia and North Carolina).
Thank you for your prompt attention to my order. Hope your holidays are the best ever.
M.H. from Alabama, USA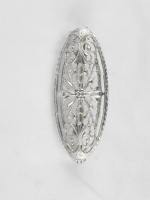 White Gold Filigree Antique Pin
Thank you for the beautiful pin. I was so surprised! It is sweet and just perfect! Thanks again for everything...and we do visit your site often. Wish you the best in your endeavors!
E.H. from New York, USA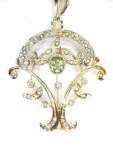 Art Nouveau Peridot and Seed Pearl Pendant
I consider myself lucky that the pendant was still available. You have a beautiful selection on your website.
J.M. from Virginia, USA