Reviews &
Testimonials p2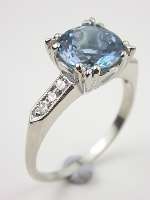 Aquamarine and Diamond Engagement Ring
My wonderful boyfriend (now fiance!) just proposed to me on Valentine's Day weekend. Aquamarine is my favorite stone and he knows that I love vintage jewelry, so he was romantic and thoughtful enough to get my gorgeous ring from Topazery. We are both very satisfied with this ring and feel that its beauty and individuality is a tribute to our love and our impending marriage.
E.G. from New York, USA

Antique Carved Wedding Ring
I got the ring! It's perfect.
A.H. from Colorado, USA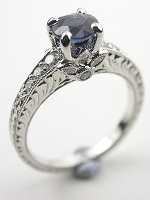 Sapphire Engagement Ring with Flower Motif
I just wanted to thank you for how wonderful you and your company have been during this process of getting this ring.... you have done everything that you promised to do. I am tracking the ring now. Thank you so much for all you've done.
M.H. from Oklahoma, USA

Cushion Cut Green Sapphire Engagement Ring
Take it from a guy that doesn't know anything about engagement rings. The ring is beautiful. Absolutely gorgeous.... A million thanks to you.
M.C. from New York, USA
Antique Style Aquamarine Engagement Ring
My fiance had actually been waiting for this ring to not be sold out since I found it and showed it to him over a year ago. He contacted Topazery asking if they could start selling it again or do a custom order and within a few weeks my ring was in the mail. The photos truly do not do it justice. This ring is absolutely unique. It's like nothing else I've ever seen. I could not be happier with it and have been so proud to show it off to everyone. It's perfect for my style and personality. I still can't believe it's actually mine and I get to wear it everyday. Thank you so much for creating this beautiful piece of art that I get to carry around on my finger.
J.C. from California, USA

Art Nouveau Turtle Motif Antique Ring
Thank you, again, for making this special ring available. The turtle hopped out of your beautiful sky blue presentation box as spring arrived on Saturday afternoon and was welcomed with laughter and delight. A short chorus of the song "You can't hurry love, you just have to wait" (like a turtle crossing the beach toward the sea) was sung and the recipient's trained eye (she's a geologist) observed the sapphire's asterism and the glint of diamond facets at almost every light source and every viewing angle available. Snippets of folklore about the world riding on the turtle's back and other wonderful stories of longevity and good luck were shared as the first sun of spring slipped below the horizon. The tag has been removed -- the turtle is happily riding upon a joyful hand.
D.H. from Alabama, USA

Aquamarine Filigree Engagement Ring
Thank you, Thank you, Thank you. My fiance and I both love the ring. She's had her heart set on it for 2 months now. We are very happy to have purchased it from Topazery. No one else has what you guys offer for the generous prices that you do. I'll be buying her wedding band from Topazery.com as well. I wish much more success to all of you at Topazery. Thank you again.
J.B. from Florida, USA

Contemporary Ring with Marquise Sapphires and Diamonds
I just wanted you to know that I am wearing my beautiful ring right now and it fits perfectly. Thank you so much for all of your help.
M.N. from New York, USA

Aquamarine Filigree Engagement Ring
You have a lot of great rings and I think you are on the edge of something that is only going to grow as word gets out and folks see them. The filigree makes a choice much more personal than a stone on a band.
D.J. from New York, USA

1930s Cabachon Star Sapphire Antique Ring
Thank you for your timely responses and really nice customer service.
K.R. from Washington, USA

Antique Engagement Ring with Old European Cut Diamonds
Thank you for having the perfect ring for her! I will highly recommend your site, you are very professional and extremely helpful with all of my questions. I cant thank you enough.
T.B. from Indiana, USA

Aquamarine Filigree Engagement Ring
I just received the ring in the mail and it's very beautiful.
S.J. from Colorado, USA

Egyptian Revival Bangle Bracelet
I just received the bracelet and it's really beautiful and perfect! I'm wearing it right now, right out of the box. It also fits perfectly.Thank you.
L.L from Arizona, USA

1945 Platinum Diamond Wedding Ring
Just wanted to let you know the ring was fabulous! Thanks for all your help!
K.K. from Washington, USA

Filigree and Diamond Wedding Ring
Hello! Just wanted to say thank you for carrying such a beautiful ring. It's gorgeous and will be cherished for a lifetime.
Y.V. from New York, USA

Filigree and Diamond Engagment Ring
Hello Topazery friends -- I got engaged last week. My fiance picked out this beautiful antique style engagement ring. I could not be happier! It is absolutely beautiful, and fits perfectly. He said the ordering process was easy and hassle free, and it shipped out and was received quickly. I am thrilled to have this ring on my finger for many years to come!
Jessica from Connecticut, USA

Victorian Rose Gold and Diamond Bracelet
I just wanted to let you know that I received my diamond bracelet and I love it! It's beautiful!!! Thank you very much for attaching the safety chain to it.
L.L. from Arizona, USA

Victorian Engagement RIng
Hello!
Just got my ring today, and it is wonderful! We had already found a Victorian 18k wedding band from the same period, and the engagement ring matches the band beautifully! We couldn't be happier. I was very surprised at how much easier it was looking for such a personal and intimate item online. And even more pleased at how it suits my hand. The fact that both pieces are original, have had their own lives and been at the heart of other relationships is something we both value. I wasn't originally looking at rings from the Victorian era, but I suppose sometimes when something is right, it just finds you.
Thank you for being very helpful, and ensuring that the shipping to Canada was so seamless.
S.H. from Ontario, Canada
Simply Elegant Ruby and Diamond Ring
Hi, I want to thank you for the gorgeous ruby ring I purchased for my daughter on her 17th birthday. She is very particular about jewelry and was concerned to learn I had purchased a ring for her before she saw it. But when she opened the box, she loved it! It is elegant but simple. I knew she wanted a ruby ring but was not impressed with the ruby rings I saw anywhere. Then I remembered Topazery. Your site offers some of the most unique jewelry I've ever seen.
Her ring is beautiful and will remind her of the summer she turned 17 every time she looks at it. Thank you for helping me make this birthday memorable.
P.S. from Washington, USA

7 Stone Diamond Wedding Band in Platinum
Hi Topazery folks, I just wanted to let you know I've been married for about two weeks now, and I love my ring, and I get many compliments on it too. (We bought it from you last fall and it's been waiting in my drawer for the actual wedding!) It looks perfect with my engagement ring (even though that ring is from the 20s and the ring I bought from you is from the 50s). It's incredibly comfortable and incredibly beautiful and the perfect size. If you would like a testimonial, feel free to use this one: I would recommend that anyone who's shopping for an estate wedding or engagement ring shouldn't hesitate to try shopping with you. Thank you so much!
J.T. from NY, USA