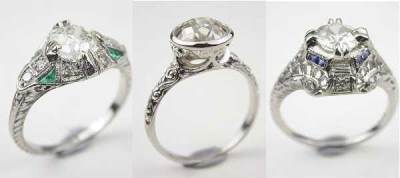 About Antique Engagement Rings
Brides-to-be are showing their individuality and are selecting antique engagement rings as a symbol of their love. They are looking to the future by selecting engagement rings from the past.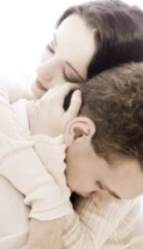 Brides are choosing antique engagement rings with diamonds and gemstones, for example, diamond and pearl engagement rings, lacey and delicate Edwardian engagement rings, or bold and sassy Art Deco engagement rings. Ruby engagement rings, with their fiery color, always demand to be noticed. Emerald engagement rings are magical with their lush green gemstones. The cool blue hues of aquamarine are often paired with diamonds to create enchanting heirloom aquamarine engagement rings. And, of course, we all remember the sapphire engagement ring that Prince Charles gave to Lady Diana. Sapphire engagement rings are popular in a myriad of hues including blue, pink, yellow, green, white and more. Whether you're traditional or non-traditional, classic or chic, find a unique, one-of-a-kind ring from Topazery's antique engagement rings collection.

Orders & More

Vintage Filigree Engagement Ring

A trellis design filigree mounting in 14k white gold teams up with a round brilliant cut diamond in this vintage engagement ring. Curlicues accent the shoulders of this sophisticated filigree vintage ring. Circa 1930.

Item
RG-3489
SOLD

Orders & More

Art Deco Antique Cocktail Ring with Curlicued Hearts

This romantic Art Deco cocktail ring features an elaborate filigree mounting in 18k white gold. The design features single cut diamonds in four tear drop surrounds which are embraced by curlicued hearts. Trademark of JSK. Circa 1920.

Item
RG-3486
SOLD

Orders & More

Art Deco Antique Engagement Ring

Rising majestically upwards, a pierced and engraved Art Deco antique ring holds a bead set diamond in a hexagonal top plate.

Item
RG-3490
$449.00

Orders & More

Edwardian Antique Cocktail Ring

In this playful Edwardian cocktail ring, two bezel set gemstones -- a greenish blue aquamarine and a pastel blue green quartz -- are framed by diamonds.

Item
RG-3511
$4849.00

Orders & More

Vintage Engagement Ring with Old European Cut Diamond

Romantic X-shaped kisses blow their way down the shoulders of this vintage engagement ring, but their kissing cousin, the hug, is not to be outdone.

Item
RG-3503
$4889.00

Orders & More

Aquamarine Art Deco Engagement Ring

The antique pierced mounting of this Art Deco aquamarine engagement ring wraps the finger in Old World lace.

Item
RG-3491
$1559.00

Orders & More

Antique Aquamarine Engagement Ring

A pale round aquamarine rises out of this antique engagement ring, bathing the finger in a soft glow.

Item
RG-1408
$4222.00

Orders & More

Vintage Ruby Filigree Engagement Ring

In this vintage engagement ring, a ruby pushes its way through an 18k white gold lattice, as if it were summer's sole remaining rose.

Item
RG-3360
$1459.00

Orders & More

Pearl and Diamond Ring

In this vintage ring, a cultured natural pearl embraces an old style full cut diamond in a recreation of Rodin's romantic sculpture "The Kiss."

Item
RG-3518
$899.00

Orders & More

1920's Antique Sapphire Filigree Engagement Ring

Like a bluebird flitting across a golden field of grain, this 1920s antique sapphire filigree engagement ring adds unexpected colorful contrast to the finger.

Item
RG-2524
$659.00

Orders & More

Art Deco Sapphire Antique Engagement Ring

The domed spider web setting of this Art Deco sapphire antique engagement ring casts an alluring spell.

Item
RG-3068
$2999.00

Orders & More

Antique Filigree Engagement Ring

This antique diamond engagement ring has a pierced filigree design that wraps the underbezel in leaves and vines.

Item
RG-3374
$4999.00

Orders & More

Art Deco Antique Engagement Ring

Curlicues and beads wrap the bezel and shoulders of romantic Art Deco antique diamond engagement rings like this one.

Item
RG-3431
$2150.00

Orders & More

Antique Victorian Engagement Ring

An eye-catching design is enhanced by the warmth of 14k yellow gold and the glitter of diamonds in this antique Victorian engagement ring.

Item
RG-3462
$979.00

Orders & More

1920's Antique Diamond Engagement Ring

This 1920's antique engagement ring is set in an architecturally stunning pierced filigree mounting in a curling sprig design.

Item
RG-3428
$6775.00

Orders & More

1920s Antique Diamond Engagement Ring

Charming old world details come together to make this pierced and engraved antique engagement ring a visually spectacular one.

Item
RG-3429
$6559.00

Orders & More

Art Deco Antique Engagement Ring

This Art Deco antique engagement ring's pierced mounting is a genuine attention grabber. It showcases a flirty Art Deco combination of leaves and swirls.

Item
RG-3468
$549.00

Orders & More

Edwardian Antique Filigree Engagement Ring

An elaborate platinum filigree mounting holds an old European cut diamond in this late Edwardian antique ring.

Item
RG-3413
$6999.00

Orders & More

Art Deco Antique Engagement Ring

Antique rings like this one are made for romantic proposals in faraway places.

Item
RG-3414
$10200.00

Orders & More

Old European Cut Diamond Antique Edwardian Ring

Delicate flowers and sweeping curls and loops soften this Edwardian ring's edges.

Item
RG-3421
$1199.00

Orders & More

1920s Antique Diamond Filigree Engagement Ring

Intriguing cutwork and a two-tone mounting set this 1920s antique diamond filigree engagement ring apart.

Item
RG-3379
$1339.00

Orders & More

Antique Filigree and Diamond Bridal Rings

This pierced filigree and diamond antique engagement ring has a matching antique band!

Item
RG-3384
$1350.00

Orders & More

Art Deco Antique Engagement Ring

Thin ribbons of platinum wrap this Art Deco antique engagement ring in an intriguing metallic web.

Item
RG-3389
$2449.00

Orders & More

Three Stone Antique Diamond Engagement Ring

Delicate carvings and delightful shimmer soften up angular edges in this three stone antique diamond engagement ring.

Item
RG-3008
$3300.00

Orders & More

1920's Three Stone Antique Ring

A bridge of gold holds two sapphires and a diamond for a three stone filigree antique ring from the 1920s.

Item
RG-2605
$1129.00
---
---
ęCopyright 2001 - 2013
Topazery, LLC
Atlanta, GA, USA
&reg Topazery is a Registered Trademark
Cart

WELCOME!
Home
Join Newsletter
New Listings
How To Order
FAQs
Contact Us
Testimonials
Hassle Free Returns

JEWELRY STORES
All Rings
All Jewelry
Gifts Under $500

ENGAGEMENT RINGS
Thumbnails
Vintage Engagement Rings
Antique Engagement Rings
Antique Style Engagement Rings
Diamond Engagement Rings
Champagne Diamond Rings
Aquamarine Engagement Rings
Sapphire Engagement Rings
Emerald Engagement Rings
Ruby Engagement Rings
Filigree Engagement Rings

RINGS & MORE
Thumbnails
Topazery Collection
Antique Rings
Antique Style Rings
Sapphire Rings
Emerald Rings
Ruby Rings
Aquamarine Rings
Pearl Rings
Filigree Rings
Cocktail Rings
Filigree Jewelry
Pearl Jewelry

WEDDING RINGS
Thumbnails
Antique Wedding Rings
Antique Style Wedding Rings
Gemstone Wedding Rings
Filigree Wedding Rings

JEWELRY BY PERIOD
Thumbnails
Victorian Jewelry
Art Nouveau Jewelry
Edwardian Jewelry
Art Deco Jewelry
Retro Jewelry

OTHER JEWELRY
Thumbnails
Bracelets
Crosses
Earrings
Necklaces
Pendants & Lockets
Pins & Brooches

RECENTLY SOLD
Recently Sold Jewelry

EDUCATION
Gemstone History
Jewelry Periods
Antique Diamond Cuts
Diamond Color Grades
Diamond Clarity Grades
Evaluating Gemstones
Jewelry Library

INFORMATION
About Us
In the News
Privacy Policy
Legal Policy