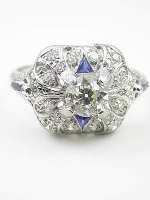 Antique Engagement Rings
Brides-to-be are showing their individuality and are selecting antique engagement rings as a symbol of their love. They are looking to the future by selecting engagement rings from the past and are choosing antique engagement rings with diamonds and gemstones. Whether you're traditional or non-traditional, classic or chic, find a unique, one-of-a-kind ring from Topazery's antique engagement rings collection.
Antique Engagement Rings and Antique Wedding Dresses
Ever wondered what brides in the early 20th century wore on their special day? Topazery takes you on a romantic stroll down memory lane with some antique engagement ring and antique wedding dress pairings that just might inspire your own 1900s, 1910s or 1920s wedding day.
Continue reading >>>

Orders & More

Edwardian Antique Engagement Ring

This fabulous Edwardian antique engagement ring shines like the brightest stars in a moonlit sky.

Item
RG-2522
$9299.00

Orders & More

Art Deco Antique Engagement Ring

Single cut diamonds flirt with a fancy dark yellow-brown champagne diamond in this antique engagement ring.

Item
RG-3596
$3249.00

Orders & More

Floral and Filigree Antique Engagement Ring

Lovely apple blossoms dapple the sides of this floral and filigree antique engagement ring.

Item
RG-3391
$1729.00

Orders & More

Edwardian Antique Filigree Engagement Ring

Geometric layers and pierced filigree add visual intrigue to this Edwardian antique engagement ring's diamond.

Item
RG-3632
$399.00

Orders & More

Art Deco Antique Engagement Ring

Rising majestically upwards, a pierced and engraved antique engagement ring holds a bead set diamond in a hexagonal top plate.

Item
RG-3490
$695.00

Orders & More

Filigree Antique Engagement Ring

A domed topsetting culminates in a hexagonal set old mine cut diamond in this filigree antique engagement ring.

Item
RG-3487
$799.00

Orders & More

Pierced Filigree Antique Engagement Ring

This antique diamond engagement ring has a pierced filigree design that wraps the underbezel in leaves and vines.

Item
RG-3374
$4999.00

Orders & More

Antique Engagement Ring with Scroll Design

Curlicues and beads wrap the bezel and shoulders of romantic antique engagement rings like this one.

Item
RG-3431
$2150.00

Orders & More

1920's Antique Diamond Engagement Ring

This 1920's antique engagement ring is set in an architecturally stunning pierced filigree mounting in a curling sprig design.

Item
RG-3428
$6775.00

Orders & More

1920s Antique Diamond Engagement Ring

Charming old world details come together to make this pierced and engraved antique engagement ring a visually spectacular one.

Item
RG-3429
$6559.00

Orders & More

Antique Engagement Ring with Old European Cut

This antique engagement ring's pierced mounting is a genuine attention grabber. It showcases a flirty Art Deco combination of leaves and swirls.

Item
RG-3468
$549.00

Orders & More

Filigree and Diamond Antique Engagement Ring

Basketweave piercing, open-weave hearts and feathery fronds highlight the 18k white gold band of this antique engagement ring.

Item
RG-3393
$819.00

Orders & More

Edwardian Antique Engagement Ring

An elaborate platinum filigree mounting holds an old European cut diamond in this late Edwardian antique engagement ring.

Item
RG-3413
$6999.00

Orders & More

Antique Engagement Ring with Emerald Accents

Antique rings like this one are made for romantic proposals in faraway places.

Item
RG-3414
$10200.00

Orders & More

1920s Antique Filigree Engagement Ring

Intriguing cutwork and a two-tone mounting set this 1920s antique diamond filigree engagement ring apart.

Item
RG-3379
$1339.00

Orders & More

Floral and Filigree Antique Engagement Ring

An old mine cut diamond glitters in a filigree mounting of hearts and flowers in this irresistible antique engagement ring.

Item
RG-3249
$7599.00

Orders & More

Antique Engagement and Wedding Ring Set

This pierced antique engagement ring with diamond has a matching antique band!

Item
RG-3384
$1350.00

Orders & More

Platinum and Diamond Antique Engagement Ring

Thin ribbons of platinum wrap this antique engagement ring in an intriguing metallic web.

Item
RG-3389
$2449.00

Orders & More

Antique Filigree Engagement Ring

A pierced filigree mounting and a bead set Old European cut diamond create an enchanting design for antique Edwardian engagement rings like this one.

Item
RG-3257
$659.00

Orders & More

Old European Cut Diamond Antique Engagement Ring

Like a beautiful ice sculpture, this old European cut diamond antique engagement ring shimmers on the finger.

Item
RG-3148
$2299.00
Continued from the top of the page .... Antique Engagement Rings and Antique Wedding Dresses
Antique Engagement Rings and Wedding Dresses are All about the Curves in Circa 1900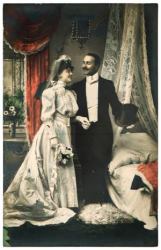 1900s wedding gowns like this one were designed to showcase the curves S-shaped corsets gave Victorian women. Fitted high waistlines accentuated in all the right places. Frilled bodices, like those seen in this wedding gown, enhanced the bosom. Puffy sleeves, known as Gigot sleeves, tapered to fit tightly around the forearm. They, along with the era's hallmark high necklines, ensured no flash of a woman's skin was exposed--a no-no of the Victorian times.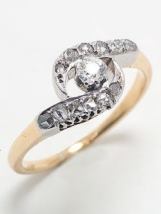 In quiet rebellion of the 'keep it all covered' mindset of the Victorian era, a circa 1900 antique engagement ring allows a sliver of skin to peek through its diamond swirls. This hand-wrought antique ring features an old mine cut diamond with twelve rose cut diamonds billowing around it.
Circa 1910 Emphasizes Free Flowing Silhouettes in Antique Engagement Rings and Wedding Dresses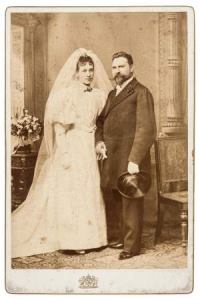 During this decade, brides began to relax just a little. Collars became a tad looser and necks dared to expose themselves a little bit more. Gigot sleeves were still the rage, but waistlines dropped as well, allowing brides to breathe a bit and giving them a more free-flowing silhouette.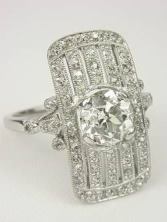 Diamonds freely flow throughout this spectacular Edwardian antique engagement ring. Circa 1910, it has a GIA certified old European cut diamond at its center that is highlighted by a collection of 62 round single and rectangular table cut diamonds.
Circa 1910 Showcases Tiers of Lace in Antique Engagement Rings and Wedding Dresses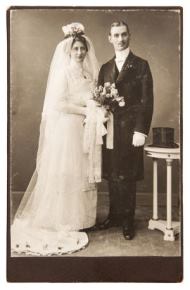 Tiered lace was all the rage during the teen decade. Brides demanded elegance and soft romance. Often they opted for wedding dresses and accessories featuring sheer lace with a floral pattern. The bodice, hemline, veil and bouquet runner in this wedding ensemble showcase that trend.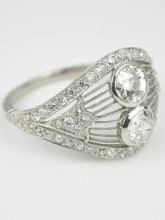 Hallmarks of the 1910 decade, straight lines and lacy adornment can be spotted in this Edwardian antique engagement ring. Two bezel set old European cut diamonds float among the lines while accent diamonds flutter like airy lace around them.
Circa 1920, Antique Engagement Rings and Wedding Dresses -- For Whom the Cloche Tolls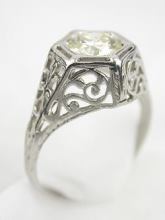 This 1920 antique Edwardian engagement ring hugs the finger like a cloche. An old style round brilliant cut diamond gives it some flapper-inspired pizzazz while filigree cutwork flirts with the setting.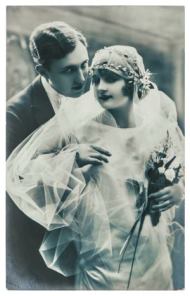 In terms of headdresses, the 1920s were all about the cloche. French for bell-shaped, the cloche hugged the wearer's head closely. So popular was the hat that 1920 brides adapted their veils to include a lacy version of one, attaching their bridal veil layers to either the back or sides. Beautiful draping, simple cutting and flowy fabrication defined the wedding dresses of this era.
Breaking Rules and Breaking Molds was the Motto in 1925 for Antique Wedding Dresses and Engagement Rings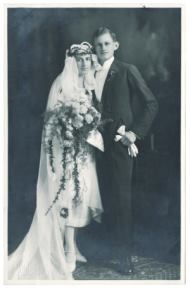 By the 1920s, brides were daring to show much more skin. Hemlines rose, allowing the decade's T-bar shoe craze to be seen. This Parisian bride lets her veil take center stage, with a floor-sweeping length and a beaded headband to give it lots of Great Gatsby appeal.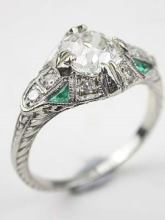 Triangular emeralds break the traditional engagement ring mold for flapper brides who dared to break the rules. A GIA certified old mine cut diamond draws attention while single cut diamond accents mingle with the emeralds.
A History of Antique Engagement Rings in Pop Culture
Ever since a fascination with the rich and famous entered the human psyche, engagement rings -- most of which would now be classified as antique engagement rings by virtue of their age -- have played starring roles in all the many facets of pop culture. What are some of the most prominent antique engagement rings to grace the world of TV, movies, art and Hollywood celebrities?
Antique Engagement Rings On Television
Tune into TV any night of the week and chances are you'll find a resurgence of antique jewelry peppering the airwaves. Period dramas like "Downtown Abbey" and "Mad Men" are making everything old in the jewelry realm new again. But when it comes to antique engagement rings, this trend is nothing new. Going back decades in time, almost to the dawn of the television era in fact, marriage proposals and engagement rings have figured prominently in many of the most popular TV shows.
"Friends" - When Monica and Chandler finally sealed their couple hood in her candlelit apartment, the engagement ring Courtney Cox sported featured a square cut diamond with triangular blue sapphires flanking it. These color enhancements gave the engagement ring a decidedly antique Art Deco flavor.
"Frasier" - Although his proposal, like all things, was entirely over analytical, Niles popped the question to Daphne with a three-carat oval-cut diamond engagement ring. The diamond was set in antique platinum.
"The Flintstones" - Antique engagement rings can't even escape from the cartoon world. Set in the Stone Age, "The Flintstones" is about as antique as they come. When Fred hides a long-overdue engagement ring for his buddy Barney, Wilma finds it and assumes it's a present for her. But Barney's not willing to let things go that easily for his beloved Betty. The antique engagement ring that sets up the farce is a massive multifaceted diamond solitaire in a gold band.
"Green Acres" - What's a broke young man to do when he wants to marry his sweetheart? Propose with a bowling trophy pin, of course. Enter the glamorous Eva Gabor, who offers up her own antique engagement ring as a way to save the day … and the romance.
Antique Engagement Rings in Classic Hollywood
Eva Gabor isn't the only classic Hollywood starlet to flaunt an antique engagement ring-both on the screen and in real life. The oft-married Liz Taylor is also known for the engagement rings she wore. And it is this particular actress, in her Mrs. Burton incarnation, who holds the record for largest engagement ring.
A pear-shaped jaw-dropper, the ring was purchased by Richard Burton in 1969. The whopping 69.42-carat gemstone was sold to Burton by Cartier for a then record of $1.1 million. By the time the couple divorced in 1978, Taylor was able to sell it for $5 million, a sum which she donated to charity.
The engagement ring was so massive in fact that Taylor wore it only for a short time before having it fashioned into a necklace. Before that happened, however, the engagement ring made an appearance on the Lucille Ball television series "Here's Lucy" in an episode titled "Lucy Meets the Burtons," guest-starring none other than Taylor and Burton themselves. In her usual flighty and hilarious style, Lucy got the engagement ring stuck on her finger.
Of course, no discussion of iconic Hollywood vixens would be complete without mentioning Marilyn Monroe. The ring Joe DiMaggio slipped on the blonde bombshell's finger when they said "I do" in 1954 doubled as a wedding band and engagement ring. An eternity band channel set all the way around with rectangular diamonds, this ring radiated shine befitting the effervescent star.
Another classic Hollywood starlet went on to become a genuine princess in real life. When Prince Ranier asked Grace Kelly to marry him, he presented her with an antique platinum and diamond engagement ring. That ring purportedly made an appearance on the big screen in 1955 when Kelly wore it during filming of the movie "High Society."
Antique Engagement Rings on the Big Screen
Grace Kelly may have lit up the screen with her real life antique engagement ring, but many acted-out engagements have thrilled audiences as well with their magnificent engagement rings. Arguably one of the greatest love stories ever to transform the big screen, "Gone with the Wind's" finally accepted proposal ended with Rhett Butler asking Scarlett O'Hara what kind of ring she wanted and him promising, "You shall have the biggest and most vulgar ring in Atlanta."
According to the book that inspired the film, "The ring Rhett brought back from England was large indeed, so large it embarrassed Scarlett to wear it. She loved gaudy and expensive jewelry but she had an uneasy feeling that everyone was saying, with perfect truth, that this ring was vulgar. The central stone was a four-carat diamond and, surrounding it, were a number of emeralds. It reached to the knuckle of her finger and gave her hand the appearance of being weighted down."
Size aside, these characteristics would have made the antique engagement ring a nice example of the Grand Victorian period during which the novel and movie were set. In this historical era, Empress Eugenie's passion for emeralds caused a sensation in France, elevating the gemstones to near diamond level in desirability.
More recently, in the third installment in the "Twilight" series, "Eclipse," Edward presents Bella with a family heirloom as an engagement ring. Its antique Victorian design features a narrow band highlighted with an elongated oval setting embedded with rows of round gemstones.
A family heirloom engagement ring also stirred up trouble in the first installment of "The Hangover" series when it ended up on the finger of a stripper. In a drunker stupor, Ed Helms' character weds Heather Graham with his grandmother's antique pearl and diamond Holocaust ring.
In the 1991 remake of "Father of the Bride" starring Steve Martin, the antique engagement ring the main character Annie wears is a 100-year-old find unearthed by her and her fiancé at, of all places, a Rome flea market.
Antique Engagement Rings in the World of Art
Although antique rings in general are fairly common in famous paintings, engagement rings are not all that common. There is one major exception, however. The 1962 pop art rendering by artist Roy Lichtenstein is a comic-book-esque drawing showcasing a closeup portrayal of a man slipping a diamond solitaire engagement ring on the red-fingernailed hand of his betrothed.
Antique Engagement Rings on the Fingers of Modern Celebrities
The true testament to any jewelry trend, of course, is its longevity, and the current crop of Hollywood starlets wearing antique engagement rings prove that they are not a "here today, gone tomorrow" fad. Who are some of the celebs who have helped to make antique engagement rings as popular as ever?
Catherine Zeta Jones - The ten-carat antique engagement ring Michael Douglas gave the actress is center pieced with a marquise cut diamond. Dating back to the 1920s, it is estimated to have cost Douglas $2 million.
Mila Jovich - When her producer husband proposed, Mila Jovich was presented with a 19th century antique engagement ring. The yellow gold band has three gemstones as its focal point: a yellow, a pink and a white diamond.
Miley Cyrus - Although their engagement has since gone kaput, Liam Hemsworth and Miley Cyrus sealed their love with another 19th century antique engagement ring stunner. Floral motifs and a hand-cut 3.5-carat diamond added to the ring's romantic antique flair.
Penelope Cruz - This actress's sexy Spanish lover, Javier Bardem, gave her a three-carat blue sapphire antique engagement ring when he proposed. The style is redolent of that worn by another modern-day icon, Princess Diana.
---
---
© Copyright 2001 - 2015
Topazery, LLC
Atlanta, GA, USA
® Topazery is a Registered Trademark