Antique Engagement and Wedding Ring Set
This pierced antique engagement ring with diamond has a matching antique band! Set in 18k white gold, the wedding band of this set is carved in a wheat and bead pattern. The matching antique engagement ring is ornately pierced at the shank and shoulders. The tiered mounting lends geometric intrigue with a lozenge nestled inside a pair of octagons. Cradled at the center is an old European cut diamond. This antique bridal ring set is circa 1920. This bridal set requires a custom sizing quote.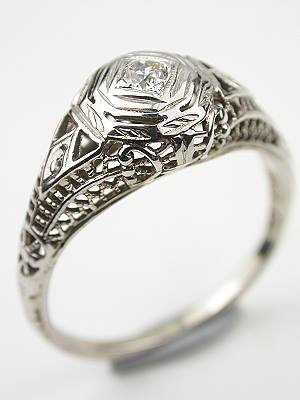 Only One Available
RG-3384
$1350.00
Current Ring Size

Ring Sizing
This ring requires a custom sizing quote and is returnable after sizing. Please email us your ring size and the item number for a sizing quote. You may also purchase the ring, enter your ring size in the Comments field of the online Checkout form, and we will email you the cost of sizing before proceeding. The sizing fee is not refundable. Rings which are purchased from us and sized by other jewelers are not returnable.
Shipping
Shipping is FREE for orders in the USA and to APOs and FPOs. International orders have a $100.00 shipping fee plus a separate invoice from the shipper for customs fees, duties, and taxes. All fees for international orders are non-refundable.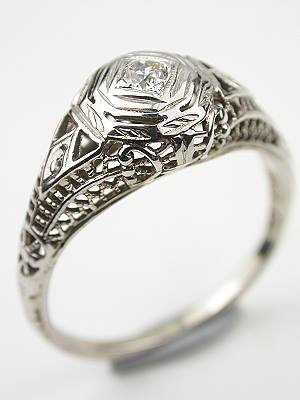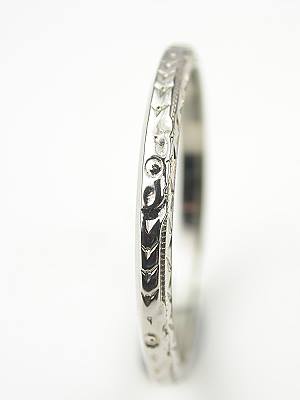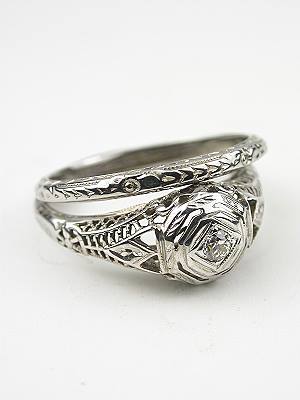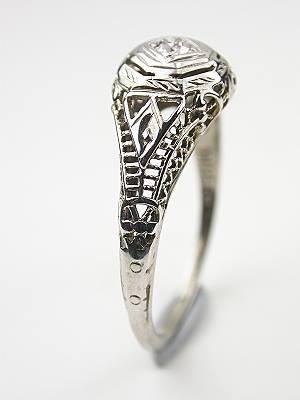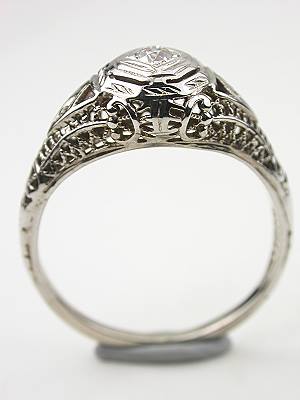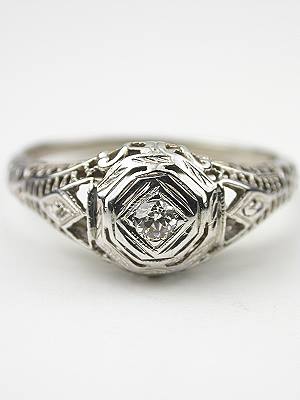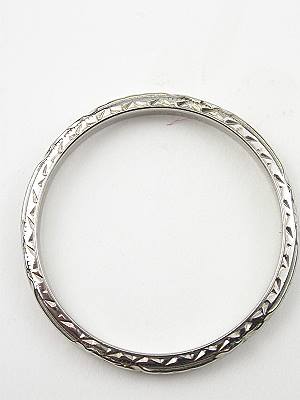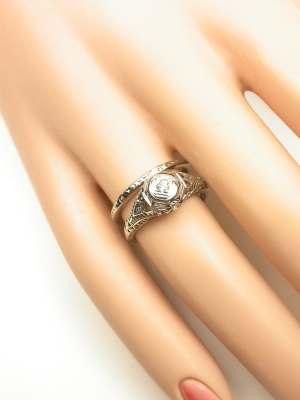 | | |
| --- | --- |
| Options | Not available as a setting/mounting. |
| Item # | rg3384 |
| Metal | 18k white gold |
| Circa | 1920 |
| Weight in grams | 3.71 (for the set) |
| Special characteristics | This is a classic antique bridal rings set which contains a pierced filigree and diamond engagement ring and a wedding band with a wheat and bead design. |
| Other notes | The wedding band measures 1.95 mm wide by 1.32 mm thick. The side of the band that fits against the engagement ring is not engraved. |
| Condition | Good |
| Diamond cut or shape | old European |
| Diamond carat weight | 0.07 |
| Diamond mm measurements | 2.6 x 1.57 |
| Diamond color | K |
| Diamond clarity | VS1 |
| Diamond # of stones | 1 |
| All Diamonds, total ct. wt. | 0.07 |
| Top of ring length (N-S) | 8.16 mm [0.32 in] |
| Top of ring width (E-W) | 14.50 mm [0.57 in] |
| Width of shank at shoulders | 2.54 mm [0.10 in] |
| Width of shank at base | 1.23 mm [0.05 in] |
| Ring height above finger | 5.75 mm [0.22 in] |
| Other ring info | The measurements above are for the engagement ring. Measurements for the wedding band are under "Other Notes". The engagement ring is a size 6.0. The wedding band is a size 6.5. This set requires a custom sizing quote and is not returnable after sizing. |
Click HERE for our Hassle Free Returns agreement.
Click HERE for Important Jewelry Information.