Aquamarine Engagement Rings p2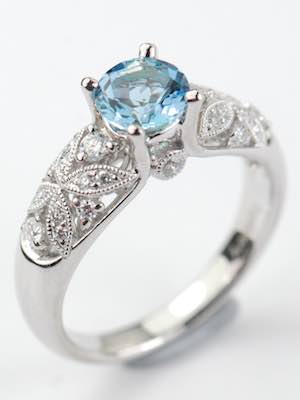 Aquamarine Floral Engagement Ring
Diamond studded leaves accent the shoulders of this antique style aquamarine engagement ring. The 18k white gold band of this engagement ring sparkles with 0.30 carats of diamonds. A total of twenty-six round brilliant cut diamonds accentuate the enchanting floral and leaf motif that meanders down the sides. Rising from this garden oasis is a round aquamarine that weighs 0.73 carats. This is a vintage style (new) aquamarine engagement ring.
Item
RG-3168a

SALE PENDING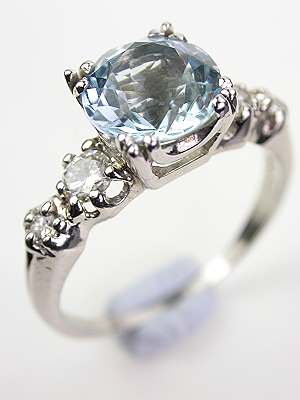 Vintage Platinum Aquamarine Engagement Ring
The aquamarine that highlights this vintage engagement ring shimmers like the sea. Four diamonds on the shoulders of this aquamarine engagement ring add radiance to the polished band. Details: Vintage. Circa 1930 or later. Platinum. Round brilliant cut diamonds; 0.30 carats. Round cut aquamarine; 1.83 carats.
Item
RG-3444

SOLD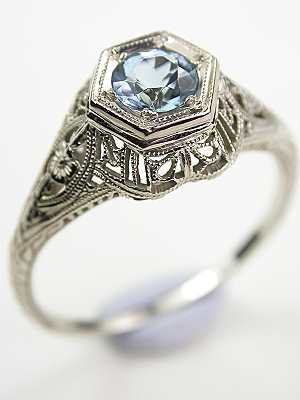 Aquamarine Antique Engagement Ring
The Art Deco mounting of this antique aquamarine engagement ring wraps the finger in Old World lace. Fancy floral and filigree work adds femininity to the band of this antique engagement ring. The metallic lacework culminates in a hexagonal top setting that cradles a round aquamarine. Details: Antique, Art Deco. Circa 1920. 18k white gold. Round aquamarine, 0.37 carats.
Item
RG-3491

$1559.00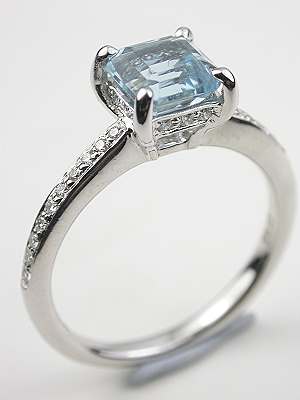 Asscher Cut Aquamarine Engagement Ring
Diamonds accents add a special touch on the under bezel of this Asscher cut aquamarine engagement ring. A sleek design and diamonds set on the shoulders show off a greenish blue aquamarine. The total diamond weight in this aquamarine engagement ring is 0.17 carats. This is a new vintage style aquamarine engagement ring from the Topazery Collection.
Item
RG-2806g

$1495.00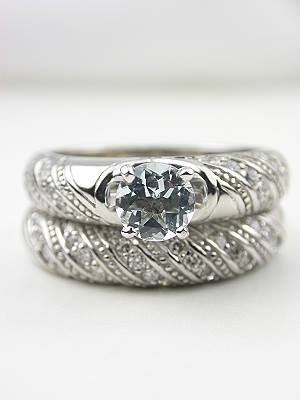 Aquamarine Engagement and Wedding Ring
WOW! This matching vintage style aquamarine engagement ring and matching band give non-stop radiance to the finger. The engagement ring holds 0.52 carat round aquamarine. A collection of fifty-two round full cut diamonds further accentuates the engagement and wedding rings. The total combined diamond weight of these two bridal rings is 0.52 carats. This is vintage style aquamarine engagement ring and wedding ring set.
Item
RG-2375

$1989.00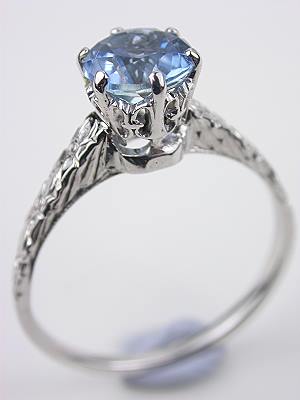 Vintage Aquamarine Engagement Ring with Floral Motif
Vintage aquamarine engagement rings like this one remind us of bluebells. And according to legend, bluebells are the flowers of the fairies. As if sprinkled with fairy dust, the 14k white gold band of this vintage engagement ring is adorned with flowers. A round faceted mixed cut aquamarine ascends from the carved floral effusion of the vintage band. Pedestal set, in a 6 prong basket head, this aquamarine gemstone weighs 0.79 carats. This vintage aquamarine engagement ring has a soft and feminine appeal. Circa 1930 or later.
Item
RG-2978

$1629.00