Topazery
Reviews p2

Aquamarine Filigree Engagement Ring
Thank you so much Topazery!!! I got the ring yesterday and it is gorgeous! It was a pleasure ordering from you. Thank you!
B.G. from Georgia, USA

Antique Style Wedding Ring with Wheat Motif
Hey Topazery Team,
Thank you so much for taking care of me! It's customer service like this that keeps me (and others) coming back for more. I can assure you I'll be making further purchases in the future and recommending you to all my friends.
I.J. from Florida, USA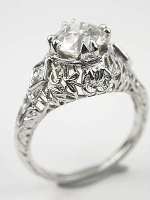 Antique Engagement Ring with Old European Cut Diamond
Art Deco Filigree and Diamond Eternity Band
I wanted to take the time to thank you once again for my most beautiful rings! You were so wonderful to do business with! Topazery has such beautiful jewelry! You took the time to explain everything and were very patient, answering all my questions. What can I say...the rings are beautiful and you have a customer for life!! Not only do I own two beautiful rings, but I also feel like i made a new friend in Topazery!
Thank you, Thank you....I will tell everyone I know about Topazery!
P.P. from Massacusettes, USA

Victorian Danish Antique Pearl Cross
Hello, I just wanted to say thankyou so much for sending the cross as soon as you did. It got there in time! It is absolutely beautiful and the mum of the baby loves it and wants to wear it now herself.
Thank you again for all your help
A.W. from Western Australia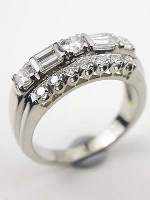 1950s Vintage Diamond Wedding Ring
I picked up the ring yesterday, and gave it to her last night..... She was in awe... "exactly what I hoped" it is beautiful and she loves it, showing it off at hospital this AM! Good for her! Thanks again for working a little outside your box since I am headed to the Desert next week.
C.B from Georgia, USA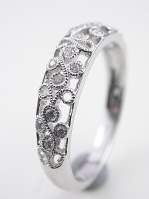 Floral Wedding Band with Diamonds
I just got my wedding ring in the mail and it's beautiful! It's exactly what I wanted! I want to thank you so much for answering all of my questions and making the ordering process go so smoothly. I highly recommend your website to others.
A.A. from California, USA

Cathedral Style Aquamarine Engagement Ring
Gave her the ring this morning and it fit perfectly. The ring is gorgeous and she loves it.
M.S. from Georgia, USA

Antique Diamond Cocktail Ring
Wow...I just received the beautiful ring! Stunning is an understatement!
K.G. from Texas, USA