Aquamarine Filigree Antique Engagment Ring
I just wanted to let you know how happy my fiance and I are with the beautiful 1920s aquamarine filigree ring that we chose from your site. We were looking for a simple, delicate antique engagement ring, preferably with a blue stone and filigree, and this one is even prettier than we could have imagined. I love aquamarines, which are my birthstone, but it is so hard to find aquamarines with a rich color that I was assuming we'd end up with something else. I was very happy to be proven wrong. The ring even fits me perfectly. I was a little nervous about choosing an engagement ring from a photo, but it's even more beautiful than I thought it would be. Thank you! I am recommending your site to all my friends who are looking for unique engagement rings.
E.B. from California, USA

Estate Tourmaline and Diamond Ring
Just wanted to write and say that I just received the ring. It looks great!!! Thank you.
A. G. from California, USA

Art Nouveau Antique Style Wedding Ring
My boyfriend bought me this ring for a 5 year anniversary and I just wanted to tell you how beautiful this ring is in 'real life'. Truly the pictures don't do it complete justice. In the sunlight the ring is breathtaking the way it sparkles! I have had the ring for a week now and it is very comfortable to wear too! Nothing snags or scratches.Thank you so much for this wonderful piece of jewelry!
C.R. from Maryland, USA

Carved Wedding Ring by Jabel
It came this morning. I am wearing it and it is perfect. It looks exactly like the one I lost. The jeweler did a marvelous job. Looks like it was always a size 4.5.
Hope Atlanta is being good to you!
M.F. from Texas, USA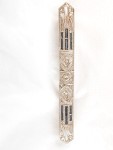 Art Deco Filigree Bar Pin
My pin arrived late this morning. It is beautiful! While it is smaller than the pin I lost, it is far nicer. I am always apprehensive when purchasing on line - about the quality of merchandise -- but I am delighted and will shop with you again soon. I love art deco and antique jewelry. Thank you.
E.H. from Massachusettes, USA
Ruby and Diamond Estate Dinner Ring
Just wanted to let you know the ring was well received!! Bottom line, you have a very satisfied customer.Thanks again.
J.K.from Florida

Antique Diamond Wedding Ring
The ring just arrived and it's lovely. It slipped right on and looks great on my hand. I can't wait to show my fiance! The more I look at it, the more I like it. It's just too bad that I have to wait until Dec 31 before I can wear it every day.
Thanks once again for all your help. It's been a pleasure.
A.L. from Ontario, Canada

Antique Diamond Engagement Ring
Just wanted to let you know that the ring arrived safe and sound. My fiance wants me to wait to open it until I get home from work, however, so I can't tell you yet how absolutely beautiful it is, but I know it will be. Nonetheless, it is here and I'm ecstatic. Thank you so much for all of your time and excellent service.
...
When I finally got to see my ring I was ecstatic. The picture on the web page was stunning, but it did no justice to the ring at all. It is more beautiful than even the pictures showed. We are so happy!
Again, thank you for your excellent service. We look forward to doing more business with you in the future.
C.B. and M.M. from Illinois, USA

Aquamarine and Sapphire Antique Engagement Ring
The ring arrived at 10:00 this morning. It is absolutely beautiful ! Iam so glad I decided to buy it. I have never seen a ring like this one before it is so unique. It was such a pleasure buying this ring from you. It is obvious that you truly care about your customers and love what you do. Thank you for having it delivered on a Saturday.
P.S. It fits perfectly !!!
K.K. from New York, USA

Antique Diamond Eternity Ring
I just received the packed you mailed with a description of the ring I bought last fall - thank you! I've recommended your site to several friends - I've been very impressed with your business.
M.M. from Massachusettes, USA
Antique Art Deco Sapphire Filigree Ring
Hi there, just letting you know that she adores the ring and it lookes beautiful on her.
B.W. from North Carolina, USA

Antique Diamond Ring
I recieved the ring and I can't say how impressed I am. It far exceeded my expectatons and I was astonished at how beautiful it was as I opened the box. Thank you for the great customer service and excellent communication.
Thanks again for everything, and I will be sure to tell all my family and friends about your website.
J.K. from North Carolina, USA

Antique Two Toned Wedding Ring
I love the two toned eternity band and it fits!!! I will not be sending it back for sizing. Although it will not be as dear to me as my Grandmothers ring, it has the same feel on my hand and looks lovely. Thank you so much!
M.F. from North Carolina, USA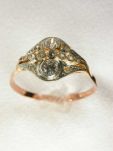 Antique Edwardian Diamond Ring
The ring arrived today, and we opened it together. It is exquisite, sparkling and so elegant--even the box is gorgeous! We are also impressed with your service. The entire transaction was smooth and easy. Thank you very much for your beautiful website and especially for having the perfect ring.
K.W. from New Mexico, USA

Art Deco Aquamarine Antique Ring
Recently my fiance bought the gorgeous Art Deco aquamarine ring from you. I could not be happier with an engagement ring -- I absolutely adore it!
B. from Florida, USA

Amethyst Cigar Band Ring
The beauty arrived at 2:55 pm yesterday. It is gorgeous. I will wear it with great happiness. I will keep my eyes open for more on your site.
S.P. from Texas, USA

Art Deco Filigree and Diamond Antique Ring
We received our ring and it is absolutely stunning! The gift packaging was also lovely. My fiancee is in love with it! I just wanted to thank you for your great customer service throughout the ordering/shipping process.
We are looking forward to showing off this piece at our wedding, and telling all of our friends about the site. Thanks again!
R.N. from South Carolina, USA

Hearts and Diamonds Necklace with Pendant Drop
Thank you for your kindness in helping me find a gift. She loved the necklace and her reaction to its beauty was a sincere compliment to your taste. Thank you for your help and I wish you and "The Topazery" the best.
G.L. from Georgia, USA

Antique Diamond Wedding Ring
I wanted to write you to thank you for your help in obtaining an engagement ring for my new fiancee. She loved it. I appreciate how you answered my questions, worked with me and helped make this a reality. I prayed long and hard that the weather would be good enough to get into a hot air balloon to propose and God answered (we escaped through about an 6 hour window). She'll never forget it (and you played a big part of it). I would have no problem referring people to Topazery.
Thank you so much!! I've had my eye on your jewelry for some time and my boyfriend just proposed yesterday with a ring from your site that I love. Thank you for your great customer service and the quality jewelry -- and for telling the truth!! The ring is more gorgeous than the pictures can capture. I'll be passing on your website to all who see my ring. I couldn't be more pleased.
T.K. and L.S. from Colorado, USA

Art Deco Filigree and Diamond Antique Ring
I picked up the ring. I think it is very elegant, precise in the details. I'm very happy seeing it shine from my finger. Even though the diamonds are small, they glitter so much. Is it really from the 1930's? It's my Merry Christmas present to me.
K.C. from Massachusettes, USA
---
© Copyright 2001 - 2015
Topazery, LLC
Atlanta, GA, USA
® Topazery is a Registered Trademark