Aquamarine Engagement Rings p3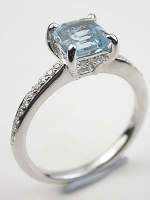 Asscher Cut Aquamarine Engagement Ring
Diamonds accents add a special touch on the under bezel of this Asscher cut aquamarine engagement ring. A sleek design and diamonds set on the shoulders show off a greenish blue aquamarine. The total diamond weight in this aquamarine engagement ring is 0.17 carats. This is a new vintage style aquamarine engagement ring from the Topazery Collection.
Item
RG-2806g

$1495.00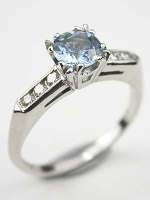 Aquamarine Engagement Ring with Fishtail Setting
Channel set diamonds showcase a greenish blue aquamarine in this vintage engagement ring with fishtail setting. In this lovely vintage ring with fishtail basket is a round aquamarine that weighs 0.48 carats. A collection of six round single cut diamonds is channel set along the shoulders. Flanking the aquamarine, three on each side, and setting off its delicate sparkle, these diamond accents total 0.12 carats. The platinum band of this vintage engagement ring is polished to a smooth sheen. Circa 1940.
Item
RG-3352

$1779.00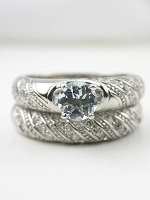 Aquamarine Engagement and Wedding Ring
WOW! This matching vintage style aquamarine engagement ring and matching band give non-stop radiance to the finger. The engagement ring holds 0.52 carat round aquamarine. A collection of fifty-two round full cut diamonds further accentuates the engagement and wedding rings. The total combined diamond weight of these two bridal rings is 0.52 carats. This is vintage style aquamarine engagement ring and wedding ring set.
Item
RG-2375

$865.00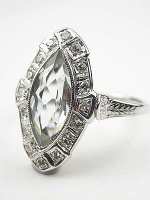 Art Deco Antique Aquamarine Ring
This antique aquamarine ring captures the bold and daring spirit of the 1920s. The elongated teardrop setting of this Art Deco antique ring shows off a marquise cut aquamarine. A collection of fourteen round single cut diamonds surround the centerpiece gemstone. They have a combined diamond weight of 0.18 carats. A 14k white gold band provides a tonal backsplash for the dramatic milgrain-trimmed gemstone setting. The shoulders of the band are carved in a feathery design. If you are looking for an unusual aquamarine engagement ring, this is antique art for the finger! Circa 1920.
Item
RG-3358

$1799.00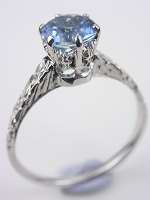 Vintage Aquamarine Engagement Ring with Floral Motif
Vintage aquamarine engagement rings like this one remind us of bluebells. And according to legend, bluebells are the flowers of the fairies. As if sprinkled with fairy dust, the 14k white gold band of this vintage engagement ring is adorned with flowers. A round faceted mixed cut aquamarine ascends from the carved floral effusion of the vintage band. Pedestal set, in a 6 prong basket head, this aquamarine gemstone weighs 0.79 carats. This vintage aquamarine engagement ring has a soft and feminine appeal. Circa 1930 or later.
Item
RG-2978

$1629.00