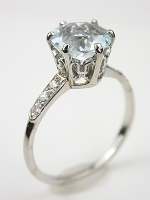 Aquamarine Engagement Rings
The official birthstone of March, an aquamarine engagement ring would be perfect for any springtime bride, or any woman who loves the gemstone's pale blue shading. Calm and cooling in their icy blue coloring, aquamarine engagement rings evoke the constancy and dependability of sea water tides. What better way to show your enduring love for her than to ask for her hand in marriage with a Topazery aquamarine engagement ring?! The word "aquamarine" comes from the Latin for "sea water" and the gemstone's blue-green shading evokes just that. As beautiful as Caribbean waters and pale azure skies, antique aquamarine rings naturally appeal to the nature lover. Aquamarines are also believed to hold magical powers. They reawaken love in long-married couples and also help people experience mercy and love.
If you prefer a brand new aquamarine engagement ring that evokes the feeling of a bygone era, then our vintage and antique style aquamarine engagement rings are perfect choices. If you love rings with a bit of history, then our vintage and antique aquamaring rings from the Art Deco, Art Nouveau, Victorian, Edwardian, Retro and Modern periods will appeal to you. We offer both solitaire and diamond accented aquamarine rings with exciting details such as tiered and coiled bands as well as a choice of precious metal settings. We carry aquamarine gemstones ranging in color from pastel blue-green to azure blue. Whether she adores understated and elegant, or bold and breathtaking, the Topazery aquamarine engagement ring collection has the perfect style for your very special bride-to-be. Our aquamarine engagement rings are the best on the web!

Orders & More

Aquamarine Antique Engagement Ring

The Art Deco mounting of this antique aquamarine engagement ring wraps the finger in Old World lace.

Item
RG-3491
$1559.00

Orders & More

Antique Aquamarine Engagement Ring

A pale round aquamarine rises out of this antique engagement ring, bathing the finger in a soft glow.

Item
RG-1408
$4222.00

Orders & More

Aquamarine Engagement Ring with Fishtail Setting

Channel set diamonds showcase a greenish blue aquamarine in this vintage engagement ring with fishtail setting.

Item
RG-3352
$1779.00

Orders & More

Antique Aquamarine Engagement Ring with Floral Motif

Antique aquamarine engagement rings like this one remind us of bluebells. And according to legend, bluebells are the flowers of the fairies.

Item
RG-2978
$1629.00

Orders & More

Art Deco Aquamarine Engagement Ring

An aquamarine floats in an elaborately engraved mounting in this 1925 Art Deco beauty.

Item
RG-3601
$1529.00

Orders & More

Aquamarine Filigree Engagement Ring

Likes snow flurries dancing in the winter wind, this aquamarine engagement ring has a swirling design.

Item
RG-2802ad
$1399.00

Orders & More

Antique Style Aquamarine Engagement Ring

A halo of diamonds surrounds an aquamarine in this romantic antique style aquamarine engagement ring from the Topazery Collection.

Item
RG-2955z
$1999.00

Orders & More

Aquamarine Engagement Ring

The path not taken often leads to the most unexpected surprises, and this antique style aquamarine filigree engagement ring thrills from all directions.

Item
RG-2567as
$1489.00

Orders & More

Aquamarine Filigree Engagement Ring

The alluring charm of the Caribbean is captured in this aquamarine filigree engagement ring.

Item
RG-2814ax
$1499.00

Orders & More

Antique Style Aquamarine Engagement Ring

Ribbons of diamond lace wrap the shoulders and shank of this antique style aquamarine engagement ring.

Item
RG-3276b
$1469.00

Orders & More

Aquamarine Engagement Ring with Wheat Motif

Blades of wheat point their way to a splash of blue in this aquamarine engagement ring.

Item
RG-2405d
$1049.00

Orders & More

Aquamarine Engagement Ring with Pierced Motif

A round aquamarine gemstone emerges from diamond leaves in this antique style aquamarine engagement ring.

Item
RG-1748v
$1229.00

Orders & More

Asscher Cut Aquamarine Engagement Ring

Diamonds accents add a special touch on the under bezel of this Asscher cut aquamarine engagement ring.

Item
RG-2806g
$1495.00

Orders & More

Aquamarine Engagement and Wedding Ring

WOW! This matching vintage style aquamarine engagement ring and matching band give non-stop radiance to the finger.

Item
RG-2375
$865.00
---
---
ęCopyright 2001 - 2014
Topazery, LLC
Atlanta, GA, USA
&reg Topazery is a Registered Trademark
Cart

WELCOME!
Home
Join Newsletter
New Listings
How To Order
FAQs
Contact Us
Testimonials
Hassle Free Returns

JEWELRY STORES
All Rings
All Jewelry
Gifts Under $500

ENGAGEMENT RINGS & MORE
Thumbnails
Vintage Engagement Rings
Antique Engagement Rings
Antique Style Engagement Rings
Champagne Diamond Rings
Aquamarine Engagement Rings
Sapphire Engagement Rings
Antique Rings
Filigree Rings

WEDDING RINGS
Thumbnails
Antique Wedding Rings
Antique Style Wedding Rings

PERIOD JEWELRY
Thumbnails
Vintage Jewelry and Rings
Victorian Jewelry
Edwardian Jewelry
Art Deco Jewelry

EDUCATION
Gemstone History
Jewelry Periods
Antique Diamond Cuts
Evaluating Stones
Jewelry Library

INFORMATION
In the News
Site Map
Jewelry Details
Privacy Policy
Legal Policy