Aquamarine Engagement Rings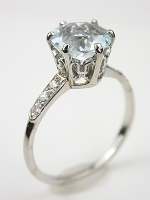 The official birthstone of March, an aquamarine engagement ring would be perfect for any springtime bride, or any woman who loves the gemstone's pale blue shading. Calm and cooling in their icy blue coloring, aquamarine engagement rings evoke the constancy and dependability of sea water tides. What better way to show your enduring love for her than to ask for her hand in marriage with a Topazery aquamarine engagement ring?! The word "aquamarine" comes from the Latin for "sea water" and the gemstone's blue-green shading evokes just that. As beautiful as Caribbean waters and pale azure skies, antique aquamarine rings naturally appeal to the nature lover. Aquamarines are also believed to hold magical powers. They reawaken love in long-married couples and also help people experience mercy and love.
Continue reading >>>
Continued from the top of the page . . . .
Aquamarine Vintage and Antique Engagement Ring Lore
As you browse for vintage and antique engagement rings, do you find yourself drawn to ones featuring aquamarines? You're not alone in your captivation. Such allure for this gemstone dates back centuries. Let's take a closer look at some of the myths and legends surrounding aquamarines for some insight into why vintage and antique engagement rings featuring them attract you so much.
Charms Not to Be Denied
A combination of the words "aqua," meaning water and "marine," meaning of the sea, the aquamarine radiates with all the various intensities of ocean water, from pale seafoam to deep blue. It got its name from Roman fishermen who coveted it for its ability to bless the waters and help reel them in a good catch. Not surprisingly then, the ancient sages spoke of the aquamarine in mythical maritime terms. The philosopher Pliny poeticized it in this romantic way: "The lovely aquamarine, which seems to have come from some mermaids treasure house, in the depths of a summer sea, has charms not to be denied." Vintage and antique engagement rings featuring aquamarines possess this undeniable charm.
Good Fortune Talisman
Being so far from home for such extended periods of time, and perhaps holding tight to the mermaid fairy tales surrounding it, sailors adopted the aquamarine as their good luck charm. They believed the gemstone would not only protect them but also stanch their fear. In the eternal battle between darkness and light, aquamarines were also believed to thwart the dark forces and ingratiate the bearer with the spirits of light. To this day, water travelers are thought to be protected by the aquamarine's inherent powers.
Opening the Channels of Communication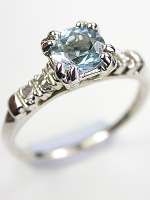 Extending the maritime voyager metaphor, whatever channels travelers happen to venture upon, they will meet clearly and openly when in possession of an aquamarine. Today, that belief extends to the realm of communication, meaning if you wear a vintage or antique aquamarine engagement ring, you and your partner may experience genuine heartfelt communication as a perk, hence the long-held notion that the gemstone can put back together fractured relationships.
Ancient Lineage
The aquamarine dates back to Old Testament biblical times. From its earliest appearances, the gemstone was used as a protective element. The high priest Aaron is thought to be the earliest recorded wearer of the aquamarine, which was embedded in the breast plate he wore. Each aquamarine in his plate represented a quality of one of Israel's tribes. In New Testament recordings, the book of Revelations speaks of the aquamarine as the eighth foundational stone. Perhaps because of its connection to the virtue of mercy, the aquamarine is associated with the apostle Thomas, also known as "Doubting Thomas" because when he first learned of Christ's alleged resurrection, he did not believe it.
The ancient Egyptians, Greeks, and Persians all valued the aquamarine as well. The mummy pits of Egypt have contained the gemstone, and the King of Persia in 1685 dubbed the aquamarine "Panzoon," meaning "All Life." In the book in which he gave it this moniker comes one of the earliest mentions of engraving the gemstone. For unity and joy, he suggested engraving aquamarines with a crow, but he specifically stipulated that the bird should have a crab under its feet. A frog engraving in an aquamarine was believed to have the power to mend broken friendships and to even reconcile enemies. Brides-to-be who are animal lovers or who just have a playful side might consider engraving the bands of their vintage and antique aquamarine engagement rings with one of these totems.
Color Vitality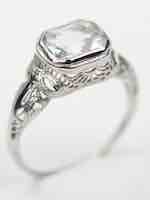 What hue of aquamarine engagement ring you're attracted to may also harbor hints into your inner self. For example, the paler the blue-green shade of the aquamarine the more it is associated with the seasonal transformation of winter into spring. As a result, light aquamarines signify rebirth and reawakening. They prompt one to examine her life and accept what has been given to her. That being the case, a woman who chooses a light-colored vintage or antique aquamarine engagement ring may just start off her married life in a relaxed, content, and grateful state of mind. And because pale aquamarines are thought to contribute to assisting two people from differing backgrounds to live together in harmony, they are a perfect way to start off matrimony right in a vintage or antique engagement ring.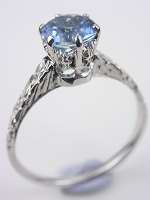 On the flip side, darker aquamarines are rarer, with the most coveted color falling in the deep blue-aqua range.
Aquamarine Engagement Rings frm Topazery
Topazery's aquamarine engagement rings are the best on the web! If you prefer a brand new aquamarine engagement ring that evokes the feeling of a bygone era, then our vintage and antique style aquamarine engagement rings are perfect choices. If you love rings with a bit of history, then our vintage and antique aquamaring rings from the Art Deco, Art Nouveau, Victorian, Edwardian, Retro and Modern periods will appeal to you. We offer both solitaire and diamond accented aquamarine rings with exciting details such as tiered and coiled bands as well as a choice of precious metal settings. We carry aquamarine gemstones ranging in color from pastel blue-green to azure blue. Whether she adores understated and elegant, or bold and breathtaking, the Topazery aquamarine engagement ring collection has the perfect style.