Antique and Vintage Style Wedding Rings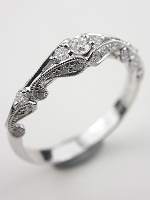 You've bought the wedding rings; now all that's left is to say the "I do's." If a vintage style wedding ring is what you plan to exchange your marriage vows with, Topazery congratulates you on making a lovely choice. As an antique style wedding ring wearer, we bet a least a few of these personality traits will resonate with you.
Trait #1: "I like to make a statement--and often a bold one--with my jewelry." You don't play by the rules. There's no way you're going to go out of the house looking like everyone else, let alone looking like just another bride walking down the aisle.
Read more >>
Continued from above ... "What a Vintage Style Wedding Ring Says about You"
Trait #2: "I couldn't care less about brands." If you were to walk the celebrity red carpet and were asked the proverbial "Who are you wearing?" you wouldn't have a clue. You think of jewelry as art and you know what you like when you see it. Who designed it? Who cares? All that matters is that it catches your eye. The same is definitely true of your antique style wedding ring.
Trait #3: "I have a sense of timeliness about me." You're not part of the throwaway mentality. You believe things--like wedding rings--are meant to last in the same way you believe that marriage vows are forever.
Trait #4: "I'm a romantic at heart." Maybe you watched your grandparents' love affair last for decades and you vowed your marriage would be just like theirs. Perhaps you like strolling vintage shops and imagining the romance behind your favorite jewelry pieces. Whatever fuels your vintage style wedding ring attraction, there's a hint of sentimentality and hopeless romanticism behind it.
Trait #5: "I honor traditions but I'm drawn to things that are uniquely me too." You're an interesting blend of old and new. You might be wearing your mother's wedding gown, or at least have drawn inspiration from it. You want your wedding day to give a nod to the past but you don't want it to be a mirror image of yesteryear. You believe there's room for a modern touch (hence the antique style wedding ring as opposed to an antique one), even if you do embrace all the traditional aspects. Your big day will likely be a harmonious blend of the past, present, and future.
How many of these vintage style wedding ring characteristics do you identify with? No matter which vintage style wedding ring you choose, we hope it's a true reflection of who you are.
What to Look For in a Vintage Style Wedding Ring
Are you in the final stages of wedding ring shopping and have your selections narrowed down to just a few? Is a vintage style wedding ring or an antique style wedding ring among your finalists? If so, you may be wondering, "How do I know if I'm making the right choice? And what exactly should I be looking for when it comes to vintage style wedding rings?" Topazery has compiled a list of questions you can consider before picking "the one."
Did the vintage style wedding ring you've got your eye on catch your attention long before you started probing its gemstone and metal details? A vintage style wedding ring isn't about cut, clarity, carat weight and all that jazz. It's a statement piece that's meant to wow without all the trappings and buzzwords the jewelry industry imposes. The mere fact that you're attracted to a vintage or antique style piece in the first place says that you don't like to play by the rules. And you certainly shouldn't start with your wedding ring.
Does the vintage style or antique style wedding ring that's captured your interest stay true to the jewelry period it is trying to emulate? Vintage wedding rings are often carved or etched all the way around the band and may contain diamond and gemstone accents. Vintage style engagement rings will exhibit these same alluring traits. Similarly, antique wedding rings will reflect the era from which they come. For instance, the wedding rings from the Art Deco era often featured vibrantly colored gemstones. Antique style wedding rings will copy the motifs that were popular during the antique periods from which they draw.
Does the vintage style wedding ring you have your heart set on have something special about it?
The most important thing to remember is that a wedding ring is meant to be forever. This is a ring you will be wearing every day for the rest of your life. Are you going to tire of looking at it after a while or is it going to continue to make your heart flutter decades from now. Vintage style wedding rings are particularly effective at keeping the spark alive.
Antique and Vintage Style Wedding Rings
The wedding ring is given by the groom to his bride on their wedding day. Depending on tradition, a woman wears her wedding ring on the fourth finger of her left hand [in the USA, UK, or Brazil] or on the right hand [in most other countries]. If you're looking for a new wedding ring that is reminiscent of the past, our antique style and vintage style wedding rings are a perfect way to seal your vows. Each ring has been hand-selected because it represents the old world charm you expect from a Topazery jewelry piece. Antique style wedding rings and vintage style wedding rings look and feel just like wedding rings from the Art Deco, Art Nouveau, Victorian, Edwardian, or Retro jewelry eras.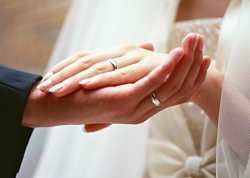 The stones adorning our collection of vintage style wedding rings and antique style wedding rings range from traditional diamond accents to precious gemstones like emeralds, rubies, sapphires, amethysts, and citrines, to name a few. Filigree and open cutwork are just some of the fine detailing you'll notice in Topazery's fine selection of antique and vintage wedding rings. You'll find platinum, white, yellow as well as rose gold wedding rings. If she wants a new wedding band that evokes the elegance and romanticism of days gone by, then an antique or vintage style wedding ring will steal her heart.