About Antique Style Wedding Rings
The wedding ring is given by the groom to his bride on their wedding day. Depending on tradition, a woman wears her wedding ring on the fourth finger of her left hand [in the USA, UK, or Brazil] or on the right hand [in most other countries].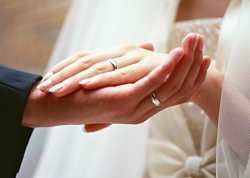 If you're looking for a new wedding ring that is reminiscent of the past, our antique style wedding rings are a perfect way to seal your vows. Each gorgeous antique style wedding ring has been hand-selected because it represents the old world charm you expect from a Topazery jewelry piece.
Our Antique Style Wedding Rings Collection
The stones adorning our collection of antique wedding rings range from traditional diamond accents to precious gemstones like emeralds, rubies, sapphires, amethysts, and citrines, to name a few. Filigree and open cutwork are just some of the fine detailing you'll notice in Topazery's fine selection of antique style wedding rings. You'll find antique style platinum wedding rings, antique style white gold wedding rings, antique style yellow gold wedding rings, as well as antique style wedding rings in rose gold. If she wants a new wedding band that evokes the elegance and romanticism of days gone by, then an antique style wedding ring will steal her heart.

Orders & More

Filigree and Diamond Antique Style Wedding Band

Diamonds, milgraining and fancy cutwork join forces in this filigree and diamond antique style wedding band.

Item
RG-2807ae
SALE PENDING

Orders & More

Swirling Diamond Wedding Band

A complimentary and equally delightful pattern of scrolls and swirls threads down the shoulders of this antique style wedding band.

Item
RG-1750wbwv
$1329.00

Orders & More

Swirling Diamond Wedding Ring

The swirling Vs that highlight this diamond wedding ring have a playful quality about them.

Item
RG-3479m
$1299.00

Orders & More

Antique Style Filigree Wedding Band

This antique style filigree wedding band curves ever so slightly to fit its matching engagement ring.

Item
RG-2814wby
$799.00

Orders & More

Filigree and Diamond Wedding Band

Elegant sophistication is yours in this princess-inspired filigree and diamond wedding band.

Item
RG-3080j
SALE PENDING

Orders & More

Matching Wedding Ring for RG2817

The wedding ring rises to a point at the top and curves ever so slightly to nestle against the engagement ring.

Item
RG-2817wbf
$1229.00

Orders & More

Filigree Wedding Band

This wedding band is intricately carved in filigreed chevrons and paisley swirls. The 18k white gold band is slightly curved to fit against it's matching engagement ring, style RG-2802.

Item
RG-2802wbm
$649.00

Orders & More

Floral Wedding Band with Diamonds

A delicate vine of diamonds winds around the finger in this unusual wedding band.

Item
RG-2813wbl
$749.00

Orders & More

Paisley and Filigree Diamond Wedding Band

This 18k white gold filigree and diamond wedding band is elegant worn alone or paired with a filigree engagement ring.

Item
RG-1747wbf
$1129.00

Orders & More

Antique Style Leaf and Scroll Wedding Band

Delicate filigree in a leafy scroll pattern is accented by mille grain on this antique style wedding ring.

Item
RG-3345wbb
$779.00

Orders & More

Curved Matching Wedding Band

An 18k white gold band curves to fit the bezel of its matching engagement ring style RG-2955 and RG-3142.

Item
RG-2955wbe
$1199.00

Orders & More

Antique Style Diamond Wedding Band

Seven diamonds accent the top of this complimentary wedding band for engagement ring style RG-2808.

Item
RG-2808wbe
$1089.00

Orders & More

Matching Wedding Ring for RG3121

This fitted diamond wedding band nestles against it's engagement ring.

Item
RG-3121wbc
$1119.00

Orders & More

Ruby and Diamond Wedding Ring

Rubies and diamonds dance around her finger like a ribbon in this delightful wedding ring. It features a contemporary "pinched" design mounting in 18k white gold. This antique style wedding ring is new.

Item
RG-3579
$1449.00

Orders & More

Swirling Wedding Band with Fancy Yellow Diamonds

The 18k white and yellow gold band of this Topazery Collection wedding ring is fashioned in a twisted rope design.

Item
RG-3081c
$1499.00

Orders & More

Antique Style 5 Stone Diamond Wedding Ring

The elaborate bridgework of this antique style 5 stone diamond wedding ring lends architectural intrigue to the finger.

Item
RG-2420d
$2799.00

Orders & More

Sapphire and Diamond Wedding Ring

Nine graduated blue sapphires cascade down the center of this wedding ring.

Item
RG-3544
$1929.00

Orders & More

Curved Diamond Wedding Ring

Diamonds curve around the top and down the shoulders of this antique style wedding ring which matches engagement ring style RG-2917.

Item
RG-2917wbg
$1299.00

Orders & More

Diamond Wedding Ring with Vine and Leaf Motif

This antique style wedding ring, with vine and leaf motif, wraps the finger in a glittering garden array of vines and leaves.

Item
RG-3475b
$1259.00

Orders & More

Floral and Filigree Wedding Ring

Millgrain trimmed butterfly wings flap and flutter, casting mesmerizing iridescence in this floral and filigree wedding ring.

Item
RG-1748wb
$1129.00

Orders & More

Ruby and Diamond Wedding Ring

Rasberry red rubies are interspersed with round brilliant cut diamond ice in this anniversary style wedding ring.

Item
RG-3553
$1999.00

Orders & More

Curved Matching Wedding Ring

This diamond wedding ring is curved to fit around the bezel of its matching engagement ring, style RG-1753.

Item
RG-1753wbd
$999.00

Orders & More

Wedding Band with Vine and Leaf Motif

Vines and leaves meander half way around this antique style leaf wedding ring.

Item
RG-3169wba
$629.00

Orders & More

Modern Diamond Wedding Band

Row upon row of diamonds flood the finger with radiance in this modern wedding band.

Item
RG-3435
$1499.00

Orders & More

Antique Style Diamond Wedding Band

A playful arrangement of geometric shapes gives this antique style diamond wedding interest.

Item
RG-3436
$995.00

Orders & More

Princess Cut Diamond Eternity Band with Leaf Motif

Nonstop diamond brilliance dominates in this princess cut diamond eternity band with leaf motif.

Item
RG-3476
$2559.00

Orders & More

Diamond Wedding Ring

Thirteen diamonds in a shared prong design make a glittering statement on her wedding ring finger.

Item
RG-3269
$1059.00

Orders & More

Wedding Ring with Round and Princess Cut Diamonds

Alternating round and princess cut diamonds are surrounded by milgrain trim in this half-way anniversary style wedding ring.

Item
RG-3323
$699.00

Orders & More

Diamond Eternity Band with Carved Motif

Looking for a classic diamond band? This wedding ring has a timeless design.

Item
RG-3270
$1179.00

Orders & More

Wedding Band with Pear Shaped Diamonds

Pear and round brilliant cut diamonds dance across her finger in this antique style wedding band.

Item
RG-3321
$999.00

Orders & More

Antique Style Diamond Wedding Band

Sixteen diamonds swirl around the bezel and shoulders of this matching antique style diamond wedding band for engagement ring RG-2809.

Item
RG-2809wb
$599.00

Orders & More

Diamond Eternity Band

A delicate circle of diamonds shimmers softly in this diamond eternity band.

Item
RG-2399
$629.00

Orders & More

Square Cut Ruby Eternity Band

Like a garland of roses, this square cut ruby eternity band encircles the finger in brilliant color.

Item
RG-3061
$685.00

Orders & More

Topazery Vintage Collection Wedding Ring

Tie up your vows in a diamond bow with this Topazery Vintage Collection wedding ring.

Item
RG-2484
$995.00
---
---
ęCopyright 2001 - 2013
Topazery, LLC
Atlanta, GA, USA
&reg Topazery is a Registered Trademark
Cart

WELCOME!
Home
Join Newsletter
New Listings
How To Order
FAQs
Contact Us
Testimonials
Hassle Free Returns

JEWELRY STORES
All Rings
All Jewelry
Gifts Under $500

ENGAGEMENT RINGS
Thumbnails
Vintage Engagement Rings
Antique Engagement Rings
Antique Style Engagement Rings
Champagne Diamond Rings
Aquamarine Engagement Rings
Sapphire Engagement Rings

RINGS & MORE
Thumbnails
Antique Rings
Vintage Jewelry
Topazery Collection
Antique Style Rings
Sapphire Rings
Aquamarine Rings
Filigree Rings
Earrings
Necklaces
Brooches

WEDDING RINGS
Thumbnails
Antique Wedding Rings
Antique Style Wedding Rings

JEWELRY BY PERIOD
Thumbnails
Victorian Jewelry
Edwardian Jewelry
Art Deco Jewelry

EDUCATION
Gemstone History
Jewelry Periods
Antique Diamond Cuts
Evaluating Stones
Jewelry Library

INFORMATION
In the News
Privacy Policy
Legal Policy