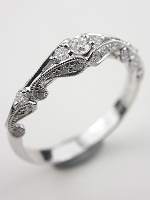 Antique and Vintage Style Wedding Rings
The wedding ring is given by the groom to his bride on their wedding day. Depending on tradition, a woman wears her wedding ring on the fourth finger of her left hand [in the USA, UK, or Brazil] or on the right hand [in most other countries]. If you're looking for a new wedding ring that is reminiscent of the past, our antique style and vintage style wedding rings are a perfect way to seal your vows. Each ring has been hand-selected because it represents the old world charm you expect from a Topazery jewelry piece. Antique style wedding rings and vintage style wedding rings look and feel just like wedding rings from the Art Deco, Art Nouveau, Victorian, Edwardian, or Retro jewelry eras.
Read more >>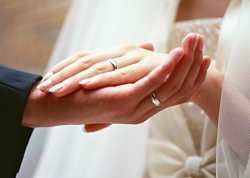 Antique and Vintage Style Wedding Rings (continued from above)
The stones adorning our collection of vintage style wedding rings and antique style wedding rings range from traditional diamond accents to precious gemstones like emeralds, rubies, sapphires, amethysts, and citrines, to name a few. Filigree and open cutwork are just some of the fine detailing you'll notice in Topazery's fine selection of antique and vintage wedding rings. You'll find platinum, white, yellow as well as rose gold wedding rings. If she wants a new wedding band that evokes the elegance and romanticism of days gone by, then an antique or vintage style wedding ring will steal her heart.
---