Vintage and Antique Rings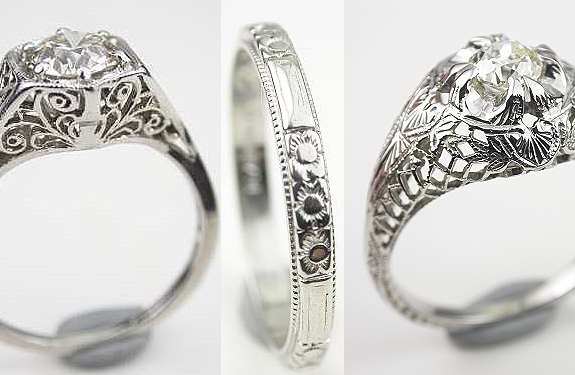 Rings are the most meaningful of all jewelry. Rings have delighted, captivated, and thrilled us since the third millennium BC. Perhaps antique rings and vintage rings are the most popular type of jewelry worn today because they touch our hearts with stories of the past and remind us of our dreams for the future. Vintage and antique rings are given to express friendship, with the promise of marriage, and to celebrate memorable occasions.
A History of Antique Rings in the Art World
Spanning three centuries (the 14th to 17th), the cultural movement of the Renaissance had a significant impact on all aspects of life, and jewelry was no different. Antique rings, in particular, reflected what was taking place in the world even after the era officially came to an end. Learn More &raquo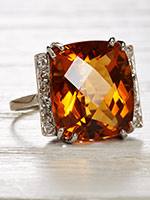 Classic Platinum Citrine Vintage Ring
Classic vintage rings like this one make an elegant right hand ring or a stunning engagement ring. The platinum band of this vintage ring is hand-wrought. The raised, open-weave mounting encases twelve round single cut diamonds. A showstopper cushion faceted mixed cut citrine serves as the piece de resistance. The total gemstone weight of this vintage ring is 17.58 carats. From the Topazery Earth Collection. Circa 2006.
Item
RG-1812

$3999.00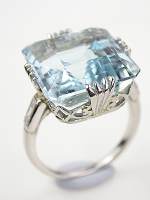 Classic Vintage Aquamarine Ring
This bold and classic vintage aquamarine ring demands to be noticed! The platinum band of this vintage cocktail ring rises to a playful mounting of openwork hearts, rhomboids and crowns. A 14.27-carat emerald cut aquamarine is set inside this display of metallic elements. A pair of straight cut baguette diamonds flanks the aquamarine for a total diamond weight of 0.30 carats. Circa 1950 or later.
Item
RG-2785

$9995.00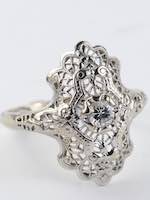 Art Deco Filigree Antique Ring
Lacy filigree give this antique ring a delicate, airy beauty. Spun of 14k white gold, the tangled and pierced filigree web of this antique Art Deco ring has a dream catcher quality to it. Details: Antique, Art Deco. Circa 1930. 14k white gold. Round brilliant cut diamond; 0.23 carats.
Item
RG-3217

SALE PENDING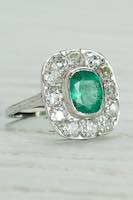 Edwardian Antique Ring with Cushion Cut Emerald
A halo of diamonds surrounds a cushion cut emerald in this enchanting hand-wrought Edwardian ring. This romantic antique ring features a natural cushion cut emerald in a classic Edwardian setting. Twelve old mine cut diamonds surround the blueish green emerald creating a glittering halo. The shank is carved with a wheat motif. Details: Antique, Edwardian. Circa 1920. 14k white gold. Cushion cut emerald, 1.30 carats. Old mine cut diamonds, 1.26 carats.
Item
RG-3597

$4099.00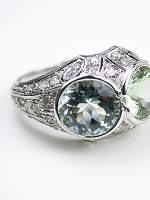 Edwardian Antique Filigree Ring
In this playful Edwardian antique filigree ring, two bezel set gemstones -- a greenish blue aquamarine and a pastel blue green quartz -- are framed by diamonds. The classic platinum hand-wrought filigree mounting of this Edwardian antique ring is dazzling with 50 bead set diamonds which accent an aquamarine and a quartz. Make a statement with this smashing ring -- it's art for your finger! Circa 1915.
Item
RG-3511

$3959.00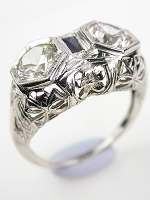 Edwardian Antique Ring with Sapphires
The pretty band of this Edwardian antique ring is pierced with a floral and bow motif. Two matching white sapphires burst from the center of the flowery ribbon backsplash in this Edwardian antique ring. These focal point gemstones are hexagonal set side by side. A flame fusion blue sapphire is wedged between the two white sapphires, dividing this antique ring into two distinct yet equally scene-stealing segments. Details: Antique, Edwardian. Circa 1920. 18k white gold. Round cut white and rectangular cut blue sapphires; 1.55 carats.
Item
RG-2308

$1519.00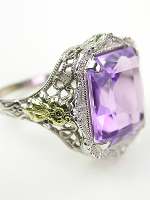 Vintage Amethyst Cocktail Ring with Floral Trim
Even spring's most perfect lilac couldn't rival this vintage cocktail ring's amethyst. The focal point amethyst gemstone in this vintage cocktail ring is framed in metallic lacework Contrasting green gold flowers whimsically play peek-a-boo amidst the pierced filigree band. Details: Vintage. Circa 1930. Trademark M-M-M. 14k white gold. Rectangular cut amethyst; 5.11 carats.
Item
RG-3538

$1529.00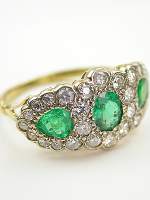 Antique Emerald Ring with Scalloped Design
Full cut diamonds encircle a trio of emeralds in this antique ring. In this winter ice versus spring verdant duel, the springtime green of the oval and pear-shaped emeralds ultimately wins out. The 14 yellow gold band of this antique ring has a scalloped trimmed top and offers metallic contrast to the emeralds and diamonds. Details: 14k yellow gold. Full cut diamonds; 0.66 carats. Oval and pear emeralds; 0.85 carats. Antique, Circa 1930 or later.
Item
RG-3514

$2779.00
To see all of our antique rings and vintage rings click here.
Continued from the top . . .
During the Renaissance, women wore rings on all the fingers of their hands, sometimes with more than one stacked on the same finger. These antique rings were often arranged both above and below the joints with skin peeking out in between. Antique rings from the Renaissance period of history had some common traits: 1) Typically they featured gems in their settings; 2) Ornamentation was a key hallmark; and 3) The bezels of these rings harbored secret compartments to stow perfumed scents that masked body odor.
Antique engagement rings from the Renaissance era are captured in painted portraits of Henry VIII's third and fourth wives, Jane Seymour and Anne Cleves, both of whom are wearing multiple rings on their hands. The king, however, wasn't the only one immortalizing antique rings in tribute to his wives.
Artist Dominique Ingres used his creative talents to capture his own second wife, Delphine Ramel. Deep in thought, her hand propped under her chin and her pointer finger pointing up to her temple, Delphine's curled pinkie lights up the middle of the canvas with two antique rings, a gold band that appears to be set with a round ruby encircled by diamonds. A darker band, perhaps onyx, rests atop it with a round diamond shimmering from its center.
Perhaps the most famous early artistic rendering of antique rings can be found in a painting titled "Portrait of a Lady" by Rogier van der Weyden, which hangs in Washington, D.C.'s National Gallery of Art. A 15th century Flemish painter, van der Weyden chose an oil on oak medium for "Portrait of a Lady," a choice which rendered a sharp contrast in darkness and light.
More recently, "The Engagement Ring," an oil painting by British artist John Shirley Fox, features a bonneted, curly-haired woman gazing longingly at the ring on her left hand as she toys with it. Given the painting's time period (the late 1800s), the antique ring is most likely an example from the Victorian jewelry period, in particular the Aesthetic period. The antique ring that is the focus of the art appears to be banded in gold with two blue stones, aquamarines or perhaps blue sapphires, set side by side.
Indeed, gold dominated the Victorian jewelry era thanks to the Industrial Revolution, which allowed it to be used more cost-effectively as a medium and, in turn, to be more readily purchased by the emerging middle class. Engagement rings (like those found in Fox's painting) from the Victorian antique period often had diamonds or amethysts set in them. Diamonds were common, but they were often found in conjunction with other gemstones as well, like pearls, rubies, emeralds and sapphires.
Filigree in Antique and Vintage Rings
Filigree refers to any delicate and intricate ornamentation in gold, silver, or platinum. Ancient jewelry craftsman first introduced filigree in the 3rd century, when the Greeks practiced this fine jewelry art form. Topazery's fine selection of filigree rings brings back the romanticism of old-world filigree designs and craftsmanship.
Filigree lends detailed interest and visual intrigue to a ring's setting. If she adores intricate floral, lacy or geometric styling, she'll be enchanted with a vintage or antique filigree ring. We have a beautiful selection of vintage and antique filigree rings which have geometric cutwork as well as delicate carvings of flowers, leaves, birds, bows and hearts. She'll find rings with an airy, feminine look or with bold, angular styles.
A History of Antique Filigree Rings
If you are an admirer of antique filigree rings, chances are you've oohed and aahed over many a piece featuring lacy filigree cutwork. What you're probably not aware of, however, is the history behind filigree, an art form that is handcrafted according to this ancient customs. Read on to learn more about where this metallic antique jewelry effect came into being.
Filigreeing dates back thousands of years. Its jewelry origins can be traced to Mesopotamia circa 3,000 B.C. To put that date in perspective, that year was the start of the Bronze Age, when people started using metals, specifically bronze, for tools. While they were fashioning that metal into useful survival objects, it seems the Mesopotamians just couldn't resist using some of it for beautification purposes as well. The year 3,000 B.C. was also close to 500 years before the Egyptian pyramids were completed, making filigree older than the earth's earliest large-scale cut stone construction.
The word filigree is derived from two Latin words: filum, meaning thread, and granum, meaning seed or tiny bead. Indeed, close examination of antique filigree will reveal delicate threads and minute beads in the metal work. That is because the filigreeing process involves the soldering of curled, twisted and plaited figments and miniature beads together and on top of solid matching metal to form intricate designs. The Mesopotamians often accented their filigree designs with a technique called granulation, where by miniscule globules of gold were soldered on the metal's surface to form intricate patterns. The resulting overall effect is one that is both lacy and airy. Filigree is also sometimes referred to as telkari from the Anatolian word meaning "wire work."
For centuries, filigree continued to play an integral role in jewelry making. It wasn't until the late 4th century B.C., however, that gemstones began to be incorporated into filigree work. During this time period, Alexander the Great conquered the Persian Empire, claiming gold and silver from the Phoenicians, Egyptians and Persians as part of his bounty. That's when stones like pearls, garnets and sapphires began to be set within the filigree.
Filigree fell out of style around 133 A.D., during the Roman era, when jewelry craftsmen began favoring simpler settings over the elaborate designs filigreeing entailed. The Spanish Moors spread the craft of silver filigree work throughout the Iberian Peninsula, eventually bringing it to the Spanish colonies of America. Filigree then made a grand resurgence during the antique Edwardian and Art Nouveau jewelry periods.
Spanning the 19th century (late 1800s) into the 20th, the Art Nouveau era in particular made filigree popular all over again. It is during this timeframe that master jeweler Faberge began using gold filigree, initiating a revival in the technique. King Edward VII can also be given credit for some of the modern-day filigree resurgence. His monochromatic transformation of the technique, combing platinum with clear gemstones like diamonds, rendered the old metal-working process fresh and new all over again.
During this same segment of history, passementerie began influencing American styles. From the French, passementerie is an art form that produces elaborate trimmings or edgings. Tassels, fringes, pompons, rosettes, braidings, gold and silver cordings, colored silk embroideries and the like began appearing as enhancements that made their mark all over both clothing and home furnishings. Meanwhile, advancements in metal working allowed these decorative accents to be copied into fine metals for jewelry, and suddenly society couldn't get enough of filigree all over again.