Asscher Cut Diamond Antique Engagement Ring
This jewelry piece is sold. The information shown is for research purposes only. We've displayed available jewelry you may like at the bottom of the page. Or, you may use the search button at the top or the navigation menu to find what you need.
The Art Deco influence is evident in this engagement ring. The elegantly simple geometric design showcases the solitaire Asscher diamond to perfection. A classic platinum mounting creates the perfect setting for a 2.01 carat, H color, SI1 clarity, Asscher cut diamond in this antique engagement ring. Asscher cut diamonds are known for their captivating optics and spell-binding beauty. The mesmerizing geometry of the cut draws the eye inward to the depths of the stone. Open shoulders, milgrain trim, and beautiful detailing on the underbezel and shoulders add the finishing touches to antique diamond engagement rings like this one. Circa 1925 or later.
Only One Available
RG-1081
SOLD
Current Ring Size 7.50 full
Ring Sizing
To see sizing fees for rings, add the ring to your shopping cart and follow the prompts. Most rings are returnable after sizing by a Topazery Jeweler. Rings which are not returnable after sizing are clearly noted as such in the shopping cart. All sizing fees are non-refundable.
Shipping
Shipping is FREE for orders in the USA and to APOs and FPOs. International orders have a $100.00 shipping fee plus a separate invoice from the shipper for customs fees, duties, and taxes. All fees for international orders are non-refundable.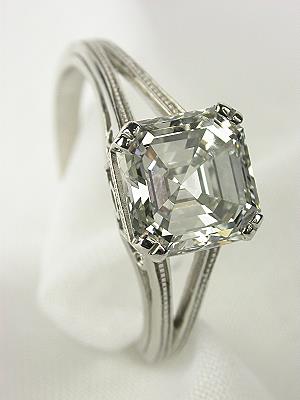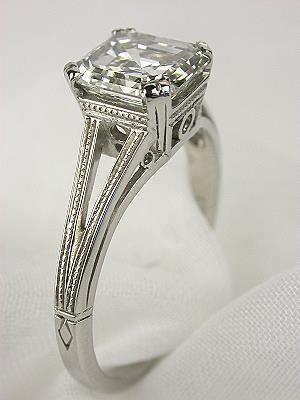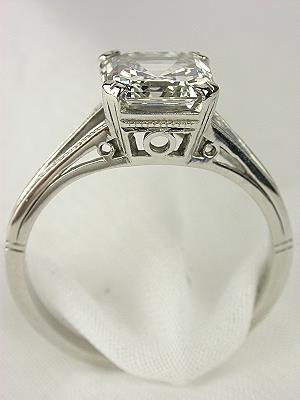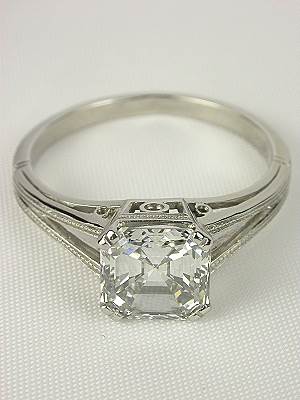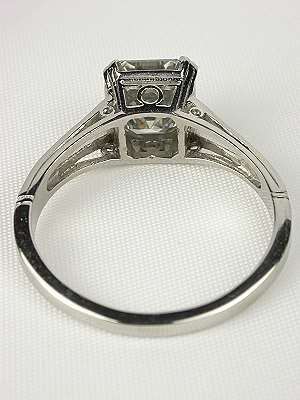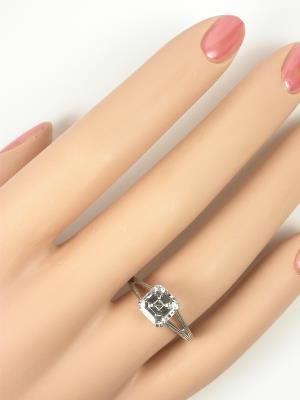 | | |
| --- | --- |
| Options | Not available as a setting/mounting. |
| Item # | rg1081 |
| Metal | platinum |
| Circa | 1925 or later |
| Weight in grams | 4.65 |
| Period or Style | Art Deco |
| Other notes | This ring is only available as shown. It is not available as a mounting or with an alternate center stone. |
| Condition | Very Good |
| Appraisal | A USPAP compliant appraisal, in narrative form, completed by a GIA Graduate Gemologist and AGS Certified Gemologist Appraiser, is included with your purchase. |
| Diamond cut or shape | Asscher (square emerald) |
| Diamond carat weight | 2.01 |
| Diamond mm measurements | 7.31 x 7.29 x 4.6 |
| Diamond color | H |
| Diamond clarity | SI1 |
| Diamond # of stones | 1 |
| Diamond other info | HRD (Antwerp, Belgium) Diamond Grading Certificate number 07001332005 |
| All Diamonds, total ct. wt. | 2.01 |
| Top of ring length (N-S) | 7.37 mm [0.29 in] |
| Top of ring width (E-W) | 7.65 mm [0.30 in] |
| Width of shank at shoulders | 2.88 mm [0.11 in] |
| Width of shank at base | 1.87 mm [0.07 in] |
| Ring Size | 7.50 full |
Click HERE for our Hassle Free Returns agreement.
Click HERE for Important Jewelry Information.
---
Items you may like:
---