About Antique Rings
Rings are the most meaningful of all jewelry. Rings have delighted, captivated, and thrilled us since the third millennium BC. Perhaps antique rings are the most popular type of jewelry worn today because they touch our hearts with stories of the past and remind us of our dreams for the future. Antique rings are given to express friendship, with the promise of marriage, and to celebrate memorable occasions.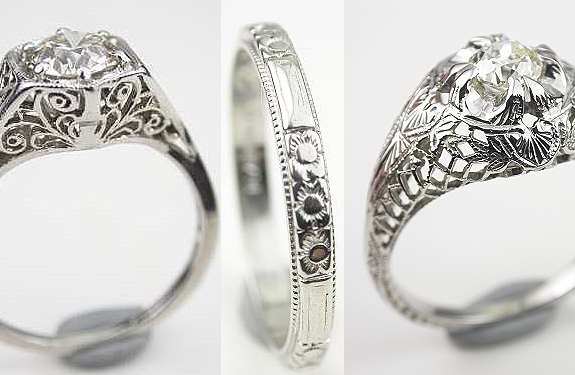 Our Antique Rings Collection
Topazery offers an extraordinary collection of antique rings. We specialize in rings with old cut diamonds. You'll find antique rings with rose cut diamonds and old mine cut diamonds, as well as old European cut diamonds. Topazery also presents an amazing collection of antique colored stone rings with sapphires, rubies, emeralds, aquamarines, citrines, tourmalines, and many more beautiful gemstones. Find an antique gemstone ring to announce your engagement or to celebrate an anniversary or special occasion.

Orders & More

Edwardian Antique Ring

This fabulous Edwardian antique ring shines like the brightest stars in a moonlit sky.

Item
RG-2522
$6949.00

Orders & More

Antique Emerald Ring with Scalloped Design

Full cut diamonds encircle a trio of emeralds in this antique ring.

Item
RG-3514
$2779.00

Orders & More

Antique Edwardian Aquamarine Cocktail Ring

This smashing antique aquamarine cocktail ring is for the woman who likes rings that make a dramatic statement on her finger.

Item
RG-3390
SALE PENDING

Orders & More

Antique Victorian Engagement Ring

An eye-catching design is enhanced by the warmth of 14k yellow gold and the glitter of diamonds in this antique Victorian engagement ring.

Item
RG-3462
$979.00

Orders & More

Antique Orange Blossom Wedding Ring

The orange blossoms that encircle this romantic antique wedding ring are so lifelike that you can almost catch a whiff of their delicate floral scent.

Item
RG-3441
$559.00

Orders & More

Victorian Ruby and Diamond Cocktail Ring

A trio of round rubies in this Victorian antique ring threads down the center of a marquise shaped diamond display adding a brilliant stream of color.

Item
RG-3450
$899.00

Orders & More

Antique Diamond Wedding Ring in Platinum

Seven diamonds are set across the top of this platinum antique wedding ring.

Item
RG-3343
$1259.00

Orders & More

Classic Diamond Eternity Band in Platinum

A pierced design and scalloped edges make unusual platinum and diamond antique rings.

Item
RG-3199
$3999.00

Orders & More

1920s Art Deco Aquamarine Cocktail Ring

This antique aquamarine cocktail ring captures the bold and daring spirit of the 1920s.

Item
RG-3358
$1799.00

Orders & More

Eternity Ring with a Leaf and Ribbon Design

Leaves and ribbons wind their way around her finger in vintage rings like this one.

Item
RG-3198
$3939.00

Orders & More

7 Stone Diamond Wedding Ring

Seven full cut diamonds dance across the open-arched top of this vintage ring.

Item
RG-3152
$549.00

Orders & More

1920's Antique Cameo Ring

A woman in Elizabethan dress is depicted in a classic cameo antique ring.

Item
RG-3177
$789.00

Orders & More

Art Deco Antique Ring

Ornate and alluring, this this Art Deco antique ring with old European cut diamonds is geometrically intruquing.

Item
RG-3037
$2350.00

Orders & More

Victorian Antique Ruby Ring from France

Bearing a French hallmark, the band of this Victorian ruby dinner ring is made of 18k yellow gold.

Item
RG-3038
$2559.00

Orders & More

Coral and Diamond Antique Cocktail Ring

Item
RG-2714
$1399.00

Orders & More

Victorian Coral Antique Ring

Antique Victorian coral rings like this late 19th century dinner ring have a Roman princess appeal.

Item
RG-1391
$419.00

Orders & More

Antique Amethyst and Pearl Cocktail Ring

The purple hues of royalty are beautifully presented in this antique amethyst and pearl cocktail ring's centerpiece gemstone.

Item
RG-2505
$1999.00
---
---
ęCopyright 2001 - 2013
Topazery, LLC
Atlanta, GA, USA
&reg Topazery is a Registered Trademark
Cart

WELCOME!
Home
Join Newsletter
New Listings
How To Order
FAQs
Contact Us
Testimonials
Hassle Free Returns

JEWELRY STORES
All Rings
All Jewelry
Gifts Under $500

ENGAGEMENT RINGS
Thumbnails
Vintage Engagement Rings
Antique Engagement Rings
Antique Style Engagement Rings
Champagne Diamond Rings
Aquamarine Engagement Rings
Sapphire Engagement Rings

RINGS & MORE
Thumbnails
Antique Rings
Vintage Jewelry
Filigree Rings
Earrings
Necklaces
Brooches

WEDDING RINGS
Thumbnails
Antique Wedding Rings
Antique Style Wedding Rings

JEWELRY BY PERIOD
Thumbnails
Victorian Jewelry
Edwardian Jewelry
Art Deco Jewelry

EDUCATION
Gemstone History
Jewelry Periods
Antique Diamond Cuts
Evaluating Stones
Jewelry Library

INFORMATION
In the News
Privacy Policy
Legal Policy