Vintage and Antique Rings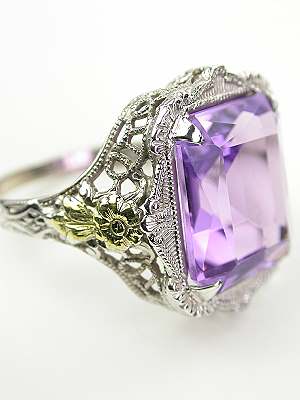 Rings have delighted, captivated, and thrilled us for millennia. Vintage and antique rings can be given to express friendship, to make a promise of marriage, or to celebrate memorable occasions. Or you can buy an antique ring for yourself, just because.
Historic Antique Ring Trends
A princess cut diamond engagement ring paired with a diamond-encrusted eternity band is arguably the most popular bridal set in modern history. But antique ring sets didn't start in the 20th Century--not by a long shot.
Some trends in antique rings have romantic beginnings, while other antique rings were born from less noble intentions. Some are still being made today. Learn More &raquo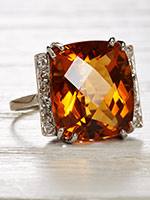 Classic Platinum Citrine Vintage Ring
Classic vintage rings like this one make an elegant right hand ring or a stunning engagement ring. The platinum band of this vintage ring is hand-wrought. The raised, open-weave mounting encases twelve round single cut diamonds. A showstopper cushion faceted mixed cut citrine serves as the piece de resistance. The total gemstone weight of this vintage ring is 17.58 carats. From the Topazery Earth Collection. Circa 2006.
Item
RG-1812

$3999.00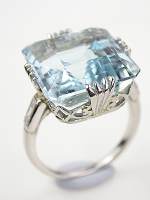 Classic Vintage Aquamarine Ring
This bold and classic Retro vintage aquamarine ring demands to be noticed! The platinum band of this vintage cocktail ring rises to a playful mounting of openwork hearts, rhomboids and crowns. A 14.27-carat emerald cut aquamarine is set inside this display of metallic elements. A pair of straight cut baguette diamonds flanks the aquamarine for a total diamond weight of 0.30 carats. Circa 1950 or later.
Item
RG-2785

$9995.00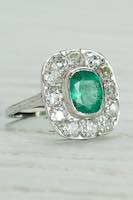 Edwardian Antique Ring with Cushion Cut Emerald
A halo of diamonds surrounds a cushion cut emerald in this enchanting hand-wrought Edwardian ring. This romantic antique ring features a natural cushion cut emerald in a classic Edwardian setting. Twelve old mine cut diamonds surround the blueish green emerald creating a glittering halo. The shank is carved with a wheat motif. Details: Antique, Edwardian. Circa 1920. 14k white gold. Cushion cut emerald, 1.30 carats. Old mine cut diamonds, 1.26 carats.
Item
RG-3597

$4099.00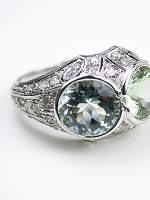 Edwardian Antique Filigree Ring
In this playful Edwardian antique filigree ring, two bezel set gemstones -- a greenish blue aquamarine and a pastel blue green quartz -- are framed by diamonds. The classic platinum hand-wrought filigree mounting of this Edwardian antique ring is dazzling with 50 bead set diamonds which accent an aquamarine and a quartz. Make a statement with this smashing ring -- it's art for your finger! Circa 1915.
Item
RG-3511

$3959.00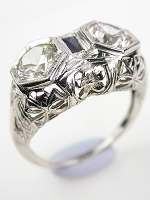 Edwardian Antique Ring with Sapphires
The pretty band of this Edwardian antique ring is pierced with a floral and bow motif. Two matching white sapphires burst from the center of the flowery ribbon backsplash in this Edwardian antique ring. These focal point gemstones are hexagonal set side by side. A flame fusion blue sapphire is wedged between the two white sapphires, dividing this antique ring into two distinct yet equally scene-stealing segments. Details: Antique, Edwardian. Circa 1920. 18k white gold. Round cut white and rectangular cut blue sapphires; 1.55 carats.
Item
RG-2308

$1519.00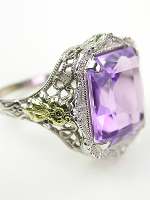 Vintage Amethyst Cocktail Ring with Floral Trim
Even spring's most perfect lilac couldn't rival this vintage cocktail ring's amethyst. The focal point amethyst gemstone in this vintage cocktail ring is framed in metallic lacework Contrasting green gold flowers whimsically play peek-a-boo amidst the pierced filigree band. Details: Vintage. Circa 1930. Trademark M-M-M. 14k white gold. Rectangular cut amethyst; 5.11 carats.
Item
RG-3538

$1529.00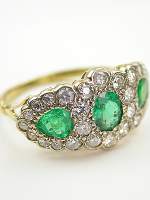 Antique Emerald Ring with Scalloped Design
Full cut diamonds encircle a trio of emeralds in this antique ring. In this winter ice versus spring verdant duel, the springtime green of the oval and pear-shaped emeralds ultimately wins out. The 14 yellow gold band of this antique ring has a scalloped trimmed top and offers metallic contrast to the emeralds and diamonds. Details: 14k yellow gold. Full cut diamonds; 0.66 carats. Oval and pear emeralds; 0.85 carats. Antique, Circa 1930 or later.
Item
RG-3514

$2779.00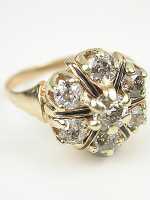 Antique Victorian Ring
An eye-catching design is enhanced by the warmth of 14k yellow gold and the glitter of diamonds in this antique Victorian engagement ring. The unique mounting of this Victorian antique ring arranges the diamonds in a glorious flower blossom design. Six stations along the circumference hold round diamonds with the center diamond elevated above the rest. In combination, the seven diamonds that accent this Victorian engagement ring weigh 2.00 carats. Circa 1900s.
Item
RG-3462

$979.00
Continued from the top . . .
Poesy Rings
These beautiful antique rings date back to the 1300s. They were quite popular in France through the 17th century. Poesy rings (also called posie rings) were metal rings with inscriptions on the inside of the band. Typically, the inscription was a quote from romantic literature, many of which were written in French.
Modern poesy rings may have more personal inscriptions, diamonds or gemstones on the band, and some are worn on necklace chains.
Gimmel Rings
Made from two or three bands, gimmel rings (also called gimmal rings) fit together like a puzzle to form one ring. They were popular in Europe during the 1500s and 1600s. The tradition was to give one band to your beloved as an engagement ring, then add the second piece during the wedding ceremony.
One especially lovely type of gimmel, called a fede ring, appears to be two hands clasped together. When separated, a third band is revealed with a heart on it. When all the rings are fit together, the two hands wrap around the hidden heart. Some even had hidden inscriptions inside the bands.
Rush Rings
Made from straw or plant stems (rushes), these were used as engagement rings--sort of. The rings were woven from readily available materials and given to women instead of a real wedding band.
Legend has it that rush rings were so often used to trick naive young women into giving up their virtue, they were essentially outlawed in Salisbury, England, in 1217.
Victorian Hair Rings
Also called mourning rings, these rings were actually made from human hair. During the 19th century, it was common to wear mourning jewelry after a loved one passed.
The style of the pieces changed with other popular fashion at the time. One common theme was to include a lock of the deceased's hair in the design of the ring. It could be braided, encased in glass, or even mixed into paint.
Though the trend of mourning rings faded some time ago, some people now use human hair in custom wedding rings. Couples can send locks to a jewelry maker to have their own hair weaved into custom wedding bands, or purchase authentic antique hair rings.
Shop our collection of antique rings to find tiny, wearable pieces of history.
The Cocktail Antique Ring
Maybe you've never really thought about how the cocktail ring got its name. It's just a bold piece of jewelry women wear with cocktail dresses, right? Well, yes. But it's much more than that, and its history is an interesting one.
Cocktail rings gained popularity during the 1920s, and are associated with the Art Deco movement. It was the era of Prohibition, and speakeasies opened across the United States to allow people to purchase alcohol illegally. Some of these establishments were simply stores and distributors, but more often, they were nightclubs that served illicit cocktails.
Which brings us to the cocktail ring. People who frequented speakeasies to buy alcohol and socialize were flouting the law. Many women chose to take that rebellion one step further in their choice of jewelry.
Cocktail rings are, by definition, ostentatious. Costume and faux varieties sometimes even border on garish. They usually consist of one large, colorful center stone, sometimes surrounded by several smaller stones such as diamonds. They're meant to catch the light, and the eye. Women wore these rings while drinking to be noticed, and to draw even more attention to the hands that held their cocktail glasses, as if to say, "Look at me! Look what I'm doing!"
Prohibition lasted only a little more than a decade, but cocktail rings continue to adorn the fingers of stylish, confident women. Our collection of antique rings includes more than a few tasteful and beautiful examples of these mini-rebellions. Slip one on, and you can't help but feel a little feisty!
Filigree in Antique Rings
Filigree is the delicate forming of fine gold, silver, or platinum wire into intricate ornamentation. Close examination of antique filigree will reveal delicate threads and minute beads in the metal work. The filigreeing process involves the soldering of curled, twisted, and plaited filaments and miniature beads together, and on top of solid matching metal to form intricate designs. The word has French and Italian origins, as well as the Latin root filum, which means "thread" or "wire."
Greek craftsmen first introduced filigree in the fifth century B.C.E. The jewelry produced during that time often featured filigree representations of the animals the Greeks thought had mystical powers, such as rams, lions, and bulls. Filigree gained popularity during the Victorian era, and was used to create intricate floral designs. Later, during the Art Nouveau period, filigree was used to display the influence of nature in jewelry, creating leaf, vine, and insect motifs. During the Edwardian era, lacy designs were all the rage, and were accomplished with filigree techniques in rings and other types of jewelry.
Protecting Antique and Vintage Rings
When you purchase brand new, fine jewelry, you may barely think twice before adding some sort of coverage plan to your purchase. However, when you add an antique ring to your collection, you may not realize you have the option of protecting it in the same way. How can you cover your antique ring in the event of loss, theft, or damage?
Protect Your Investment
In addition to specific jewelry insurance policies, jewelry can sometimes be covered under homeowners or renters insurance. However, blanket coverage like that may not be enough to fully replace or repair your precious antique ring. Take some time to find out what coverage you already have, and determine whether it's enough.
Jewelry Insurance
Before you can have your antique or vintage ring insured, you must gather some information.
Proof of value: First, you need evidence of the value of your antique ring. This can include a receipt, an appraisal and a photo.
How it works: Jewelry insurance is similar to other types of insurance. Once you've provided proof of the vintage ring's value, the insurance company will provide you with a quote. Before you purchase the insurance, make sure you understand the policy, including what is covered and what, if any, cost will be your responsibility if you have to file a claim.
What it covers: Coverage depends on the insurance company and policy you select. Look for a policy that covers loss or theft at a minimum. You may also want to consider a policy that covers partial loss and repairs. For example, if a stone falls out of your antique ring, you could file a claim to have the stone replaced and the setting repaired rather than having to replace the ring entirely.
Proper Care
Insurance is most helpful to you after something bad happens. You can also take a few important steps in preventing problems before they happen. Proper cleaning and storage of your antique rings will go a long way to keeping them intact.
Regular, gentle cleaning helps you notice loose stones or weak settings before you drop a diamond on the beach. Storing antiques in soft cloth, separated from each other limits wear and tear caused by rubbing. Certain gemstones may require special care, as well.
Invest in a stunner from our hand-picked collection of vintage and antique rings, and then make sure you protect your investment.