Vintage and Antique Rings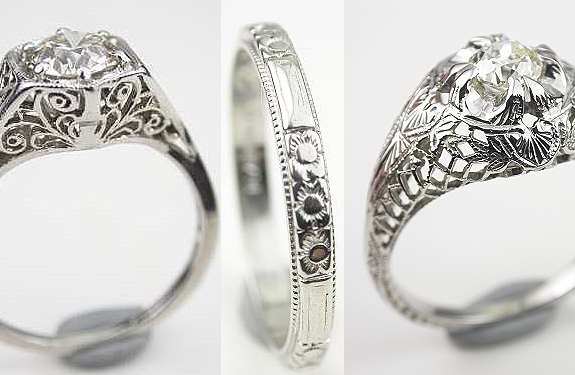 Rings have delighted, captivated, and thrilled us for millennia. Vintage and antique rings can be given to express friendship, to make a promise of marriage, or to celebrate memorable occasions. Or you can buy one for yourself, just because.
The Cocktail Ring
Maybe you've never really thought about how the cocktail ring got its name. It's just a bold piece of jewelry women wear with cocktail dresses, right? Well, yes. But it's much more than that, and its history is an interesting one. Learn More &raquo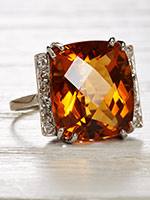 Classic Platinum Citrine Vintage Ring
Classic vintage rings like this one make an elegant right hand ring or a stunning engagement ring. The platinum band of this vintage ring is hand-wrought. The raised, open-weave mounting encases twelve round single cut diamonds. A showstopper cushion faceted mixed cut citrine serves as the piece de resistance. The total gemstone weight of this vintage ring is 17.58 carats. From the Topazery Earth Collection. Circa 2006.
Item
RG-1812

$3999.00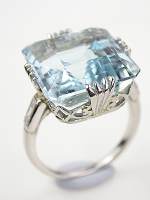 Classic Vintage Aquamarine Ring
This bold and classic vintage aquamarine ring demands to be noticed! The platinum band of this vintage cocktail ring rises to a playful mounting of openwork hearts, rhomboids and crowns. A 14.27-carat emerald cut aquamarine is set inside this display of metallic elements. A pair of straight cut baguette diamonds flanks the aquamarine for a total diamond weight of 0.30 carats. Circa 1950 or later.
Item
RG-2785

$9995.00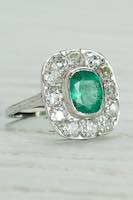 Edwardian Antique Ring with Cushion Cut Emerald
A halo of diamonds surrounds a cushion cut emerald in this enchanting hand-wrought Edwardian ring. This romantic antique ring features a natural cushion cut emerald in a classic Edwardian setting. Twelve old mine cut diamonds surround the blueish green emerald creating a glittering halo. The shank is carved with a wheat motif. Details: Antique, Edwardian. Circa 1920. 14k white gold. Cushion cut emerald, 1.30 carats. Old mine cut diamonds, 1.26 carats.
Item
RG-3597

$4099.00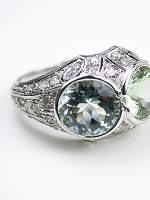 Edwardian Antique Filigree Ring
In this playful Edwardian antique filigree ring, two bezel set gemstones -- a greenish blue aquamarine and a pastel blue green quartz -- are framed by diamonds. The classic platinum hand-wrought filigree mounting of this Edwardian antique ring is dazzling with 50 bead set diamonds which accent an aquamarine and a quartz. Make a statement with this smashing ring -- it's art for your finger! Circa 1915.
Item
RG-3511

$3959.00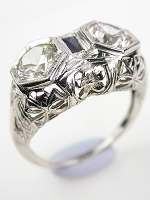 Edwardian Antique Ring with Sapphires
The pretty band of this Edwardian antique ring is pierced with a floral and bow motif. Two matching white sapphires burst from the center of the flowery ribbon backsplash in this Edwardian antique ring. These focal point gemstones are hexagonal set side by side. A flame fusion blue sapphire is wedged between the two white sapphires, dividing this antique ring into two distinct yet equally scene-stealing segments. Details: Antique, Edwardian. Circa 1920. 18k white gold. Round cut white and rectangular cut blue sapphires; 1.55 carats.
Item
RG-2308

$1519.00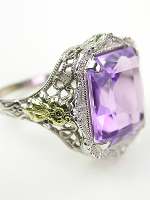 Vintage Amethyst Cocktail Ring with Floral Trim
Even spring's most perfect lilac couldn't rival this vintage cocktail ring's amethyst. The focal point amethyst gemstone in this vintage cocktail ring is framed in metallic lacework Contrasting green gold flowers whimsically play peek-a-boo amidst the pierced filigree band. Details: Vintage. Circa 1930. Trademark M-M-M. 14k white gold. Rectangular cut amethyst; 5.11 carats.
Item
RG-3538

$1529.00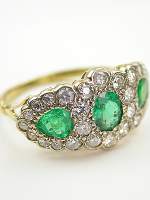 Antique Emerald Ring with Scalloped Design
Full cut diamonds encircle a trio of emeralds in this antique ring. In this winter ice versus spring verdant duel, the springtime green of the oval and pear-shaped emeralds ultimately wins out. The 14 yellow gold band of this antique ring has a scalloped trimmed top and offers metallic contrast to the emeralds and diamonds. Details: 14k yellow gold. Full cut diamonds; 0.66 carats. Oval and pear emeralds; 0.85 carats. Antique, Circa 1930 or later.
Item
RG-3514

$2779.00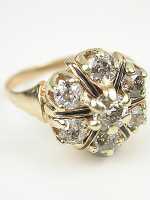 Antique Victorian Ring
An eye-catching design is enhanced by the warmth of 14k yellow gold and the glitter of diamonds in this antique Victorian engagement ring. The unique mounting of this Victorian antique ring arranges the diamonds in a glorious flower blossom design. Six stations along the circumference hold round diamonds with the center diamond elevated above the rest. In combination, the seven diamonds that accent this Victorian engagement ring weigh 2.00 carats. Circa 1900s.
Item
RG-3462

$979.00
Continued from the top . . .
Cocktail rings gained popularity during the 1920s, and are associated with the Art Deco movement. It was the era of Prohibition, and speakeasies opened across the United States to allow people to purchase alcohol illegally. Some of these establishments were simply stores and distributors, but more often, they were nightclubs that served illicit cocktails.
Which brings us to the cocktail ring. People who frequented speakeasies to buy alcohol and socialize were flouting the law. Many women chose to take that rebellion one step further in their choice of jewelry.
Cocktail rings are, by definition, ostentatious. Costume and faux varieties sometimes even border on garish. They usually consist of one large, colorful center stone, sometimes surrounded by several smaller stones such as diamonds. They're meant to catch the light, and the eye. Women wore these rings while drinking to be noticed, and to draw even more attention to the hands that held their cocktail glasses, as if to say, "Look at me! Look what I'm doing!"
Prohibition lasted only a little more than a decade, but cocktail rings continue to adorn the fingers of stylish, confident women. Our collection of antique rings includes more than a few tasteful and beautiful examples of these mini-rebellions. Slip one on, and you can't help but feel a little feisty!
Filigree in Antique Rings
Filigree is the delicate forming of fine gold, silver, or platinum wire into intricate ornamentation. Close examination of antique filigree will reveal delicate threads and minute beads in the metal work. The filigreeing process involves the soldering of curled, twisted, and plaited filaments and miniature beads together, and on top of solid matching metal to form intricate designs. The word has French and Italian origins, as well as the Latin root filum, which means "thread" or "wire."
Greek craftsmen first introduced filigree in the fifth century B.C.E. The jewelry produced during that time often featured filigree representations of the animals the Greeks thought had mystical powers, such as rams, lions, and bulls. Filigree gained popularity during the Victorian era, and was used to create intricate floral designs. Later, during the Art Nouveau period, filigree was used to display the influence of nature in jewelry, creating leaf, vine, and insect motifs. During the Edwardian era, lacy designs were all the rage, and were accomplished with filigree techniques in rings and other types of jewelry.