Antique Rings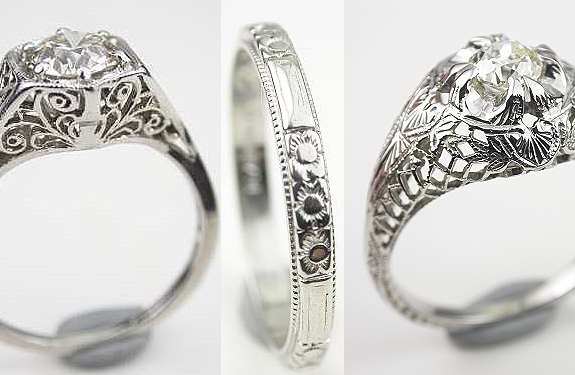 Rings are the most meaningful of all jewelry. Rings have delighted, captivated, and thrilled us since the third millennium BC. Perhaps antique rings are the most popular type of jewelry worn today because they touch our hearts with stories of the past and remind us of our dreams for the future. Antique rings are given to express friendship, with the promise of marriage, and to celebrate memorable occasions.
A History of Antique Rings in the Art World
Spanning three centuries (the 14th to 17th), the cultural movement of the Renaissance had a significant impact on all aspects of life, and jewelry was no different. Antique rings, in particular, reflected what was taking place in the world even after the era officially came to an end.
Read more >>
To see all of our rings click HERE.
A History of Antique Rings in the Art World (continued from above)
During the Renaissance, women wore rings on all the fingers of their hands, sometimes with more than one stacked on the same finger. These antique rings were often arranged both above and below the joints with skin peeking out in between. Antique rings from the Renaissance period of history had some common traits: 1) Typically they featured gems in their settings; 2) Ornamentation was a key hallmark; and 3) The bezels of these rings harbored secret compartments to stow perfumed scents that masked body odor.
Antique engagement rings from the Renaissance era are captured in painted portraits of Henry VIII's third and fourth wives, Jane Seymour and Anne Cleves, both of whom are wearing multiple rings on their hands. The king, however, wasn't the only one immortalizing antique rings in tribute to his wives.
Artist Dominique Ingres used his creative talents to capture his own second wife, Delphine Ramel. Deep in thought, her hand propped under her chin and her pointer finger pointing up to her temple, Delphine's curled pinkie lights up the middle of the canvas with two antique rings, a gold band that appears to be set with a round ruby encircled by diamonds. A darker band, perhaps onyx, rests atop it with a round diamond shimmering from its center.
Perhaps the most famous early artistic rendering of antique rings can be found in a painting titled "Portrait of a Lady" by Rogier van der Weyden, which hangs in Washington, D.C.'s National Gallery of Art. A 15th century Flemish painter, van der Weyden chose an oil on oak medium for "Portrait of a Lady," a choice which rendered a sharp contrast in darkness and light.
More recently, "The Engagement Ring," an oil painting by British artist John Shirley Fox, features a bonneted, curly-haired woman gazing longingly at the ring on her left hand as she toys with it. Given the painting's time period (the late 1800s), the antique ring is most likely an example from the Victorian jewelry period, in particular the Aesthetic period. The antique ring that is the focus of the art appears to be banded in gold with two blue stones, aquamarines or perhaps blue sapphires, set side by side.
Indeed, gold dominated the Victorian jewelry era thanks to the Industrial Revolution, which allowed it to be used more cost-effectively as a medium and, in turn, to be more readily purchased by the emerging middle class. Engagement rings (like those found in Fox's painting) from the Victorian antique period often had diamonds or amethysts set in them. Diamonds were common, but they were often found in conjunction with other gemstones as well, like pearls, rubies, emeralds and sapphires.