Child's Vintage Bracelet, BR-584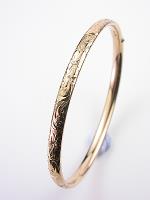 Scroll down for pictures and details
Child's Vintage Bracelet
This vintage jewelry bracelet is made of 14k yellow gold. The top half is engraved with a romantic floral and feather motif. Circa 1930's or later.
Vintage
Jewelry
Item BR-584
$629.00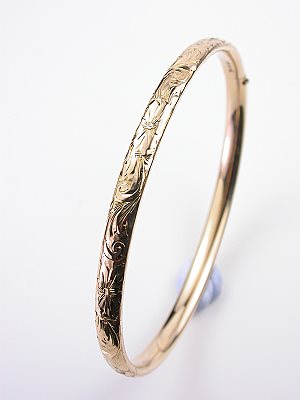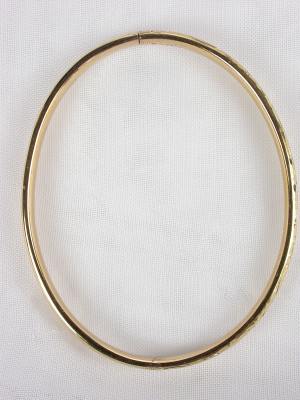 | | |
| --- | --- |
| Item # | br584 |
| Metal | 14k yellow gold |
| Circa | 1930s or later |
| Special characteristics | The top half of this child's bracelet is engraved with a floral and feather scroll motif. It measures 3.85mm wide by 2.04 mm thick and is of tubular construction with a 45 x 30mm oval opening when closed. |
| Condition | Very Good |
| Other bracelet info | The clasp is a concealed box type. |
---
Click HERE for Important Jewelry Information.
Information about the following topics -- Jewelry Care, Repairs and Insurance, Custom Requests, Jewelry Condition, Gem Treatments, Diamond Grading Reports, Jewelry Classifications, and Warranty -- is available by clicking HERE.

International fees
An order shipped outside the USA includes these non-refundable fees:
$ 45.00 -- FEDEX Priority shipping with insurance
$ 29.52 -- Special processing fee
$ TBD -- Customs duties and fees
FEDEX will send you a separate invoice for customs duties and fees after your purchase has been delivered. Please contact your local customs office regarding the amount of these charges as they are not insignificant.