Antique Filigree Rings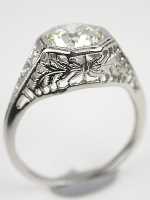 Filigree refers to any delicate and intricate ornamentation in gold, silver, or platinum. Ancient jewelry craftsman first introduced filigree in the 3rd century, when the Greeks practiced this fine jewelry art form. Topazery's fine selection of antique filigree rings brings back the romanticism of old-world filigree designs and craftsmanship.
Filigree lends detailed interest and visual intrigue to a ring's setting. If she adores intricate floral, lacy or geometric styling, she'll be enchanted with an antique filigree ring or engagement ring. We have a beautiful selection of antique filigree rings which have geometric cutwork as well as delicate carvings of flowers, leaves, birds, bows and hearts. She'll find rings with an airy, feminine look or with bold, angular styles.
A History of Antique Filigree Rings and Jewelry
If you are an admirer of antique filigree rings, chances are you've oohed and aahed over many a piece featuring lacy filigree cutwork. What you're probably not aware of, however, is the history behind filigree, an art form that is handcrafted according to this ancient customs. Read on to learn more about where this metallic antique jewelry effect came into being.
Read more >>
Edwardian Antique Filigree Ring
In this playful Edwardian antique filigree ring, two bezel set gemstones -- a greenish blue aquamarine and a pastel blue green quartz -- are framed by diamonds.
Item
RG-3511
$3959.00
Three Stone Antique Filigree Ring
Delicate carvings and delightful shimmer soften up angular edges in this three stone antique filigree ring.
Item
RG-3008
$3300.00
Art Deco Antique Filigree Ring
An Art Deco antique filigree ring demands attention with its hand wrought mounting and elongated filigree design.
Item
RG-3325
$2359.00
Art Deco Antique Filigree Ring with Sapphires
The 18k white gold setting of this Art Deco antique filigree ring is fashioned in a North-South design and makes a lovely dinner ring. Sapphires at the shoulders at a touch of color.
Item
RG-3007
$1850.00
Old European Cut Diamond Antique Filigree Ring
Secure the key to her heart for eternity with this old European cut diamond antique filigree ring.
Item
RG-2219
$1895.00
A History of Antique Filigree Rings and Jewelry (continued from above)
Filigreeing dates back thousands of years. Its jewelry origins can be traced to Mesopotamia circa 3,000 B.C. To put that date in perspective, that year was the start of the Bronze Age, when people started using metals, specifically bronze, for tools. While they were fashioning that metal into useful survival objects, it seems the Mesopotamians just couldn't resist using some of it for beautification purposes as well. The year 3,000 B.C. was also close to 500 years before the Egyptian pyramids were completed, making filigree older than the earth's earliest large-scale cut stone construction.
The word filigree is derived from two Latin words: filum, meaning thread, and granum, meaning seed or tiny bead. Indeed, close examination of antique filigree will reveal delicate threads and minute beads in the metal work. That is because the filigreeing process involves the soldering of curled, twisted and plaited figments and miniature beads together and on top of solid matching metal to form intricate designs. The Mesopotamians often accented their filigree designs with a technique called granulation, where by miniscule globules of gold were soldered on the metal's surface to form intricate patterns. The resulting overall effect is one that is both lacy and airy. Filigree is also sometimes referred to as telkari from the Anatolian word meaning "wire work."
For centuries, filigree continued to play an integral role in jewelry making. It wasn't until the late 4th century B.C., however, that gemstones began to be incorporated into filigree work. During this time period, Alexander the Great conquered the Persian Empire, claiming gold and silver from the Phoenicians, Egyptians and Persians as part of his bounty. That's when stones like pearls, garnets and sapphires began to be set within the filigree.
Filigree fell out of style around 133 A.D., during the Roman era, when jewelry craftsmen began favoring simpler settings over the elaborate designs filigreeing entailed. The Spanish Moors spread the craft of silver filigree work throughout the Iberian Peninsula, eventually bringing it to the Spanish colonies of America. Filigree then made a grand resurgence during the antique Edwardian and Art Nouveau jewelry periods.
Spanning the 19th century (late 1800s) into the 20th, the Art Nouveau era in particular made filigree popular all over again. It is during this timeframe that master jeweler Faberge began using gold filigree, initiating a revival in the technique. King Edward VII can also be given credit for some of the modern-day filigree resurgence. His monochromatic transformation of the technique, combing platinum with clear gemstones like diamonds, rendered the old metal-working process fresh and new all over again.
During this same segment of history, passementerie began influencing American styles. From the French, passementerie is an art form that produces elaborate trimmings or edgings. Tassels, fringes, pompons, rosettes, braidings, gold and silver cordings, colored silk embroideries and the like began appearing as enhancements that made their mark all over both clothing and home furnishings. Meanwhile, advancements in metal working allowed these decorative accents to be copied into fine metals for jewelry, and suddenly society couldn't get enough of filigree all over again.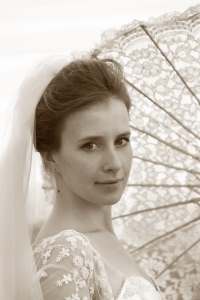 Getting Engaged with an Antique Filigree Ring
She's feminine and fun. She loves lace, anything antique, and hats. She stole your heart the moment you met her. You're looking for a antique filigree ring that perfectly expresses her delicate, classic style. Topazery's selection of antique filigree rings takes elegance and sophistication to a whole new level with intricate patterns and fancy cutwork. Airy, lacy and feminine, an engagement ring selected from our collection is sure to make her feel like a princess!
Our Antique Filigree Rings Collection
As you browse Topazery's collection of filigree rings, you'll find Art Deco filigree rings and Edwardian filigree rings. Diamonds, sapphires, emeralds, rubies and aquamarines are just some of the stones that enhance our filigree rings. Finally, our gallery of antique filigree rings includes filigree engagement rings, filigree dinner rings and filigree cocktail rings to suit any special occasion.