About Filigree Rings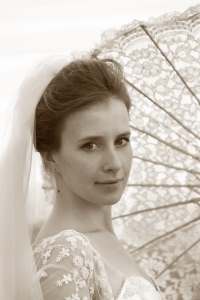 Filigree refers to any delicate and intricate ornamentation in gold, silver, or platinum. Ancient jewelry craftsman first introduced filigree in the 3rd century, when the Greeks practiced this fine jewelry art form. Topazery's fine selection of filigree rings brings back the romanticism of filigree designs and craftsmanship.
Filigree lends detailed interest and visual intrigue to a ring's setting. If she adores intricate floral, lacy or geometric styling, she'll be enchanted with an antique filigree ring, estate filigree ring or antique style filigree ring. We have a beautiful selection of filigree rings which have geometric cutwork as well as delicate carvings of flowers, leaves, birds, bows and hearts. She'll find antique filigree rings, estate filigree rings and antique style filigree rings with an airy, feminine look or with bold, angular styles.
Our Antique Filigree Rings Collection
As you browse our collection of filigree rings, you'll find Art Deco filigree rings and Edwardian filigree rings. Diamonds, citrines, sapphires and onyxes are just some of the stones that enhance our filigree rings. Finally, our gallery of filigree rings includes filigree engagement rings, filigree dinner rings, filigree signet rings and filigree wedding rings to suit any special occasion.
Jewelry pieces for this page are not available at this time. Please check back as we frequently add jewelry to the website. If you would like to join our email list, you will receive a newsletter when jewelry is added. To join our list, click the link, "Join Email List", in the WELCOME section on the navigation bar.
---
---
ęCopyright 2001 - 2013
Topazery, LLC
Atlanta, GA, USA
&reg Topazery is a Registered Trademark
Cart

WELCOME!
Home
Join Newsletter
New Listings
How To Order
FAQs
Contact Us
Testimonials
Hassle Free Returns

JEWELRY STORES
All Rings
All Jewelry
Gifts Under $500

ENGAGEMENT RINGS
Thumbnails
Vintage Engagement Rings
Antique Engagement Rings
Antique Style Engagement Rings
Diamond Engagement Rings
Champagne Diamond Rings
Aquamarine Engagement Rings
Sapphire Engagement Rings
Emerald Engagement Rings
Ruby Engagement Rings
Filigree Engagement Rings

RINGS & MORE
Thumbnails
Topazery Collection
Vintage Jewelry
Antique Rings
Antique Style Rings
Sapphire Rings
Emerald Rings
Ruby Rings
Aquamarine Rings
Pearl Rings
Filigree Rings
Cocktail Rings
Filigree Jewelry
Pearl Jewelry

WEDDING RINGS
Thumbnails
Antique Wedding Rings
Antique Style Wedding Rings
Gemstone Wedding Rings
Filigree Wedding Rings

JEWELRY BY PERIOD
Thumbnails
Victorian Jewelry
Art Nouveau Jewelry
Edwardian Jewelry
Art Deco Jewelry
Retro Jewelry

OTHER JEWELRY
Thumbnails
Bracelets
Crosses
Earrings
Necklaces
Pendants & Lockets
Pins & Brooches

RECENTLY SOLD
Recently Sold Jewelry

EDUCATION
Gemstone History
Jewelry Periods
Antique Diamond Cuts
Evaluating Stones
Jewelry Library

INFORMATION
In the News
Privacy Policy
Legal Policy