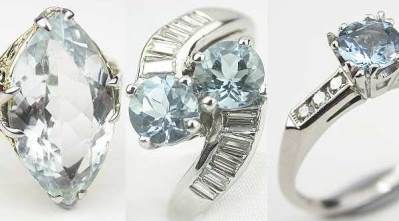 About Antique Aquamarine Rings
The official birthstone of March and a traditional 16th and 19th year anniversary gift, one of Topazery's antique aquamarine rings will make a spectacular engagement ring, as well as the perfect gift for a special springtime occasion. Aquamarines are believed to hold magical powers. They reawaken love in long-married couples and also help people experience mercy and love.
Our Antique Aquamarine Rings Collection
The word "aquamarine" comes from the Latin for "sea water" and the gemstone's blue-green shading evokes just that. As beautiful as Caribbean waters and pale azure skies, antique aquamarine rings naturally appeal to the nature lover. Our aquamarine rings collection includes vintage, estate, and modern platinum aquamarine rings, white gold aquamarine rings, and yellow gold aquamarine rings. Whether you prefer a platinum, a white gold or a yellow gold setting and no matter whether your taste leans toward antique or modern, you'll find a Topazery aquamarine ring that's perfect. Some of our antique aquamarine rings are accented with diamonds, and some of our antique aquamarine rings are gorgeous in solitaire settings. We have a unique selection of aquamarine engagement rings which are sure to please even the most discriminating bride. And if you're looking for a gift for yourself, slip one of our aquamarine rings on as a right hand ring.

Orders & More

Antique Style Aquamarine Engagement Ring

Ribbons of diamond lace wrap the shoulders and shank of this antique style aquamarine engagement ring.

Item
RG-3276b
$1469.00

Orders & More

Antique Style Aquamarine Engagement Ring

A halo of diamonds surrounds an aquamarine in this romantic engagement ring.

Item
RG-2955u
$1999.00

Orders & More

Vintage Aquamarine Bridal Rings Set

The vintage engagement ring of a bridal ring set is romantically pierced at the shoulders in a heart-shaped motif.

Item
RG-3205
$1049.00

Orders & More

Vintage Aquamarine Ring with Split Prong Design

Diamond accents bow in deference to this vintage ring's aquamarine.

Item
RG-3445
$1249.00

Orders & More

Aquamarine Engagement Ring with Pierced Motif

A round aquamarine gemstone emerges from diamond leaves in this antique style aquamarine engagement ring.

Item
RG-1748v
$1229.00

Orders & More

Antique Aquamarine Engagement Ring

A pale round aquamarine rises out of this antique engagement ring, bathing the finger in a soft glow.

Item
RG-1408
$4222.00

Orders & More

Asscher Cut Aquamarine Engagement Ring

Diamonds accents add a special touch on the under bezel of this Asscher cut aquamarine engagement ring.

Item
RG-2806g
$1495.00

Orders & More

Vintage Aquamarine Engagement Ring with Fishtail Setting

Channel set diamonds showcase a greenish blue aquamarine in this vintage engagement ring with fishtail setting.

Item
RG-3352
$1779.00

Orders & More

Contemporary Aquamarine Bridal Rings Set

WOW! This matching contemporary aquamarine bridal rings set lends radiance to the finger.

Item
RG-2375
$865.00

Orders & More

Antique Aquamarine Engagement Ring with Floral Motif

Antique aquamarine engagement rings like this one remind us of bluebells. And according to legend, bluebells are the flowers of the fairies.

Item
RG-2978
$1629.00
---
---
ęCopyright 2001 - 2013
Topazery, LLC
Atlanta, GA, USA
&reg Topazery is a Registered Trademark
Cart

WELCOME!
Home
Join Newsletter
New Listings
How To Order
FAQs
Contact Us
Testimonials
Hassle Free Returns

JEWELRY STORES
All Rings
All Jewelry
Gifts Under $500

ENGAGEMENT RINGS
Thumbnails
Vintage Engagement Rings
Antique Engagement Rings
Antique Style Engagement Rings
Diamond Engagement Rings
Champagne Diamond Rings
Aquamarine Engagement Rings
Sapphire Engagement Rings
Emerald Engagement Rings
Ruby Engagement Rings
Filigree Engagement Rings

RINGS & MORE
Thumbnails
Topazery Collection
Vintage Jewelry
Antique Rings
Antique Style Rings
Sapphire Rings
Emerald Rings
Ruby Rings
Aquamarine Rings
Pearl Rings
Filigree Rings
Cocktail Rings
Filigree Jewelry
Pearl Jewelry

WEDDING RINGS
Thumbnails
Antique Wedding Rings
Antique Style Wedding Rings
Gemstone Wedding Rings
Filigree Wedding Rings

JEWELRY BY PERIOD
Thumbnails
Victorian Jewelry
Art Nouveau Jewelry
Edwardian Jewelry
Art Deco Jewelry
Retro Jewelry

OTHER JEWELRY
Thumbnails
Bracelets
Crosses
Earrings
Necklaces
Pendants & Lockets
Pins & Brooches

RECENTLY SOLD
Recently Sold Jewelry

EDUCATION
Gemstone History
Jewelry Periods
Antique Diamond Cuts
Evaluating Stones
Jewelry Library

INFORMATION
In the News
Privacy Policy
Legal Policy