Vintage and Antique Rings p2
Art Deco Antique Filigree Ring with Sapphires
The 18k white gold setting of this Art Deco antique filigree ring is fashioned in a North-South design and makes a lovely dinner ring. Sapphires at the shoulders at a touch of color. The filigree is this antique ring is accentuated with a pair of triangular faceted mixed cut blue sapphires. These sapphires weigh 0.10 carats . A trio of old style round brilliant cut diamonds is set down the center of this antique dinner ring. Totaling 0.49 carats, they range in color from E to G and in clarity from VVS2 to VS1. Circa 1925.
Item
RG-3007

$1850.00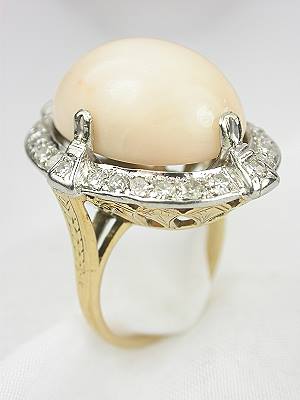 Coral and Diamond Antique Cocktail Ring
Like a creamy-hued egg, a magnificent coral rests in a resplendent nest of diamond and gold. Floating above the finger, it is buoyed beneath by an engraved framework of 14k gold. From above, bright single cut diamonds encircle this antique cocktail ring like a dazzling wreath. Both glamorous and casual, subtle and shining, this antique ring elegantly balances gentle contradictions in a singular accessory. Details: Antique, circa 1940. 14k yellow gold. Hand engraved gallery. Round single cut diamonds; 0.84 ct. Oval, cabochon cut natural coral; 14.19 ct. scant.
Item
RG-2714

$3499.00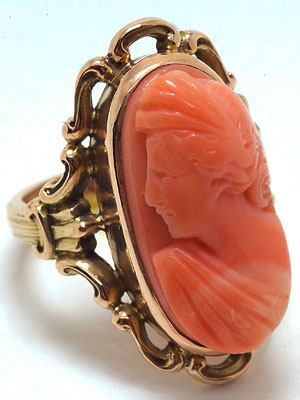 Victorian Coral Antique Ring
Antique Victorian coral rings like this late 19th century dinner ring have a Roman princess appeal. The coral gemstone that highlights this Victorian ring is carved with a toga-clad goddess. The 14k yellow gold band is done in a fancy scrolled pattern that showcases the coral cameo. Circa late 1800s.
Item
RG-1391

$1195.00
Asscher Cut Diamond Antique Engagement Ring
The Art Deco influence is evident in this engagement ring. The elegantly simple geometric design showcases the solitaire Asscher diamond to perfection. A classic platinum mounting creates the perfect setting for a 2.01 carat, H color, SI1 clarity, Asscher cut diamond in this antique engagement ring. Asscher cut diamonds are known for their captivating optics and spell-binding beauty. The mesmerizing geometry of the cut draws the eye inward to the depths of the stone. Open shoulders, milgrain trim, and beautiful detailing on the underbezel and shoulders add the finishing touches to antique diamond engagement rings like this one. Circa 1925 or later.
Item
RG-1081

SOLD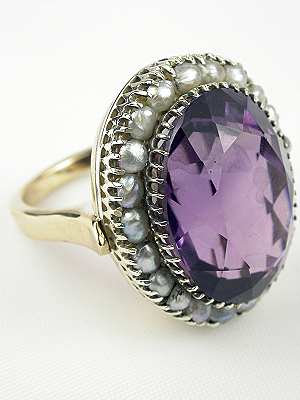 Vintage Amethyst Cocktail Ring
The purple hues of royalty are beautifully presented in this vintage amethyst cocktail ring's centerpiece gemstone. The purple hues of royalty are beautifully presented in this vintage amethyst cocktail ring's centerpiece gemstone. The oval faceted mixed cut amethyst weighs 13.74 carats. A collection of silver-white semi Baroque pearls surround the amethyst in a soft halo. The 14k yellow gold band of this antique dinner ring is topped with white gold gallery wire bezels. Circa 1955 or later.
Item
RG-2505

$2775.00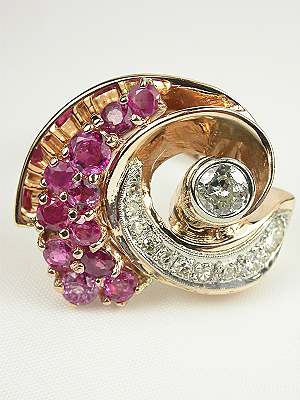 Vintage Retro Ring in Rose Gold with Rubies
The iridescent curved appeal of a beachside conch shell comes to mind with this Retro Modern ruby ring in rose gold. The 14k rose gold band of this Retro Modern ring provides a romantic backdrop for the collection of eleven rubies that accent it. Totaling 1.55 carats, the rubies are inner swirled with a crescent of eight round single cut and two round full cut diamonds. Inside the crescent lies an old style round brilliant cut diamond. The total diamond weight of all eleven diamonds that accent this vintage jewelry piece is 0.60 carats. Circa 1940.
Item
RG-2281

$2775.00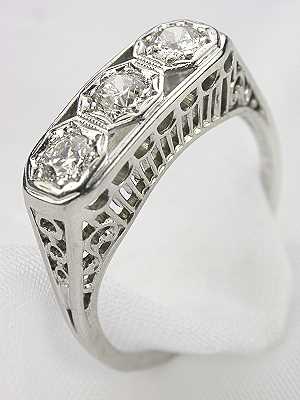 Old European Cut Diamond Antique Filigree Ring
Secure the key to her heart for eternity with this old European cut diamond antique filigree ring. The platinum band of this antique filigree ring is intricately designed in a series of three keyhole cutouts that taper down the shoulders. The squared-off top setting of this antique wedding ring holds three old European cut diamonds that are horizontally set across the finger and total 0.38 carats. May be worn as an antique wedding ring or engagement ring. Circa 1920.
Item
RG-2219

$1895.00