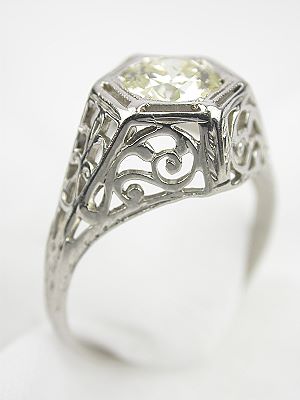 Antique Engagement Rings in Fashion Trends
The circle of fashion is never-ending. While certain items will always be classics-a crisp, white, button-down shirt, the little black dress, jeans, diamond solitaire engagement rings-some trends come back over and over, tweaked this way or that to accommodate the era of their return.
But fashion isn't just about clothing. From hairstyles to eyeglasses, and of course, jewelry, the things we wear-and how we wear them-rely heavily on the trends and influences of those who came before us.
The good news is, because vintage and retro fashion never seems to go out of style, whether you're looking for zoot suits, poodle skirts, or antique engagement rings, it's easier than ever to incorporate past trends into your own personal style.
The Keen '30s and '40s
During a time when the world was recovering from The Great Depression and then fighting a war on multiple fronts, people needed an escape. Enter big band music and swing dancing. With the popularity of shows like Dancing With the Stars, ballroom dancing is back, and so are the fabulous fashions of that era.
For men, it's about straight-legged slacks, button-down shirts, maybe a sweater vest, argyle socks, and of course, a shiny pair of wingtips. For women, it's a lot more fun! Swingy circle skirts that fly up for those spins, silky, bow-collar blouses, and low, thick heels made for dancing. Art deco jewelry completes the look, especially cocktail rings, which grew in popularity during that time.
Brides of the era also drew on that influence, choosing Art Deco engagement rings with geometrically cut, colored gemstones and diamonds. Imagine a swing-themed wedding, complete with a live big band and a big dance floor!
The Cool '50s and '60s:
Big band made way for good ol' rock and roll throughout the '50s and '60s. Jeans made their way from work clothes worn by tradesman into mainstream fashion, and showed their versatility, being paired with everything from black high-top sneakers and letterman sweaters, to motorcycle boots and leather jackets. Jewelry-wise, we have just two words for you: Marilyn Monroe.
Throughout her career in the '50s and early '60s, Marilyn set the standard for women across the globe who wanted to emulate her beauty, style and glamour. And then there's the song with which she'll forever be identified with: Diamond Are a Girl's Best Friend. This was certainly true in the engagement rings of the era.
However, it wasn't necessarily about rings made at that time, but those that were handed down. For many brides of the era, this meant the Victorian engagement rings their grandmothers had worn. Even if you don't have an heirloom engagement ring, you can still find one that will make you feel like the quintessential blonde bombshell.
The Far Out '70s
While those who actually lived through the '70s may find it dismaying, some of that decade's fashions did come back, and remains popular. High-waisted, bell-bottom pants, busy-patterned shirts, and high, chunky platform shoes, the kind that'll break your ankle if you fall off of them.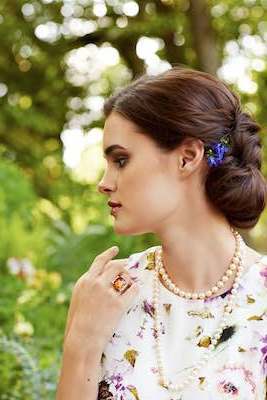 Luckily, some of the more embarrassing remnants of '70s fashion (frosty blue eyeshadow, anyone?) are balanced out by the gorgeous jewelry from that decade, which ran the gamut from natural elements such as wood and feathers, to vintage jewelry such as large pieces with colored gemstones.
But let's not overlook the decade's defining musical influence-disco! Lots of lights and mirrored disco balls meant jewelry created to catch the light, and sparkle just as brightly, and this includes the retro engagement rings that are popular again, with their yellow gold and colorful gemstone accents.
No matter which decade you identify with, or whether you feel like a screen queen or a disco queen, there's no shortage of vintage clothing, accessories and jewelry you can collect to create your own unique personal style.
Shop our swell collection of beautiful antique engagement rings to find the one that fits your snazzy vintage style.