Antique and Vintage Rings p2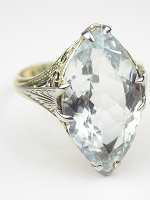 Antique Edwardian Aquamarine Cocktail Ring
This smashing antique aquamarine cocktail ring is for the woman who likes rings that make a dramatic statement on her finger. This smashing antique aquamarine cocktail ring is for the woman who likes rings that make a dramatic statement on her finger. The focal point greenish blue marquise cut aquamarine weighs 5.10 carats. The 14 yellow gold band that clutches the aquamarine is highlighted with scalloped wings at the shoulders and fancy open scrollwork around the bezel. Circa 1920.
Item
RG-3390

SOLD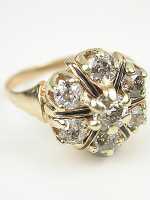 Antique Victorian Ring
An eye-catching design is enhanced by the warmth of 14k yellow gold and the glitter of diamonds in this antique Victorian engagement ring. The unique mounting of this Victorian antique ring arranges the diamonds in a glorious flower blossom design. Six stations along the circumference hold round diamonds with the center diamond elevated above the rest. In combination, the seven diamonds that accent this Victorian engagement ring weigh 2.00 carats. Circa 1900s.
Item
RG-3462

$979.00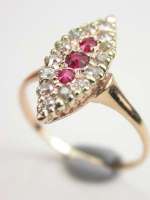 Victorian Ruby and Diamond Cocktail Ring
A trio of round rubies in this Victorian antique ring threads down the center of a marquise shaped diamond display adding a brilliant stream of color. These three ruby accents total approximately 0.12 carats of gemstone weight. The 14 European cut diamonds total 0.21 carats. Circa 1890.
Item
RG-3450

$899.00
Three Stone Antique Filigree Ring
Delicate carvings and delightful shimmer soften up angular edges in this three stone antique filigree ring. The platinum setting of this Edwardian antique filigree ring is accented with sunburst, chevron and feathery elements. The squared-off top of this antique engagement ring cradles a trio of old European cut diamonds. The three stones have a combined diamond weight of 0.73 carats. Circa 1920.
Item
RG-3008

$3300.00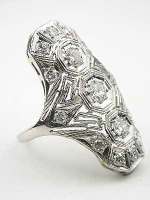 Art Deco Antique Filigree Ring
An Art Deco antique filigree ring demands attention with its hand wrought mounting and elongated filigree design. The North-South setting of this antique cocktail ring gives it distinctive flair. A trio of old style round brilliant cut diamonds cascades down the center of this platinum intrigue. An additional twelve old style round full cut diamonds are sprinkled throughout. The combined weight of all the diamonds, which range in color from G to H and clarity from VS1 to SI2 is 0.85 carats. Circa 1930 or later.
Item
RG-3325

$2359.00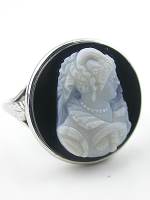 1920's Antique Cameo Ring
A woman in Elizabethan dress is depicted in a classic cameo antique ring. This antique cameo ring features a classic hand wrought 18k white gold mounting. The hardstone cameo is carved white on black and depicts a woman's right profile. She is in Elizabethan dress and is wearing earrings and a necklace. The 18k white gold band of this antique cameo ring is engraved in a leaf motif. Circa 1920.
Item
RG-3177

$789.00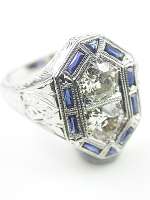 Art Deco Antique Ring
Ornate and alluring, this this Art Deco antique ring with old European cut diamonds is geometrically intruquing. The octagonal top setting of this antique cocktail ring is highlighted around its geometric rim with a collection of eight rectangular faceted mixed cut and two triangular faceted mixed cut blue sapphires. The total gemstone weight of all the sapphires is 0.28 carats. A pair of old European cut diamonds is tucked in the center of the octagon and total 0.81 carats. A hand-engraved 18k white gold band with a leaf motif provides the setting for this Art Deco ring. Circa 1925 to 1930.
Item
RG-3037

$2350.00

Victorian Antique Ruby Ring from France
Bearing a French hallmark, the band of this Victorian ruby dinner ring is made of 18k yellow gold. A silver top displays a glittering display of red and white in this Victorian antique ring. An oval faceted mixed cut ruby is set at the center of this Victorian dinner ring. The gemstone weight of the centerpiece ruby is 1.05 carats. A collection of rose cut diamonds surrounds the ruby, reflecting its beauty. The diamonds total 0.93 carats. French hallmark. Circa 1870.
Item
RG-3038

$2559.00