Vintage and Antique Rings p2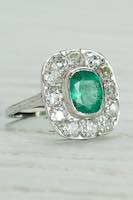 Edwardian Antique Ring with Cushion Cut Emerald
A halo of diamonds surrounds a cushion cut emerald in this enchanting hand-wrought Edwardian ring. This romantic antique ring features a natural cushion cut emerald in a classic Edwardian setting. Twelve old mine cut diamonds surround the blueish green emerald creating a glittering halo. The shank is carved with a wheat motif. Details: Antique, Edwardian. Circa 1920. 14k white gold. Cushion cut emerald, 1.30 carats. Old mine cut diamonds, 1.26 carats.
Item
RG-3597

SALE PENDING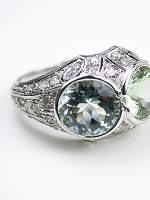 Edwardian Antique Filigree Ring
In this playful Edwardian antique filigree ring, two bezel set gemstones -- a greenish blue aquamarine and a pastel blue green quartz -- are framed by diamonds. The classic platinum hand-wrought filigree mounting of this Edwardian antique ring is dazzling with 50 bead set diamonds which accent an aquamarine and a quartz. Make a statement with this smashing ring -- it's art for your finger! Circa 1915.
Item
RG-3511

$3959.00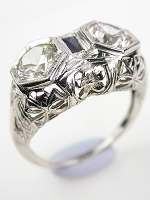 Edwardian Antique Ring with Sapphires
The pretty band of this Edwardian antique ring is pierced with a floral and bow motif. Two matching white sapphires burst from the center of the flowery ribbon backsplash in this Edwardian antique ring. These focal point gemstones are hexagonal set side by side. A flame fusion blue sapphire is wedged between the two white sapphires, dividing this antique ring into two distinct yet equally scene-stealing segments. Details: Antique, Edwardian. Circa 1920. 18k white gold. Round cut white and rectangular cut blue sapphires; 1.55 carats.
Item
RG-2308

$1519.00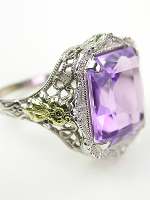 Vintage Amethyst Cocktail Ring with Floral Trim
Even spring's most perfect lilac couldn't rival this vintage cocktail ring's amethyst. The focal point amethyst gemstone in this vintage cocktail ring is framed in metallic lacework Contrasting green gold flowers whimsically play peek-a-boo amidst the pierced filigree band. Details: Vintage. Circa 1930. Trademark M-M-M. 14k white gold. Rectangular cut amethyst; 5.11 carats.
Item
RG-3538

$1529.00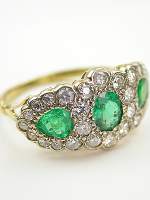 Antique Emerald Ring with Scalloped Design
Full cut diamonds encircle a trio of emeralds in this antique ring. In this winter ice versus spring verdant duel, the springtime green of the oval and pear-shaped emeralds ultimately wins out. The 14 yellow gold band of this antique ring has a scalloped trimmed top and offers metallic contrast to the emeralds and diamonds. Details: 14k yellow gold. Full cut diamonds; 0.66 carats. Oval and pear emeralds; 0.85 carats. Antique, Circa 1930 or later.
Item
RG-3514

$2779.00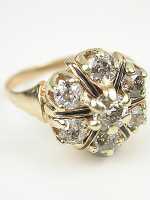 Antique Victorian Ring
An eye-catching design is enhanced by the warmth of 14k yellow gold and the glitter of diamonds in this antique Victorian engagement ring. The unique mounting of this Victorian antique ring arranges the diamonds in a glorious flower blossom design. Six stations along the circumference hold round diamonds with the center diamond elevated above the rest. In combination, the seven diamonds that accent this Victorian engagement ring weigh 2.00 carats. Circa 1900s.
Item
RG-3462

$979.00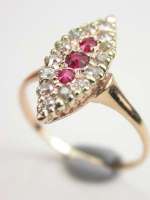 Victorian Ruby and Diamond Cocktail Ring
A trio of round rubies in this Victorian antique ring threads down the center of a marquise shaped diamond display adding a brilliant stream of color. These three ruby accents total approximately 0.12 carats of gemstone weight. The 14 European cut diamonds total 0.21 carats. Circa 1890.
Item
RG-3450

SALE PENDING
Three Stone Antique Filigree Ring
Delicate carvings and delightful shimmer soften up angular edges in this three stone antique filigree ring. The platinum setting of this Edwardian antique filigree ring is accented with sunburst, chevron and feathery elements. The squared-off top of this antique engagement ring cradles a trio of old European cut diamonds. The three stones have a combined diamond weight of 0.73 carats. Circa 1920.
Item
RG-3008

$3300.00