About Antique Earrings
Earrings date as far back as 3,000 B.C. Archeologists in Western Asia have unearthed a pair of earrings which date to 2,500 B.C. These oldest documented antique earrings were discovered in Iraq at a royal gravesite. Since then, the popularity of earrings has waxed and waned, but they made an enduring resurgence in the 16th century and today earrings remain more popular than ever. By the middle 17th century, earrings became an essential finishing touch in every well-dressed woman's jewelry wardrobe.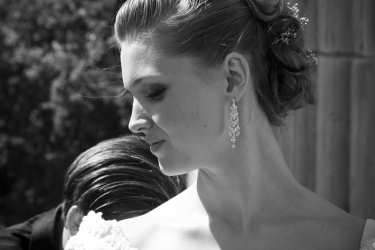 Our Antique Earring Collection
The Topazery collection of antique earrings represents many jewelry styles and periods. We carry earrings from the Art Deco, Art Nouveau, Edwardian and Victorian periods as well as antique style or reproduction earrings. Studs, dangles and teardrops are also well represented in our collection. You'll find precious metals ranging from white and yellow gold to platinum. You'll also discover earrings enhanced with such gemstones as sapphires, onyxes, pearls and aquamarines. Diamond antique earrings are always a traditional favorite with women. Exciting motifs like bows, leaves and flowers make our earrings even more endearing and beautiful. Whether she favors sophisticated and understated or sexy and swingy, Topazery has a pair to match her preference.

Orders & More

Edwardian Antique Drop Earrings

Blue sapphires arc through a sea of diamonds in this pair of Edwardian antique drop earrings.

Item
EA-3497
$4755.00

Orders & More

Victorian Inspired Rose Gold Diamond Earrings

Diamonds trickle down the lobe in a pair of Victorian inspired earrings.

Item
EA-3506
$1929.00

Orders & More

Edwardian Antique Earrings

Old mine cut diamonds suspend from Eiffel tower-like architectural bridgework in these Edwardian earrings.

Item
EA-3505
$7959.00

Orders & More

Antique Style Diamond Earrings

Wow! The faceted cutwork of the diamonds in these outstanding stud earrings is eye catching.

Item
EA-3568
$15300.00

Orders & More

Victorian Reproduction Cameo Earrings

Carved female Madonnas are backsplashed by coral-colored agate in these Victorian reproduction cameo earrings.

Item
EA-3464
$249.00

Orders & More

Moonstone Dangle Earrings

Sparkling multi-faceted moonstones hang suspended like glittering stars in the night sky.

Item
EA-3498
$1129.00

Orders & More

Antique Rose Gold and Diamond Earrings

Like a flower bud unfurling, these antique rose gold and diamond earrings are delicately dazzling.

Item
EA-3458
$599.00

Orders & More

Vintage Aquamarine Dangle Earrings

The aquamarines that are suspended from these vintage dangle earrings frame the face with playful whimsy.

Item
EA-3366
$1129.00

Orders & More

Antique Style Aquamarine Dangle Earrings

Splashes of icy shimmer trickle down the platinum links of this pair of aquamarine and diamond dangle earrings.

Item
EA-1204
$2899.00

Orders & More

Art Deco Pearl Drop Antique Earrings

Pearls appear suspended in platinum and diamond horsehoes that drop from streams of diamonds.

Item
EA-862
$2129.00

Orders & More

Art Deco Onyx Antique Earrings

The teardrop black onyxes that drip from these Art Deco earrings add dramatic impact.

Item
EA-829
$2599.00
---
---
ęCopyright 2001 - 2013
Topazery, LLC
Atlanta, GA, USA
&reg Topazery is a Registered Trademark
Cart

WELCOME!
Home
Join Newsletter
New Listings
How To Order
FAQs
Contact Us
Testimonials
Hassle Free Returns

JEWELRY STORES
All Rings
All Jewelry
Gifts Under $500

ENGAGEMENT RINGS
Thumbnails
Vintage Engagement Rings
Antique Engagement Rings
Antique Style Engagement Rings
Champagne Diamond Rings
Aquamarine Engagement Rings
Sapphire Engagement Rings
Filigree Engagement Rings

RINGS & MORE
Thumbnails
Antique Rings
Vintage Jewelry
Topazery Collection
Antique Style Rings
Sapphire Rings
Aquamarine Rings
Earrings
Necklaces
Brooches

WEDDING RINGS
Thumbnails
Antique Wedding Rings
Antique Style Wedding Rings

JEWELRY BY PERIOD
Thumbnails
Victorian Jewelry
Edwardian Jewelry
Art Deco Jewelry

EDUCATION
Gemstone History
Jewelry Periods
Antique Diamond Cuts
Evaluating Stones
Jewelry Library

INFORMATION
In the News
Privacy Policy
Legal Policy