Vintage Themed Weddings
You've pored over the magazines and blogs, and have finally chosen a theme for your big day. Vintage themed weddings can be gorgeous, full of personality, and memorable-if every detail supports your chosen theme. Meaningful details include vintage invitations, an era-appropriate venue, vintage style wedding rings, and vintage fashions and accessories for the wedding party, and maybe even the guests.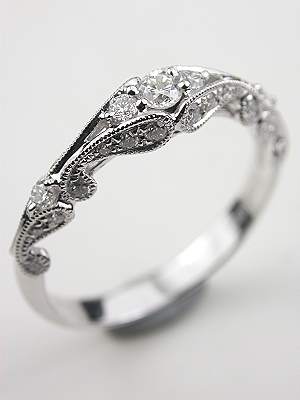 Vintage Invitations
Invitations introduce your theme to your guests. Far more than just matching the colors of your wedding, they set the tone for the big event. When choosing vintage invitations, start with the era or location of the theme. You could choose a black and gold Art Deco invitation for a 1920s Gatsby style wedding. A vintage Vegas invite could include neon signs and pastel colors. 1930s Hollywood themed invites might feature pearls and lace in the design.
While plenty of vendors offer wedding invitations, getting just the right vintage theme can be tricky. Don't be afraid to hire an artist to create your invitations. Sites such as Etsy and offer options for sourcing custom pieces without breaking the bank. If you work with a designer, you may want to consider having all the art for your wedding created by the same person for continuity between invitations, place cards, and signs.
Vintage Venue
Selecting the right venue is one of the most important, delicate decisions in themed wedding planning. You don't have a time machine (unfortunately!), so choosing the best venue for a vintage wedding takes imagination and a little bit of research. What kind of place will make your guests feel as though they've been transported to a bygone era? The answer depends on the era you're shooting for.
For example, a grand ballroom or the famous Cicada in downtown Los Angeles would be perfect for a 1920s theme. And the historic Heartland Mansion, with its famous checkerboard floors and more than 30 chandeliers, is authentic 1940s Las Vegas.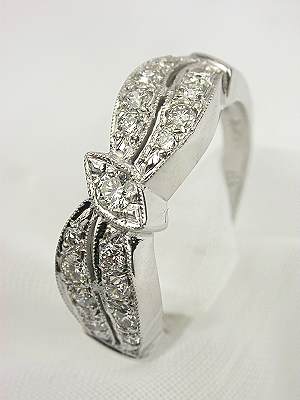 The furniture, decor, and favors all add to the vintage feel of your celebration. Vintage rental companies specialize in serving up authentic antiques or lookalikes to style your venue with all that vintage charm. Mismatched antique chairs, a phonograph, typewriter guestbook, and old Hollywood photo booth are just a few vintage details you could add to the right venue.
Vintage Style Wedding Rings
Keep memories of your vintage themed wedding close by wearing vintage style wedding rings always. Achieve the vintage look with new pieces that don't require the extra TLC of authentic antiques while appearing as classic as your love story.
Consider ring styles that were popular during the era you chose for you wedding theme. For example, Art Deco rings hail from the 1920s and 1930s. Edwardian rings are from the early 1900s to about 1920, while rings from 1930 to 1950 are considered Retro.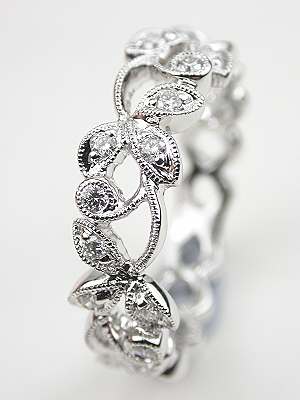 Vintage Fashion
Choosing a vintage gown, or vintage-look gown can be a lot of fun. You'll find so many designs from several eras, it may be difficult to choose just one.
Vintage accessories for the bride, groom, and wedding party go a long way to making the event look authentic, especially if you're wearing modern clothing. Long strands of pearls, Art Deco cufflinks, pillbox hats, or just the right shade of bright red lipstick are fantastic choices to complement your vintage look.
Shop our collection of vintage style wedding rings to find the perfect set from your favorite era.