Vintage Jewelry p5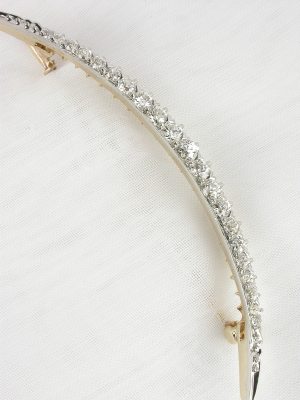 Victorian Antique Crescent Brooch
Fall over the moon in love with this Victorian crescent antique brooch. Set in 18k yellow gold and topped with platinum, this Victorian antique brooch is set with twenty-one old European cut diamonds. Ranging in color from H to J and in clarity from VVS2 to SI2, the diamonds accentuating this Victorian jewelry piece total 1.22 carats. Circa 1895.
Item
PN-1878

$2240.00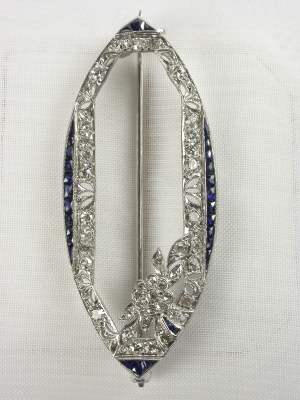 Edwardian Sapphire and Diamond Pin
Sapphire and diamond Edwardian brooches add a touch of femininity and a splash of color to your favorite 'little black dress.' This Edwardian antique pin's diamond-accented floral motif is particularly soft and romantic. The forty-four old style full and single cut diamonds that accentuate this Edwardian jewelry piece total 0.86 carats of diamond weight. Thirty triangular and rectangular calibre cut blue sapphires vividly edge this antique pin. The sapphires add 1.00 carat of gemstone weight to the pin. Circa 1920.
Item
PN-1553

$1885.00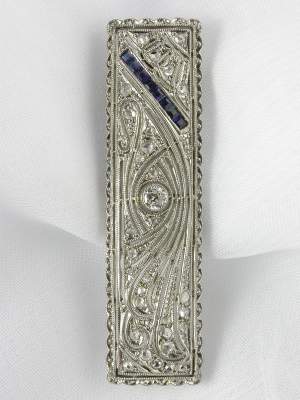 Edwardian Filigree Antique Pin
The Edwardian period's signature lacy cutwork is showcased in this antique filigree brooch. A diagonal streak of blue sapphires offers an intriguing accent in this Edwardian antique brooch. Set in platinum, the eyelet edging and spring-curled spirals of this filigree pin soften its rectangular angularity. . Thirty full cut and one rose cut diamond totaling 0.27 carats lend nonstop shimmer to Edwardian jewelry p ieces like this one. Tushnett and Strauss trademark. Circa 1900.
Item
PN-1620

$2289.00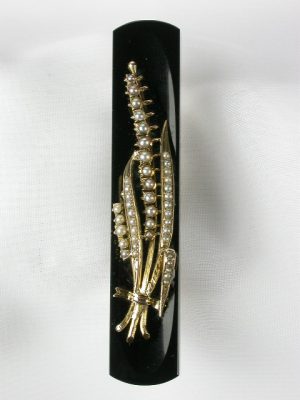 Antique Victorian Onyx Mourning Pin with Pearls
Cattails bursting with fluffy down give Victorian antique bar pin brooches a pastoral flavor. The base of this antique pin is fabricated of cylindrical black onyx that contrasts the 14k yellow gold and pearl fronds overlaying it. Forty-four cream and silver white half seed pearls lend a lustrous will-o-the-wisp effect to this Victorian jewelry piece. Circa 1880.
Item
PN-1379

$849.00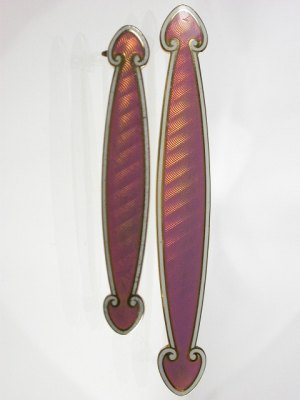 Edwardian Guilloche Enamel Antique Pins
These Edwardian guilloche enamel antique pins hypnotically transfuse light, lending a rainbow effect to the white-enamel-trimmed pink guilloche enamel. Each pin in this pair of Edwardian antique pins is rimmed in 14k yellow gold and is highlighted with rounded edges and spaded endpoints. Of probable French origin, this Edwardian guilloche enamel pin set can be worn as a matching pair or separated for greater versatility. This Edwardian jewelry piece is Circa 1910.
Item
PN-1473

$1150.00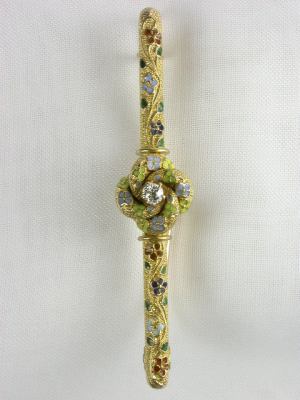 Victorian Antique Bar Pin with Colorful Enameling
This Victorian antique bar pins combination of French blue, dark blue, forest green, spring green, orange and pink enameling colorfully mesmerizes the eye. The central pinwheel design of this bar pin is accented with a diamond that weighs approximately 0.09 carats. This 14k gold base of this Victorian jewelry piece is softly etched for textural appeal. Sprinkled with enamel flowers, this brooch bursts with romantic color. Circa 1880s.
Item
PN-1467

$995.00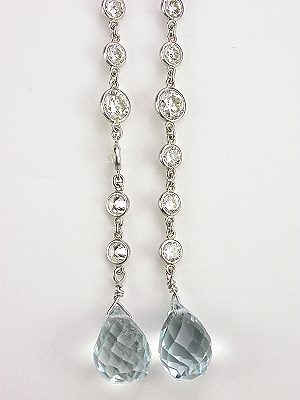 Vintage Style Aquamarine Dangle Earrings
Splashes of icy shimmer trickle down the platinum links of this pair of aquamarine and diamond dangle earrings. Sixteen round brilliant cut diamonds add a total diamond weight of approximately 1.75 carats to this aquamarine earring pair. At the base, two drop shaped briolette cut aquamarines add a soft splash of color. These aquamarine gemstones total approximately 5.0 carats. These earrings are vintage style (New).
Item
EA-1204

$6125.00