Antique & Vintage Jewelry Facets
As its name implies "Facets", focuses on one (or two) alluring aspects of an antique or vintage jewelry piece. On a regular basis we will pick out a jewelry piece that we find especially bewitching and delve a little deeper into the characteristics that make it such a standout. And, when we learn interesting news and lore about noteable jewelry from around the world, we will share this information with you through "Facets". We hope you'll visit "Facets" often to learn interesting and educational tidbits about antique and vintage jewelry!
We're moving our newest FACETS to another page. To read our most current FACETS, visit our Antique Jewelry Blog.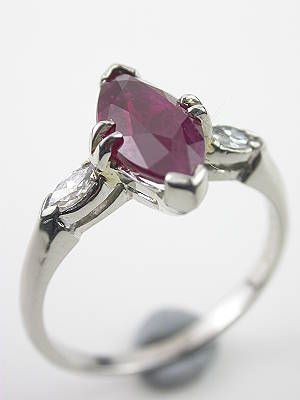 FACETS: Rubies Showcase Pantone's 2015 Color of the Year
According to color authority Pantone, hues in the rich, deep wine red family are going to be influencing fashion, accessory and decorating palettes in a major way in the months ahead. When it comes to vintage jewelry, the ruby is the perfect precious gemstone to breathe full life into this Marsala trend.
Every year, Pantone declares a new Color of the Year. The color authority has recently proclaimed Marsala as 2015's most influential shade. A "naturally robust and earthy wine red," Marsala was chosen for its ability to enrich the mind, body and soul.
The Pantone Color Institute's Executive Director goes on to explain, "Marsala is a subtly seductive shade, one that draws us in to its embracing warmth." She calls it a "hearty, yet stylish tone [that] is universally appealing and translates easily to fashion, beauty, industrial design, home furnishings and interiors."
Arguably the most valued gemstone throughout history, the ruby embraces all these positive qualities that led to Marsala being singled out for 2015. The fiery redness emanating from the ruby is suggestive of an indistinguishable flame. Warmth and passion don't get any better than a kindled blaze that can never be doused.
As far as enriching the mind, body and soul, rubies have been worn as protective amulets to guard the wearer against physical harm. The gemstone is also thought to bring peace to its owner.
Rubies vary in shade from pink-red to deep crimson. It's the latter end of this spectrum that vintage jewelry lovers will want to seek out when incorporating the Marsala trend. This Marquise Cut Ruby Vintage Engagement Ring showcases to maximum effect the dark, rich vibrancy the trend is all about.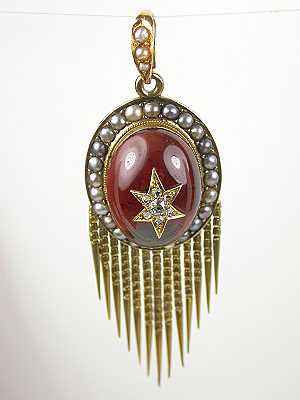 FACETS: Top 3 Jewelry Trends for Spring 2015
If you're wanting to give your wardrobe a trendy pick-me-up for Spring 2015, turn to the older and wiser woman in your life for inspiration. Everything of yore is new again when it comes to spring jewelry trends.
Late last year, when the models walked the runways for Fashion Week, several jewelry trends revealed themselves. Harper's Bazaar noted these three tendencies that were all the rage, each one drawing cues from jewelry ages past.
Spring 2015 Jewelry Trend #1: The Hippie Shake - "The prevailing '70s trend found its way to chunky, earthy pieces made for retrofit, boho babes," the magazine explained. This retro jewelry trend is heavy on the fringe, beads and baubles as well as wood details. Vogue magazine ads to this list feathers, which it spotted on several of the runway models' wrists, ears and necklines.
Spring 2015 Jewelry Trend #2: Estate Earrings - "In a stylish look at 'borrowed' from your grandma, these delicate baubles pay homage to the true ladies who lunched." This estate trend embraces earrings that are as fresh today as they were a half century ago. Some are delicate, some are big and bold, but all are timeless.
Spring 2015 Jewelry Trend #3: Romantic Notions - "The main idea here is that more is more, with colorful jewels, pearls and metals imbued on earrings, necklaces and rings with a medieval nod." This jewelry trend is not for the faint of heart. These pieces are designed to get the wearer noticed by combining impactful, can't-miss elements like this Victorian Almandite Garnet Pendant does.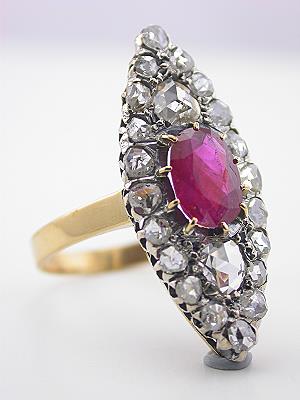 FACETS: Jewelry Hallmarks
If you've ever peeked under or inside your antique or vintage jewelry and wondered what all the secret code stamped on it meant, you're about to find out. Read on for a decoding primer on jewelry hallmarks.
According to Merriam Webster, a hallmark is an official mark stamped on gold and silver articles in England to attest their purity. A second definition is: a mark or device placed or stamped on an article of trade to indicate origin, purity, or genuineness. In the world of jewelry, hallmarks apply to all precious metals, including platinum. More generally speaking, however, a hallmark can refer to any distinguishing characteristic of the piece, not just the purity of its metal.
If you examine a piece of antique jewelry closely, you'll often find details stamped on its underbelly. These hidden nuggets of information provide important clues to the item's origins and materials. Some of the hallmarks you may be most familiar with are 14k and 24k for gold pieces, attesting to the karat weight of the metal and 925 for silver pieces, representing the purity of the silver. But gold can also be denoted with triple digits as well.
If you see the number .999 stamped on your gold jewelry, for instance, you've got a 24k piece, or pure gold. The lower the number before the decimal point, the less pure the gold. For instance, .750 is equal to 18k gold while .585 represents 14k gold. And what about platinum? P, PLAT, PT, 900 or 950 are all indicators that the metal used in the jewelry is indeed platinum.
What other gems (pun intended) might you find lurking inside your rings or on the underside of your vintage and antique bracelets, earrings, brooches, and necklaces? The jeweler who made the piece may stamp it with their own hallmark. Tiffany's, for example, stamps with Tiffany & Co. Harry Winston uses an HW.
Finally, the hallmarks on your antique and vintage jewelry can provide hints as to the country of origin. These hallmarks will often be indicative of the piece's jewelry maker. The Victorian Antique Ruby Ring pictured here has a French hallmark.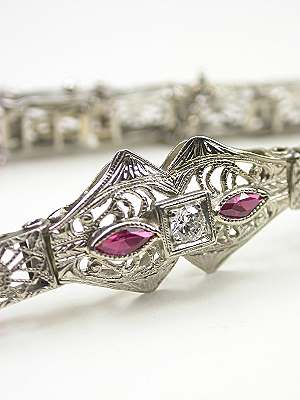 FACET: Top 5 Filigree Jewelry Pieces around the Globe
Filigree jewelry has been around for millennia. Some of the earliest filigree pieces serve as cultural windows into the past. It is no wonder then that some of the world's most famous museums have reserved space specifically for filigree jewelry.
With a history dating back over 5,000 years, filigree jewelry has left a major mark on the world. Not surprisingly then many such pieces are housed in some of the most famous museums around the world. Following are the Top 5 filigree jewelry items that are on display behind glass at some of the most renowned museums on the planet.
1. Louvre (Paris) - A pair of barrel-shaped Etruscan earrings illustrate the excellent workmanship of Etruscan goldsmiths, specifically in terms of their filigree and graining. The fine gold threads and beads that are part of the filigreeing process incorporated geometric and plant motifs into these earrings. These earrings date back somewhere to the mid-6th century B.C. to the height of the Etruscan civilization.
2. Royal Irish Academy (Dublin) - Dating to about 700 A.D., the Tara brooch measures seven inches long and has quickly become recognized as one of the most important works of early Christian Irish Insular art. Filigree and inlaying are two of the workmanship techniques that set this brooch apart.
3. Victoria and Albert Museum (London) - Another noteworthy jewelry piece that is ornamented with Etruscan style filigree beads is this museum's gold bead necklace. This three-strand necklace is strung with 68 filigreed beads. It dates to the mid-19th century.
4. Hermitage (St. Petersburg) - This Russian museum showcases many filigree pieces from the 330-300 B.C. timeframe. These items are examples of Scythian jewelry, which were unearthed from the tombs of the Crimea. A pair of crescent-shaped earrings that are decorated with filigreed palmettes and a pair of filigree bracelets whose ends are shaped like rams are some of the highlights of this collection.
5. British Museum (London) - A gold disc brooch from the late 6th-early 7th century A.D. is showcased at this museum. It has a wire-wrapped filigree terminal and features four serpents curled so that their heads meet their tails.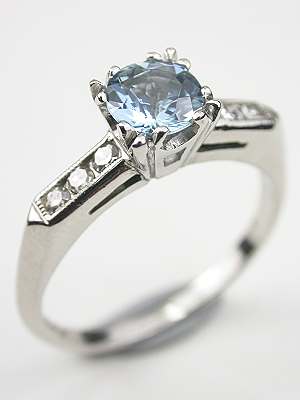 FACET: The History of Fishtail Engagement Ring Settings
Fishtail settings are a hallmark of many retro and vintage engagement rings. How did they get their fishy name? Read on to learn all about this big fish tale.
Engagement rings aren't just about the diamond or other focal point gemstone. A lot of other factors go into making that ring look fabulous on a finger. One of those factors is the engagement ring's setting. And when it comes to retro and vintage engagement rings, one of the rarer settings that makes certain rings a standout is the fishtail.
The fishtail setting gets its name from the way it looks when examined from the finger view. The fishtail features four triangular prongs that are set at right angles in a way that resembles the tail of a fish. The effect is achieved with metallic extensions of the shank. This technique of fashioning the prongs from the shank, which produces a smooth, streamlined appearance, is more generally known as a scallop setting. In a fishtail setting the prongs are often done in a fleur de lis pattern and are set at 45, 135, 225 and 315 degrees around the center stone.
The diamond or other gemstone these prongs cradle tends to be round in shape (round brilliant cut diamonds are a popular choice in vintage engagement rings) but these stones appear square to the eye thanks to the squaring-off effect of the fishtail setting. Budget-conscious engagement ring buyers frequently gravitate toward fishtail settings because they lend the illusion of a bigger centerpiece stone. The main objective of the fishtail is using the band's metal to enhance the center stone.
Fishtail settings became the engagement ring rage in the 1950s. As such, they are today seen in many retro and vintage engagement rings. But that doesn't mean fishtail settings have lost their appeal. Modern women are still wowed by their charm. In fact, when country music star Brantley Gilbert proposed to his actress/singer girlfriend Jana Kramer of "One Tree Hill" fame he did so at the historic Ryman Auditorium with a five-carat round cut diamond ring in a fishtail setting.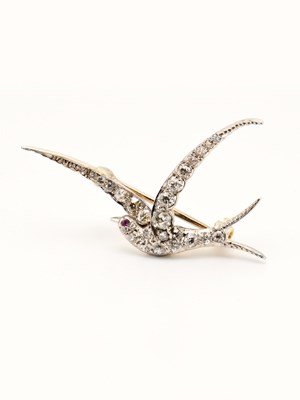 FACET: Bird and Bow Jewelry Motifs
Bird and bow motifs have been topping jewelry trends for centuries. Read on to find out how these popular designs have evolved over the years to continue maintaining a soft spot in the heart of jewelry lovers.
Long before Katniss Everdeen ever wore her mockingjay pin into The Hunger Games arena, birds, and right alongside them bows, were a popular jewelry motif. Birds first dropped into the jewelry scene during the Georgian period, which spanned the years of 1714 through 1830. That timeframe emphasized nature designs, with flowers, leaves, insects, and birds all being widely desired by jewelry enthusiasts.
As jewelry entered the late Victorian era of 1885-1900, birds reclaimed their popularity when the avian theme took on new meaning as scarabs. The spring mechanisms that were a new feature of this age's jewelry pieces also lent themselves well to movement, and bows became an extremely popular motif to incorporate into this technology. At the same time, diamonds reached their pinnacle of popularity and were often combined with both birds and bows in brooches, rings, and other jewelry pieces.
The plique a jour enameling technique of the Art Nouveau period (1890-1915) allowed birds to be set in stunningly colorful enamel. As a result, the "old" feathered friend motif was suddenly new all over again.
In the midst of all this, the Edwardian jewelry period (1901-1910) embraced lacy and delicate designs. Pieces incorporating bows were therefore quite coveted. The bow motif once again resurfaced in 1935 when the Retro era made its debut. Because of their three-dimensionality, bows and ribbons alike flooded this timeframe's designs.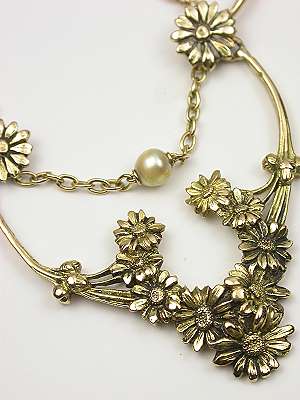 FACET: Victorian Swag and Floral Necklace
The aura of good luck will surround you and the hallmark of a champion will embrace you when you slip on our Victorian Swag and Floral Necklace.
Horseshoes, like the one you'll find peeking out of this Victorian antique necklace's floral swag, have long been a symbol of good luck. English, Scottish and Moorish legends hold horseshoes in high esteem for their ability to protect against evil. And nowhere are horseshoes more prevalent than at horse farms and racetracks like Churchill Downs in Louisville, Kentucky, where the Kentucky Derby is run each May. Indeed, every year the thoroughbred who takes the crown that known as "The Fastest Two Minutes in Sports" is presented with a garland of roses. As a result, the Kentucky Derby has been affectionately dubbed "The Race for the Roses." Each year the first-place finisher will be graced with a garland weighing around 40 pounds and containing more than 400 roses. Prior to 1932, however, the Derby winner was presented with a horseshoe-shaped wreath of roses very much resembling the Victorian jewelry piece featured in this necklace.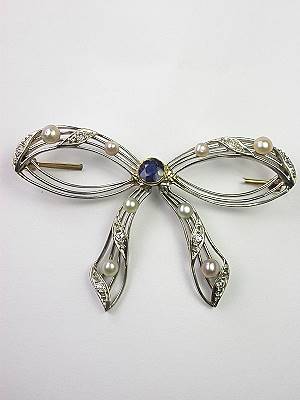 FACET: "En Tremblent" Antique Pin from the Victorian Jewelry Era
In spite of all the prim and proper societal rules imposed upon them, even Victorian women craved a touch of feminine seduction in their jewelry pieces. Discover how en tremblent antique pins like this one allowed them to subtly achieve that.
From the French meaning "to tremble," en tremblent Victorian jewelry like this Edwardian antique pin that is shaped like a bow was designed to tremble when the wearer of it moved. For Victorian era women, whose bodies were sheathed from neck to toe in clothing, most en tremblent pieces were brooches. That way, they could be pinned atop proper ladies' many layers at the breast to generate movement as they breathed.
To create this subtle motion, tiny springs were built into the Victorian jewelry, with diamonds making a frequent appearance. A diamond's ability to capture light from all angles added to the trembling movement effect.
A technique almost exclusive to the 18th and 19th centuries, en tremblent is rarely seen outside of the antique pins of the Victorian jewelry era. In a 2004 episode, PBS's popular "Antiques Roadshow" appraised an 1810s Diamond Pin En Tremblant at $25,000 to $35,000. Because the springs in these antique pins are so delicate, finding one whose en tremblent elements still move as intended, like the ribbon steamers of this bow-shaped antique pin, adds significantly to its value.