Topazery Diamond Wedding Ring Chosen for Alternative Appeal
August 19, 2016
Wedding Chicks, a stylish wedding blog dedicated to wedding inspiration, wedding ideas and vendor deals for the modern bride, recently did a run-down of 85 Alternative Engagement Rings. In narrowing down the field, the site focused its attention on all of the original brides who frequent the publication. And among the original styles it singled out was a Swirling Diamond Wedding Ring from Topazery.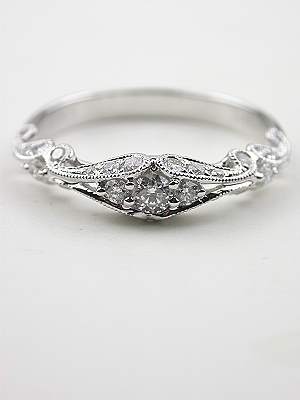 "The quirky way [she] looks at life" is the type of bride Wedding Chicks had in mind when coming up with its 85 Alternative Engagement Rings list. The blog went on to further narrow down its prime targets as "the girl from the wrong decade Vintage Bride," "the clean, classy and Modern Bride," "the earthy, handmade Indie Bride," "the dedicated fan girl, Geek Chic Bride" or "the tough but sweet Edgy Bride."
Of those bride candidates, the Swirling Diamond Wedding Ring from Topazery would most likely appeal to the Vintage Bride or Modern Bride. That's because it blends vintage inspiration into a brand new design. A delightful pattern of scrolls and swirls threads down the shoulders of its 18k white gold band. A swirling array of diamonds highlights its whirling setting.
Although Wedding Chicks listed it as an engagement ring and it can certainly be worn singly that way, Topazery offers a matching engagement ring to the Swirling Diamond Wedding Ring. "Our Champagne Diamond Engagement Ring" is a perfect match for the wedding ring Wedding Chicks handpicked," explains Topazery's spokesperson. "With a uniquely hued champagne diamond at its center and matching diamond swirls, it will appeal to both Indie Brides and Edgy Brides."
Return to press home