Antique Trader Antiques & Collectibles 2012 Price Guide Highlights Topazery Brooch
October 06, 2015
Every year, Antique Trader compiles its best antique and collectible finds from the past 12 months into an annual price guide. The 2012 edition of that handbook features an Edwardian Pearl and Diamond Brooch, circa 1905, from antique jewelry boutique Topazery.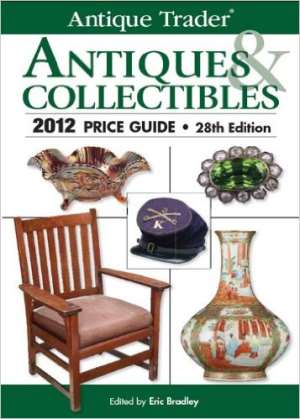 The "Antique Trader Antiques & Collectibles Price Guide" is America's number one selling price guide. For over 30 years it has been the leading source for information on antiques and collectibles. The 2012 28th edition, like all editions, is "filled with expert advice, vetted values and 4,500 color photographs," the publisher describes. "Antique Trader provides the clearest and most dependable picture of this amazingly diverse and magnificent market." p>
A reader flipping through the jewelry section of the "Antique Trader Antiques & Collectibles 2012 Price Guide" will find antique jewelry boutique Topazery spotlighted in the Pearls section. An Edwardian Pearl and Diamond Brooch, Circa 1905, is singled out with this description: "Edwardian pearl and diamond brooch, 15k bar and clasp are topped with a platinum-finished oval, encircled with twelve natural oriental pearls. Rhomboid and fleur de lis diamond accents frame the oval; 12 single-cut and rose-cut diamonds, circa 1905. $900"
"Light and airy designs became hallmarks of Edwardian jewelry," explains Topazery's spokesperson. "And pearls were quite fashionable. The brooch the Antique Trader price guide singled out from our collection combines these distinctive features of the era. Although that particular brooch has since sold, we do currently have another Edwardian Pearl and Diamond Brooch in stock on our website. It features five old style full cut diamond-centered circles running down its center with natural Oriental pearls interspersed between the diamond rings."
Return to press home