American Hustle Inspired Vintage Jewelry Pieces by Topazery
January 21, 2014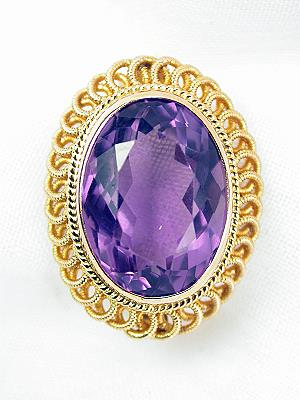 "American Hustle" mania is in full swing, with the 1970s-set film recently walking away with three statues at the Golden Globe Awards. In celebration of the crime caper movie's popularity, antique jewelry boutique Topazery reviews the top vintage jewelry pieces in its inventory. All of the selections were inspired by those worn by "American Hustle's"" female leads, Amy Adams and Jennifer Lawrence.
A recent Associated Press article declared "'American Hustle' a portrait of swank '70s fashion." Therein, the film's costume designer explained "of the '70s styles that inspired his designs": "They had ideas, they lived large and they took risks." p>
Topazery's spokesperson clarifies that statement. "When it came to 1970s fashion, women in particular shed the restrictions long imposed on them by society. As you'll see in the movie, they favored deep plunging necklines. And they finished off their skin-bearing outfits with big, bold jewelry often of the gold variety."
"Harper's Bazaar" recently backed that assertion. In coming up with its own selection of "American Hustle" inspired clothing and accessories, the style magazine summed up the time period with: "Think slip dresses, gold and more gold."
Drawing on scenes from the movie for guidance, Topazery has devised its own list of "American Hustle" top vintage jewelry pieces.
1. In the rings category, a Vintage Two Toned Diamond Wedding Ring earned the nod for its wide 14k white and yellow gold band, with the unexpected impact of open scroll work and diamonds down the center.
2. In the bracelet category, the antique jewelry boutique picked a 14k white gold Orange Blossom Bangle Bracelet like the ones 1970s women piled on their arms. "In one 'American Hustle' scene in particular, Jennifer Lawrence's character can be seen reaching across the table with two gold bangles on one arm and one more on the other," Topazery's spokesperson points out.
3. In the earring category, a pair of Vintage Aquamarine Dangle Earrings have the length and flirty free-flowing flutter that was so popular in the 1970s.
4. In the brooch category, an Amethyst Vintage Brooch from the 1970s earned top billing. "With an oval amethyst as its centerpiece, this brooch combines both the boldness and the gold favoritism that ruled 1970s jewelry," Topazery's spokesperson says of the selection.
Return to press home