Antique and Vintage Wedding Rings p2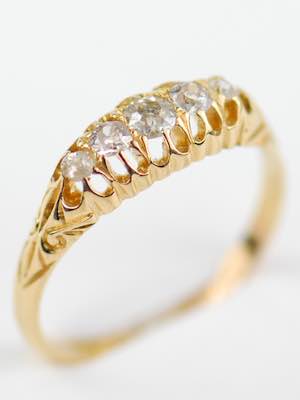 Victorian Antique Wedding Ring
All the diamond stars align in blissful harmony in this Victorian antique wedding ring. This antique wedding ring shimmers with the light and good fortune of a shooting star. A blaze of five old European cut diamonds streaks across its center. The 18k yellow gold band has an English hallmark and a George & Kiley engraving, offering clues into its Victorian past. Details: Antique, Victorian. Circa 1901. 18k yellow gold. Old European cut diamonds; 0.46 carats.
Item
RG-3635

$1229.00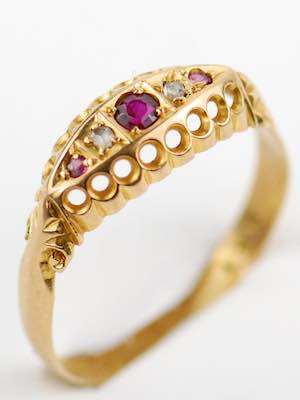 Vintage Wedding Ring with Rubies
Cool diamonds alternate with fiery rubies in this Victorian-inspired vintage wedding ring. Fire and ice come together in this vintage wedding ring. Rubies and rose cut diamonds share the spotlight in the elongated East-West setting. Leafy fronds and pierced circles lend architectural interest to the gold band. A Birmingham city English hallmark adds a splash of provenance. Details: Vintage. Circa 1960 or later. 18k yellow gold. Rose cut diamonds; 0.02 carats. Round faceted mixed cut rubies; 0.14 carats.
Item
RG-3636

$979.00
Filigree and Diamond Antique Wedding Ring
The diagonal slicing of this Art Deco antique wedding ring lends visual intrigue to the finger and showcases the band's geometric elements. The twelve rhomboids that surround this antique wedding ring's platinum filigree band are each set with a round modern full cut diamond for a total diamond weight of approximately 0.66 carats. Circa 1920s.
Item
RG-1237

$1795.00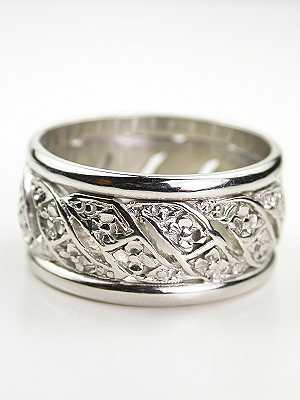 Vintage Wedding Ring, Circa 1945
A wave of precious metal swirls and twirls around the finger in this 1945 vintage wedding ring. The wide band of this vintage wedding ring has polished sections on top and bottom. In between, floral cut waves rollick down the center, lending eye-catching contrast to this vintage wedding band. Details: Vintage. Circa 1945. 14k white gold.
Item
RG-1559

$949.00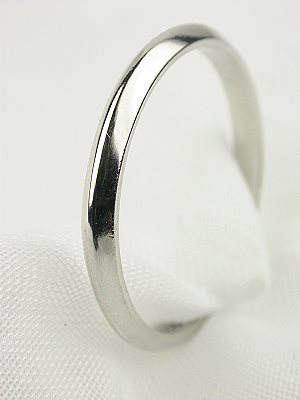 Platinum Knife Edge Vintage Wedding Ring
Constructed of iridium-platinum, this vintage wedding ring has a timeless design. In the early morning hours of dawn, the meadow shimmers with the radiance of dew. That same glimmer shines in this platinum knife edge vintage wedding ring. Circa 1950 or later.
Item
RG-1988

$619.00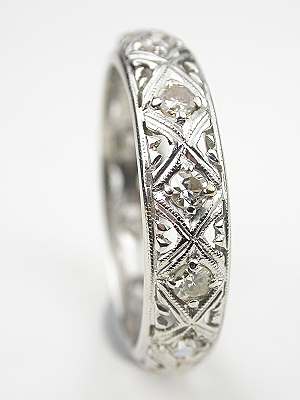 Vintage Wedding Ring with Hugs and Kisses
Diamond studded rhombuses playfully encircle this platinum and filigree vintage wedding ring to create a "hugs and kisses" or XO pattern around the band. In this hugs and kisses "XO" design wedding ring, the twelve single cut diamonds weigh 0.54 carats. Vintage wedding rings like this one make romantic one-of-a-kind anniversary gifts. Circa 1950.
Item
RG-3349

$1699.00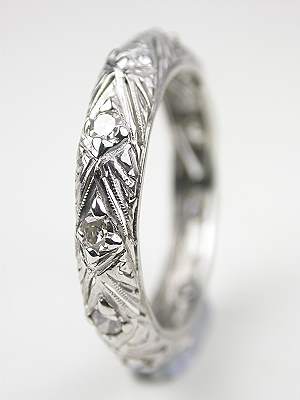 Filigree and Diamond Vintage Wedding Ring
Single cut diamonds dance around your finger in this handwrought vintage wedding ring. A pierced filigree design and an engraved chevron motif add sophistication to the 14k white gold band. This vintage wedding ring is set with 11 diamonds which total 0.35 carats. Circa 1950.
Item
RG-3220

$1595.00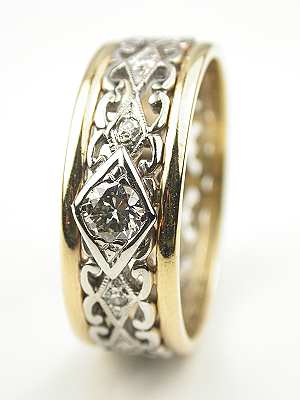 Two Toned Vintage Wedding Ring
In this Retro vintage wedding ring, a pierced scroll motif in white gold is splashed with diamonds and accented by yellow gold edges. The 14k white and yellow gold band of this vintage wedding ring has the unexpected impact of open scroll work down the center. Eleven single cut diamonds accentuate the metallic intrigue. A 0.17 carat old style round full cut diamond is set in the center. The total diamond weight of this vintage wedding ring is 0.28 carats. Circa 1950.
Item
RG-3333

$1499.00