Antique & Vintage Style Engagement Rings p4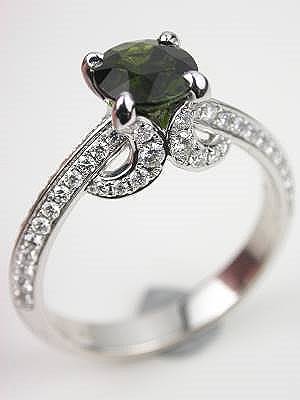 Green Tourmaline Engagement Ring
In this Topazery Earth Collection engagement ring, a green tourmaline is held afloat by a stream of diamonds and loops. The round tourmaline that is set in the center of this engagement ring radiates with 0.77 carats of dark green intensity. The 18k white gold band playfully seduces the centerpiece gemstone, with conjoined loops that embrace it. These loops as well as the shoulders of the band are accented with a collection of seventy-two round full cut diamonds that total 0.46 carats. This is a new engagement ring from the Topazery Earth collection.
Item
RG-3239

$1699.00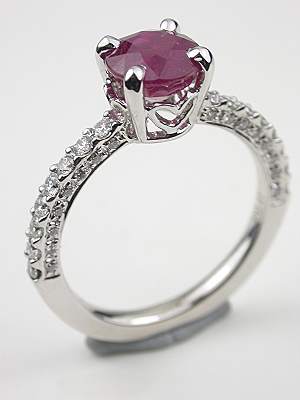 Heart Motif Ruby Engagement Ring
This heart motif antique style ruby engagement ring embodies the spirit of fire and ice. A round faceted mixed cut ruby is set at the center of the 18k white gold band of this engagement ring. This gemstone, which weighs 1.65 carats, is inside a romantic heart-motif bezel. A collection of 48 round full cut diamonds cascades down the shoulders of the band. The diamonds have a combined weight of 0.41 carats. This is a new ruby engagement ring from the Topazery Collection.
Item
RG-3278

$2989.00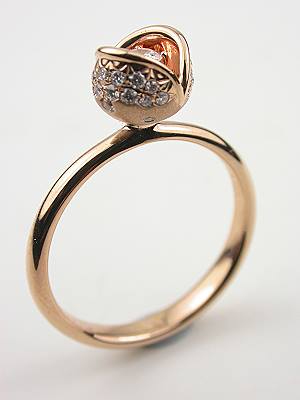 Vintage Style Ring with Rose Petal Motif
A delicate pink rose bud is just beginning to open in this chic vintage style ring with rose petal motif. Overflowing with romantic femininity, this unique vintage style ring is done in 18k rose gold. The rose bud is set with a collection of thirty round brilliant cut diamonds. Tucked in the center of the unfurling petals is a larger round brilliant cut diamond that weighs 0.08 carats. TThe combined weight of all the diamonds is 0.21 carats. This is a new vintage style jewelry piece.
Item
RG-3241

$929.00
Antique Style "Circle of Light" Diamond Ring
All the stars are aligned in a perfect circle of light in this antique style diamond ring. The open design of this antique style engagement ring lends a lacy, airy feel to the finger. A round full cut diamond is set at the center of the 'Circle of Light' with thirty princess and round full cut diamonds accentuating its outer arc. The total diamond weight of this 18k white gold antique style ring is 0.54 carats. This 'Circle of Light' diamond ring makes an unusual Right Hand Ring or engagement ring.
Item
RG-2419c

$1199.00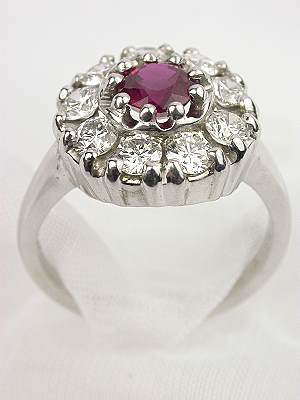 Ruby and Diamond Cluster Ring by Topazery
Like a meteor shower, this vintage style ruby and diamond cluster ring stardusts the finger. The centerpiece ruby of this vintage style ring has a purplish red hue and weighs 0.63 carats. Nine round full cut diamonds surround the ruby for a total diamond weight of 0.92 carats. A 14k white gold setting provides a shimmering backdrop to this ring's stone ensemble. This is a (new) vintage style ring. From the Topazery "Vintage" Collection.
Item
RG-2482

$1599.00