Antique and Vintage Jewelry Library p25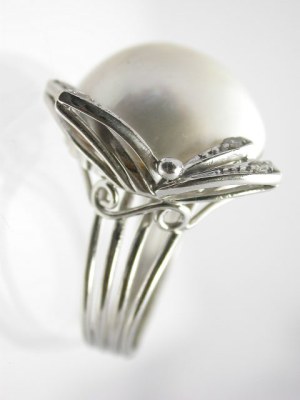 Exquisite Mobe Pearl Antique Ring
The gorgeous rosy white 17.5mm Mobe pearl in this antique ring is redolent of a sugar-kissed marshmallow puff. The 18k white gold band of this antique ring is done in an open weave that meanders up the shank into a bowtie pattern. This antique Mobe pearl ring's bowtie is accented with five single cut round diamonds. Antique pearl rings like this one also make unusual engagement rings. Circa 1950s to 1960s. SOLD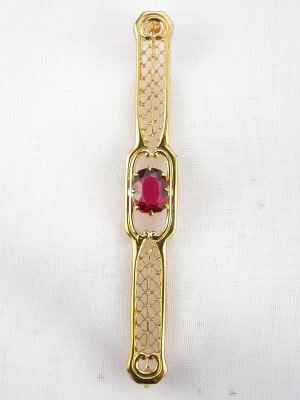 Late Victorian Antique Bar Pin
The intricate design of this 10k yellow gold late Victorian bar pin makes a fashionable statement when pinned to a favorite shirt, dress, or jacket. The oval faceted mixed cut purplish red glass stone that centerpieces this late Victorian piece, looks equally stunning against any fabric. Oliver and Bloomfield trademark. Circa 1900 SOLD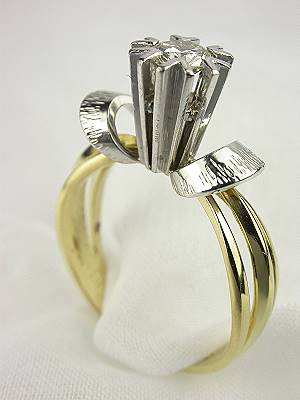 Retro Diamond Engagement Ring
Crown your love for her with this unusual Retro diamond engagement ring. The raised coronet setting of this engagement ring is particularly breathtaking. Sitting in the center of this regal pedestal is an M-colored, VVS1-clarity round brilliant cut diamond that weighs 0.34 carats. The 18k yellow gold band of this engagement ring is topped with white gold looping for a two-tone effect. Circa 1950s or later. SOLD
Antique Hand Wrought Aquamarine Engagement Ring
This antique hand-wrought aquamarine engagement ring is as engaging as sea water. The 3.01-carat aquamarine gemstone has a pale blue hue that gives this antique aquamarine engagement ring an understated elegance. The ring's antique hand-wrought platinum mounting is highlighted with engraved scallop and scroll designs. Circa 1920. SOLD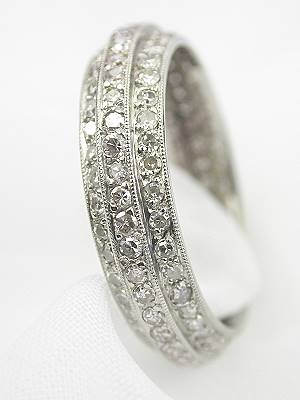 1940s Diamond Eternity Band
Like a dolphin playing in the ocean, this 1940s diamond eternity band displays a playful up-down motion. A trio of diamond-studded streams encircle this anniversary ring's platinum band. The center rivulet is slightly raised, lending visual depth to the finger. In total, 124 round single cut diamonds accent this 1940s eternity band for a total diamond weight of 1.14 carats. The diamonds range in color from E to G and in clarity from VVS1 to I1. Circa 1940. SOLD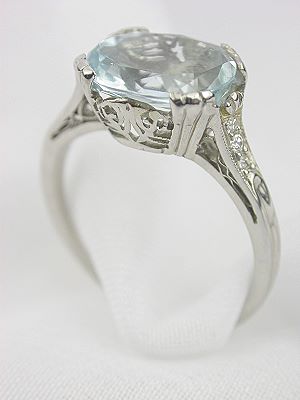 1920s Platinum Aquamarine Engagement Ring
A pale blue oval aquamarine adorns the top of this platinum filigree antique engagement ring. The platinum band of this 1920s antique engagement ring is shouldered with a collection of six old style single cut diamonds. These 0.05 carats of diamonds flank a 1.70-carat greenish blue aquamarine. Circa 1920. SOLD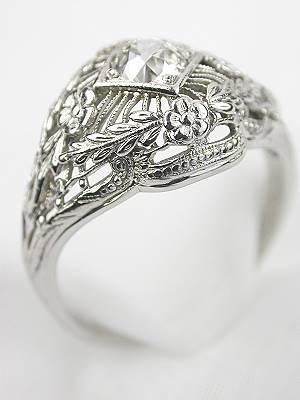 Old European Cut Diamond Engagement Ring
In this engagement ring, circa 1922, an old European cut diamond lies embedded in a web of white gold strands. As if inflated with air and light, the domed filigree shape of the ring arcs upward from the finger punctuating the gleam of the diamond with a symmetric floral pattern.

Details: Antique, Circa 1922. Trademark, F and F Felger. 18k white gold. Old European cut diamond, 0.37 carats. SOLD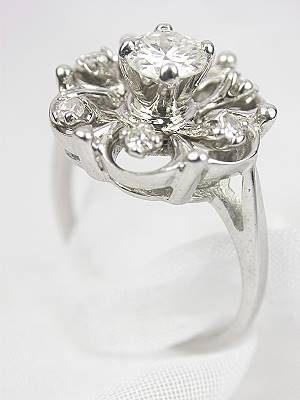 Diamond Cocktail Ring with Floral Design
A vibrant peony unfolds in this diamond cocktail ring with floral design. The 14k white gold topsetting of this cocktail ring is fashioned with a series of six flower petals, each of which is center set with a round single cut diamond. A transitional round brilliant cut diamond forms the center of this cocktail ring's flower. This diamond is G in color and VS2 in clarity and weighs 0.43 carats. The combined weight of all the diamonds is 0.55 carats. This ring could also be worn as an engagement ring. Circa 1960. SOLD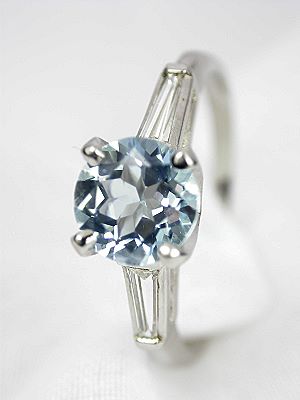 Classic Antique Aquamarine Engagment Ring
Set in platinum, the band of this classic engagement ring holds a round faceted mixed cut aquamarine in its center. This alluring greenish blue gemstone weighs 0.85 carats. A pair of tapered baguette cut diamonds flanks the aquamarine, lending 0.14 carats of diamond weight to this antique engagement ring. Circa 1950 or later. SOLD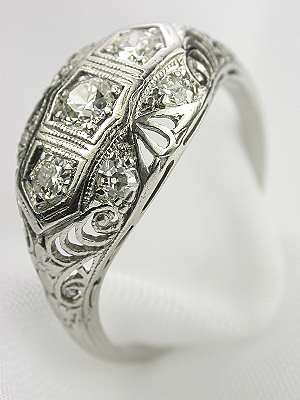 1925 Filigree Diamond Antique Engagement Ring
The East-West setting and scrolled design of this 1925 filigree diamond antique engagement ring are two of its most notable features. The arrowhead and hexagonal settings of the three centerpiece old style single cut diamonds intrigue the eye. The filigree 18k white gold band of this antique engagement ring is further enhanced with four old style full cut diamonds. Ranging in color from F to I and clarity from VVS2 to SI1, this antique engagement ring's diamonds total 0.39 carats. Circa 1925. SOLD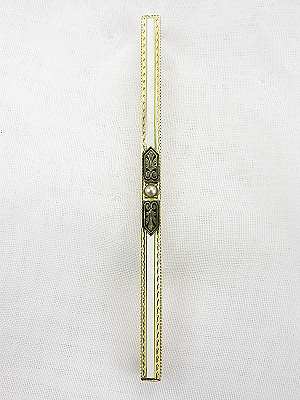 Art Deco Pearl and Enamel Bar Pin
Imagine the compliments you'll receive when you add this Art Deco pearl and enamel bar pin to your antique jewelry collection. This Art Deco bar pin is set in 14k white gold and is highlighted with contrasting white and black enamel. The bullet-shaped ebony enameling is accented with a feathery gold top-setting. A dark creamy white half round pearl centerpieces this antique enamel bar pin. Cartier Gough and Co. trademark. Circa 1920 SOLD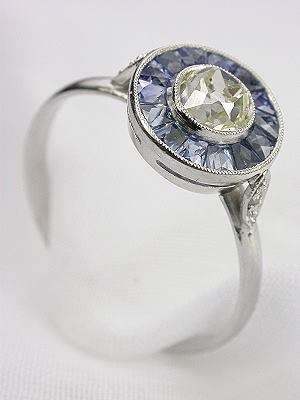 1930s Platinum Antique Engagement Ring
With a brilliant flash of color, a circle of fourteen rectangular tapered calibre cut blue sapphires draws the eye in this 1930s antique engagement ring. These sapphire accents give this antique engagement ring a gemstone weight of 0.60 carats. The center diamond is old European cut and is flanked by two old style full cut diamonds for accent on the platinum band. Circa 1930. SOLD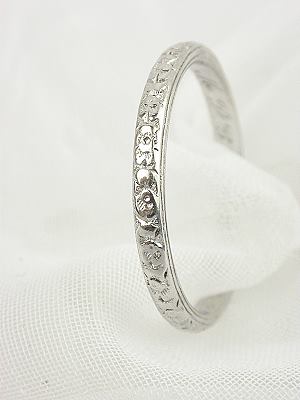 Antique Carved Platinum Floral Wedding Ring
Wrap your finger in the delicate beauty of orange blossoms with this antique carved platinum wedding band. A carved floral orange blossom spray extends all the way around the iridium-platinum band of this wedding ring. The hand engraving "M.D.G. to P.R.F. 6-26-1928" lends romantic provenance to this antique wedding ring. Circa 1928. SOLD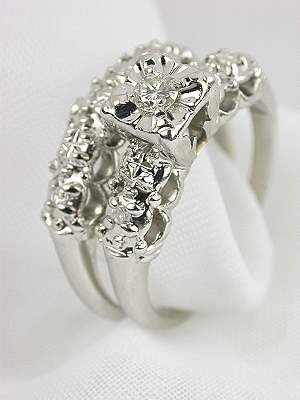 1940s Antique Diamond Wedding Set
The illusion setting of this 1940s antique diamond wedding set displays its diamonds to optimum advantage. Five round single cut diamonds accentuate the wedding and engagement rings in this 14k white gold antique set. The engagement ring is centered with a coronet set round full cut diamond. Ranging in color from G to H and in clarity from SI1 to SI2, the diamonds accentuating this antique wedding set total 0.13 carats. Circa 1940 or later. SOLD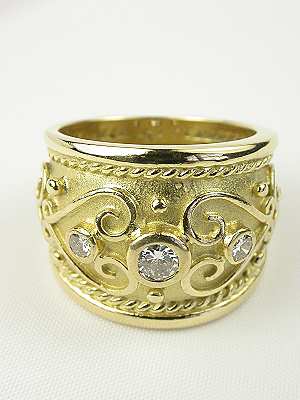 Wedding Ring with Byzantine Scroll Design
This wide band wedding ring with Byzantine scroll design has a romantic whimsy about it. The looping Byzantine scrollwork that enhances the 18k yellow gold band forms a string of hearts across the finger. The outer two hearts are centered with round full cut diamonds while a larger round brilliant cut diamond lies between them. This G-colored, VS1- and VS2-clarity trio of diamonds weighs 0.29 carats. Coiled roping and beadwork add further visual intrigue to this estate wedding ring. Circa 1995. SOLD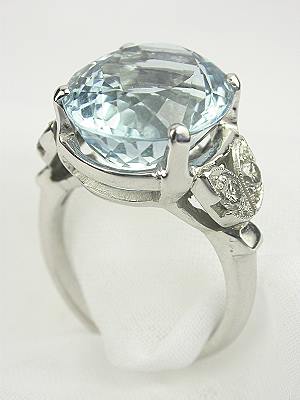 1950's Classic Aquamarine Engagement Ring
This 1950s classic aquamarine engagement ring shines softly with a greenish blue hue. Constructed of 14k white gold, the band of this 1950s engagement ring is shoulder set with a collection of four round full cut diamonds. This classic engagement ring's diamond petals flank an 8.79 carat oval faceted mixed cut aquamarine. Circa 1950 or later. SOLD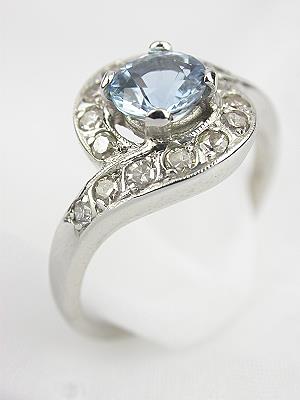 1930s Bypass Aquamarine Engagement Ring
Like a protective guardian angel, a swirl of diamonds wraps itself around this 1930s bypass aquamarine engagement ring. The 14k white gold band of this engagement ring provides a tonal backdrop for the accent diamonds and solitaire aquamarine that highlight it. Sixteen round single cut diamonds lovingly embrace a round faceted mixed cut aquamarine that weighs 0.55 carats. The combined diamond weight of this antique bypass engagement ring is 0.34 carats. Circa 1930s or later. SOLD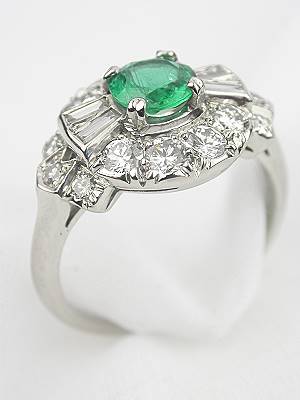 1950's Antique Emerald Engagement Ring
In this dramatic antique engagement ring, an emerald sits at the center of a dazzling universe. Vying for attention, diamonds fan out from the center in symmetric arcs of twinkling baguettes and round-cut stones - but to no avail. They are merely in orbit around a gem so mesmerizing, it appears to have a gravitational pull: The central emerald emits a stunning glow, almost radioactive in its brilliance. Antique rings of this impact cannot be ignored.

Details: Antique, Circa 1950. Platinum. Straight baguette cut diamonds and round cut diamonds, 1.0 carats. Round faceted mixed cut Columbian emerald, 0.54 carats. SOLD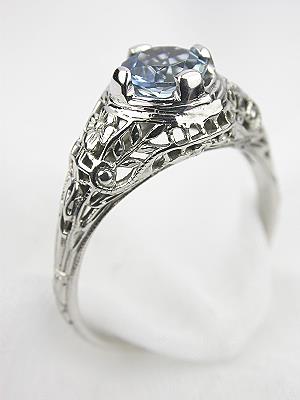 Floral and Filigree Aquamarine Antique Engagement Ring
In this shimmering 1920s design of floral and filigree, a limpid droplet floats on a cushion of 18k white gold lace in this antique engagement ring. Intricate floral detailing coalesces into a four-prong setting for a greenish blue aquamarine encased in white gold. Weighing 0.57 carats, this shining gemstone adds a soft touch of color. This antique floral and filigree aquamarine engagement ring is Circa 1920. SOLD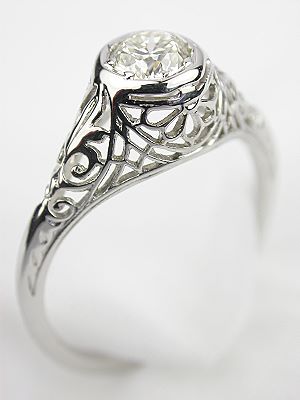 Late Edwardian Diamond Engagement Ring
Delicate and dainty, this late Edwardian diamond engagement ring will thrill your bride-to-be. An old European cut diamond solitaire is geometrically showcased in this antique engagement ring's mounting. This 0.38-carat diamond centerpiece has a color of G and clarity of VS1. Fleur-de-lis and half flower blossoms accentuate the 14k white gold band of this late Edwardian diamond engagement ring. Circa 1920. SOLD