The History and Artistry of the Arts and Crafts Jewelry Period
December 21, 2015
The Arts and Crafts jewelry period spans the four decades beginning in 1880 and running through 1920. It therefore overlaps with the Victorian, Edwardian, Art Nouveau and Art Deco eras. As a result, influences from these other jewelry periods can be found in some Arts and Crafts pieces. But it is important to point out that the Arts and Crafts movement began in direct opposition to the time period's exploding decadence and the industrialization sweeping across the United States and Great Britain as the turn of the century approached.
In the late 1800s, designers, thinkers, writers and artists joined forces in an effort to return to the days of craftsmanship. Handmade quality, designs inspired by nature, and simple, straightforward construction techniques are thus hallmarks of Arts and Crafts jewelry. The Arts and Crafts movement also emphasized the jewelry maker's personal happiness. He or she was considered an artist first and foremost rather than a machine operator or part of an impersonal assembly line.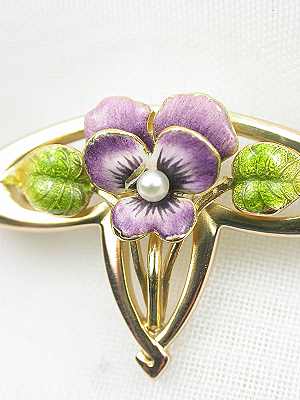 The culmination of this protest rendered Arts and Crafts jewelry pieces that are true one-of-a-kind works of art. Indeed, no two Arts and Crafts earrings, necklaces, pins, rings, pendants or brooches are ever the same, which is one of the characteristics that makes them so attractive to collectors of antique jewelry.
Following are some of the attributes associated with Arts and Crafts jewelry:
Simple Motifs - Shunning the mourning of the Victorian times and the excesses of the Art Nouveau era, Arts and Crafts jewelry pieces were typically small and plain but not without decorative accents. Drawing on nature, they often featured floral, insect and leaf motifs. Hand-painted enamel, sculptured metalwork and hammered metals are also commonly found in this jewelry era.
Color Accents - In addition to enameling, Arts and Crafts jewelry often features colored metals like green gold, which enhances its nature elements.
Natural Stones - Turquoises and pearls, as well as shells, which could be gathered from the earth, found their way into the era's jewelry artisan designs.
Affordability - Jewelry from this antique period was designed specifically with the working class in mind. No longer was the aristocracy being catered to by jewelry artisans. Art and beauty were finally made accessible to the masses.
Return to blog home