Romance Comes Alive in a Hawaii-Inspired Seaside Wedding
May 15, 2017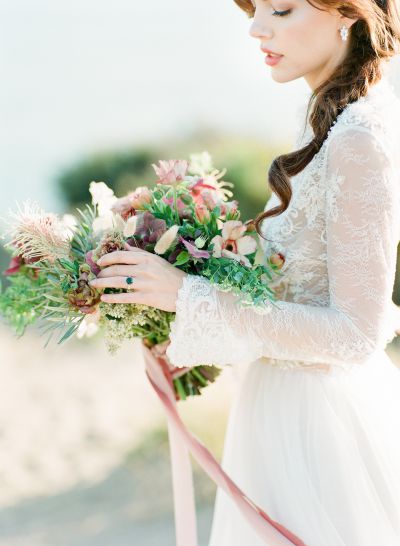 Just about everyone has a dream for their wedding. But some folks, captivated by the allure of America's golden islands in the Pacific, aren't willing to "lei" down for any old theme—they want Hawaiian skies, sands, surf, and color. If you're one of the hopeless romantics who envision a seaside celebration by the crystalline waters of Oahu, Maui, or Lanai (but can't quite manage the trip across the sea), then you're in luck! In April, Topazery was fortunate enough to travel to Point Dume for a collaborative photoshoot with a group of wedding professionals that brought the magic of Maui to Malibu—and we're sharing it with you!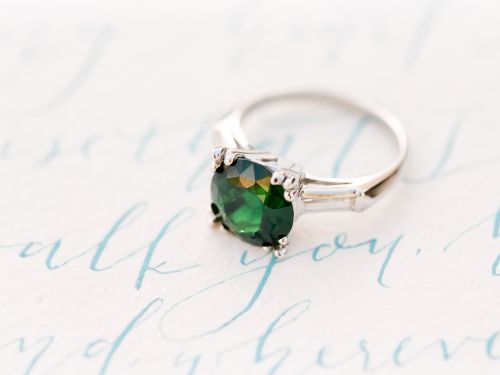 Bringing Hawaiian glamour to this special day was a team effort, to be sure. In addition to our own contribution—one of our favorite vintage engagement rings—the team drew on the expertise of artisans, aestheticians, clothiers, calligraphers, and florists - all under the direction of a very talented husband-and-wife photography team who brought to life a Hawaiian wedding fantasy.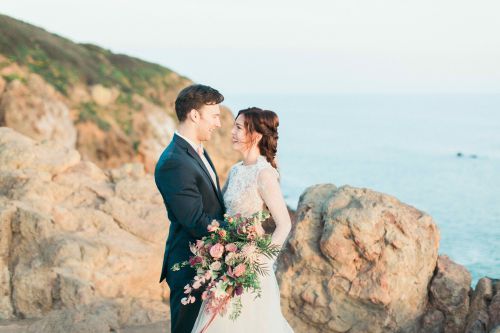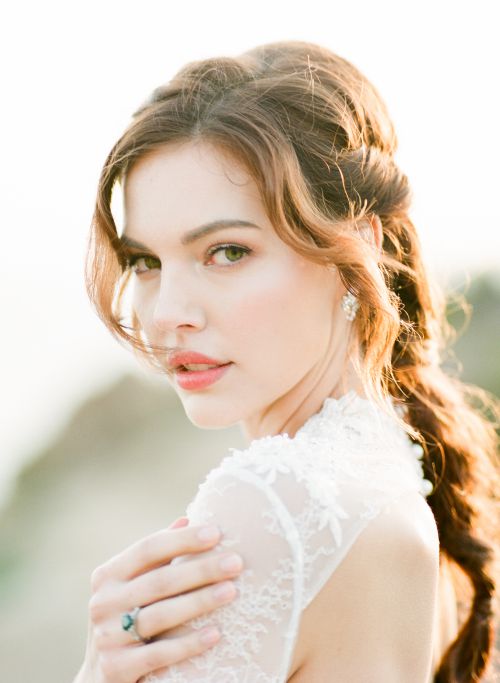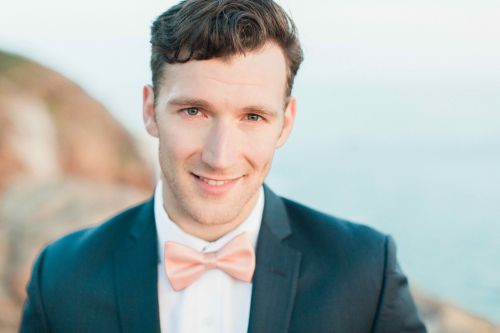 Bathed in rose-gold sunlight, our models—Laura Claire Gude and Russell Stout—were effortlessly elegant as they danced across the shimmering sands and waxed romantic in front of the susurrating surf. The colors of the sea, from deepest blue to frothy white lace, made the happy couple seem a part of the sea themselves, thanks to a tropical-light backless dress from Musat Official and a devastatingly dashing suit from Stitch and Tie.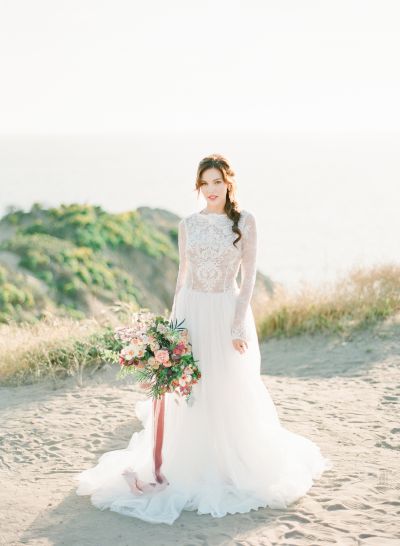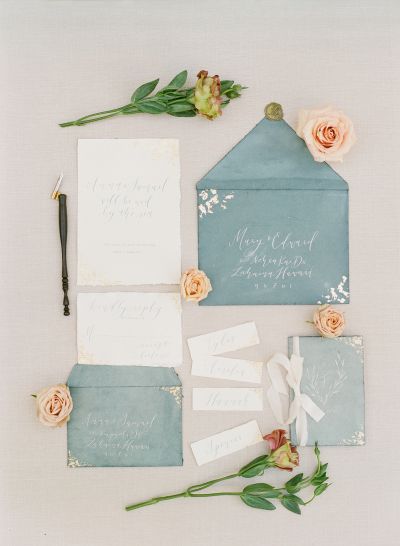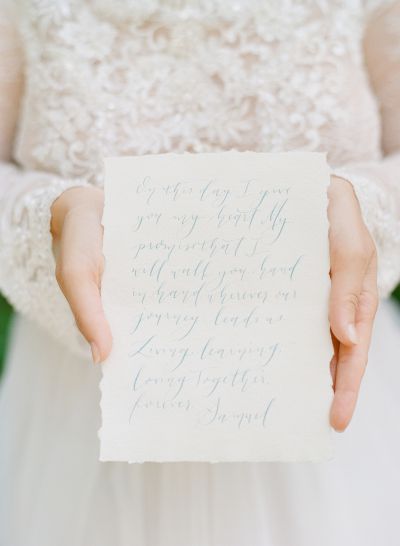 With Lavenders Flowers providing a mango-fresh, tropical pallet of color everywhere we turned, both models looking flawlessly composed thanks to Kohnur, and the bride's vintage chrome tourmaline ring flashing stormy and mysterious as the sea, we had to keep reminding ourselves we were still in California! Add in truly dazzling earrings by Lindsay Marie Design and exquisite ribbons from Tono & Co., and you can see why a dash of Polynesian panache is in demand.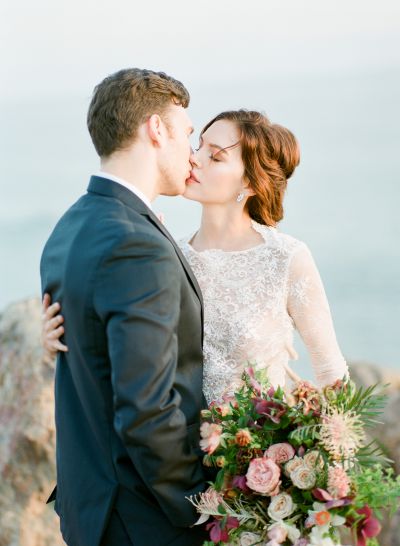 Of course, a truly exceptional wedding motif extends far beyond the day itself, and into the accoutrements of nuptial bliss. We absolutely couldn't get enough of the charming calligraphic work of Bijou Creative, and Richard Photo Labs made sure the images captured by Koman Photography retained their magnificence as we share them with the world.
It seemed the afternoon was over far too soon. But thanks to these incredible images and this amazing collaboration, we hope that anyone, and everyone, who wants to add some tropical flavor to their special day can find something that inspires and empowers them when it comes time to get "Maui'd."
We'd also like to extend a hearty mahalo to these incredibly talented wedding vendors:
Koman Photography, who provided the magical and glamorous photography services.
Musat Official, who dazzled us with the perfect dress for a seaside wedding.
Kohnur, whose flawless hair and makeup took our bride to a new realm of beauty.
Bijou Creative, who created the amazing calligraphy pieces featured and made us wish they could write everything we send out in the mail.
Lavenders Flowers, whose fanciful and fantastic flowers made this shoot blossom.
Tono & Co., who tied the whole look together with exceptional ribbons.
Laura Claire Gude, our blushing (and beautiful!) bride model.
Russell Stout, the man of the hour and an outstanding groom model.
Stitch and Tie, who provided Russell's captivating couture in the form of a stylish, seaside-ready suit.
Richard Photo Lab, whose expert scans had our photos looking top-notch.
Lindsay Marie Design, who provided Laura Claire's showstopper earrings.
Return to blog home